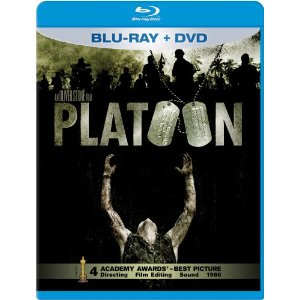 PLATOON BLURAY ($29.99; MGM) -- With Platoon out on BluRay and looking better than ever, it's a good time to revisit Charlie Sheen's fine work with Oliver Stone. They did Platoon and Wall Street together and Sheen told Playboy back in 2001 that Stone promised him the juicy role of Ron Kovic in Born On The Fourth Of July (still my favorite film by Stone and an excellent performance by Tom Cruise). Now The Hollywood Reporter flashes an eye-catching headline: "How Tom Cruise Beat Charlie Sheen For Born On The Fourth Of July" Role" this weekend. Wow! What did Cruise do? Unfortunately, we have no idea because this brief item doesn't even begin to describe how Tom Cruise beat Charlie Sheen out for the role. All it does is quote that ten year old article from Playboy in which Sheen says he was promised the role by Stone and then Stone didn't even call him back to say the role wasn't Sheen's anymore. Then The Hollywood Reporter rather randomly quotes author and host of Studio 360 Kurt Andersen who says Sheen's career would have "peaked higher" and the movie would have "worked better" if Sheen had indeed played the role. That's literally it. Sheen told Playboy that both De NIro and Pacino wanted the role, according to Stone, but he was gonna give it to Sheen. Never mind that De NIro and Pacino are about 20 years older than Sheen and Cruise and clearly too old for the part as played in the film. So his story seems a little fishy, though it's reasonable to assume he was considered. I think Sheen was already put through the horrors of war in Platoon and so having him do the same in Born would have had less impact. So Stone was right to cast Cruise; he was still glowing with the All American promise of Top Gun so seeing him paralyzed and bitter worked far better. Platoon seems a little more schematic than it did at the time in its tale of good versus evil. But it has an impressive attention to detail and still captures the intensity and confusion of battle as well as any film.
But what do you think? Would Born On The Fourth Of July been better if it had starred Charlie Sheen? And would his career have gone down a different path if he had?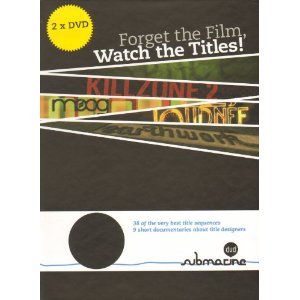 FORGET THE FILM, WATCH THE TITLES ($27.99; Submarine) -- A good idea is poorly executed in this DVD that focuses on the title sequences that start off many movies. The first DVD features more than 30 titles sequences from movies, tv shows, games and more. The second DVD features nine short documentaries focusing on the people behind certain title sequences and how they created them. You can probably remember some title sequences after a moment's thought. The James Bond films have the most famous title sequences of all. In recent years, Steven Spielberg's Catch Me If You Can was an instant classic of its kind. Like trailers and film scores, the title sequence is a worthy subject for exploration. Unfortunately, this set doesn't contain the best title sequences in recent years, but apparently any that they could get the rights to display. How else to explain this grab-bag of mostly unimpressive title sequences? Instead of James Bond, you get the Bond spoof OSS 117: Cairo, Nest Of Spies (one of the best featured here and also featured in the making-of section but no substitute for Bond, James Bond). Why so many little-known European films? They're certainly not great examples of the form. I love the hit movie Goodbye Lenin! but wasn't wowed by its title sequence either. Wall Street: Money Never Sleeps is the only big Hollywood film featured here and it too is a rather dull example. HBO's The Life and Death of Peter Sellers is a wittier high profile offering. The B movie Splice starring Adrien Brody? Also a dull, uninteresting title sequence. Obviously, the rights to the best title sequences just weren't available. But surely then they should have held off on the DVD or focused on more classic examples from earlier decades that presumably would have been there for the taking.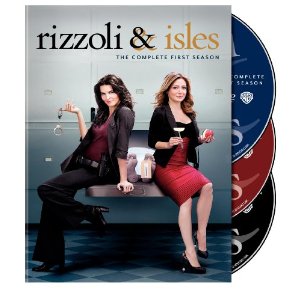 RIZZOLI & ISLES COMPLETE FIRST SEASON ($39.98; Warner Bros.) -- Why do some shows just click immediately with audiences? In the case of Rizzoli & Isles, it's not the police procedural genre or the Boston setting or the writing that makes this special. So clearly it's the chemistry between the two leads. You just buy Angie Harmon as a detective and Sasha Alexander as her medical examiner best friend and want to visit them every week as they solve crime after crime in Boston. Now with this a basic cable hit (new episodes begin July 11), isn't it about time they put out the entire Cagney & Lacey on DVD?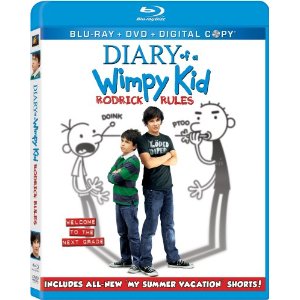 DIARY OF A WIMPY KID: RODRICK RULES ($39.99 BluRay combo pack or $29.99 regular; FOX) -- Like the graphic novels they're based on, these movies are harmless fun about kids in school trying to get through their days. The secret to their success is that they don't focus on the prettiest, smartest, most athletic or the most wizardly. Just normal kids. I'd rank this one slightly higher than the first because it features more of our hero's cruel older brother Rodrick (played with glee by Devon Bostick), but they're essentially interchangeable.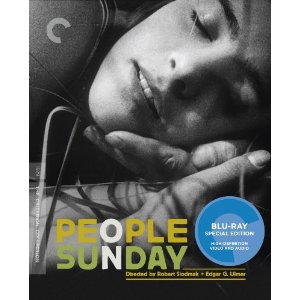 PEOPLE ON SUNDAY ($39.95 BluRay or $29.95 regular; Criterion) -- Here's a genuine curio from Criterion. This 1930 silent movie from Germany is a melange of documentary and fiction, capturing essentially the weekend dalliances of some working class people in Berlin during the Weimar era. The tale itself is quite slight -- two female best friends go for a picnic with two male best friends. Both of the girls fancy the handsome but penniless man yet only one of them will be triumphant while the other pouts. The film's modest treats come in glimpsing daily life of the time, including people riding the trolleys, walking the streets, bathing at the beach, playing sports and the like. Some claim a vaulted place for the film as a precursor to Italian neo-realism. Others compare it to genuine classics like Man With A Movie Camera. But clearly the film was a notable critical and commercial success at the time, despite being made for pennies. How do I know? Because everyone involved claimed credit for its achievements. And here's why the film is worth mentioning today: it contains an almost unseemly amount of young talent. Some movies can boast of great casting, of including a group of actors in front of the camera who would go on to great heights. So surely People On Sunday is one of the great assemblages of young talent behind the camera, including Robert Siodmak, Edgar G. Ulmer, Fred Zinnemann, cinematographer Eugen Schufftan (already as established name) and Billy Wilder. The extras include a 2000 documentary about the making of the film, Schufftan's similar 35 minute short Ins Blaue Hinein, two scores and a thoughtful essay.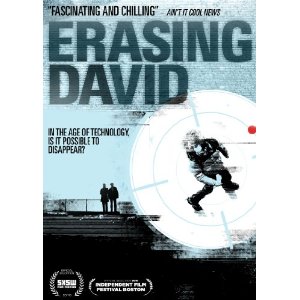 ERASING DAVID ($24.98; FilmBuff) -- I need to give my friend S. this movie. I'm not using my friend's full name or even his first name because he is concerned about privacy. He hates the idea of keeping his info in the "cloud" because then Google or Amazon or Apple or whomever could look at it whenever they want, he said. (Not true, of course and you can encrypt your information before you put it online in the cloud.) But I'm not saying my friend is wrong; I'm saying he's not paranoid enough. This documentary shows filmmaker David Bond trying to go off the grid for just one month while paying private detectives to track him down. Not surprisingly, it's a LOT harder to do than he imagined. If you want to get truly worried about how little privacy we have left thanks to our online footprints and cameras on the street recording our every movie and Google Maps having a picture of our home at the world's disposal, then start here.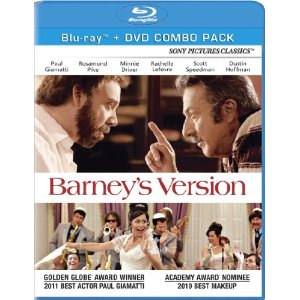 BARNEY'S VERSION ($38.96 BluRay/DVD combo; Sony Pictures Classics) -- Actor Paul Giamatti won the Golden Globe for Best Actor for his portrayal of Barney in this film. Unfortunately, it captures all too well the petty tone of Mordecai Richler's novel about artists sniping at each other for years at a time over betrayals real and perceived. Banal swipes at bad TV are thrown in for good measure. A fine cast but couldn't finish the book and couldn't finish the movie.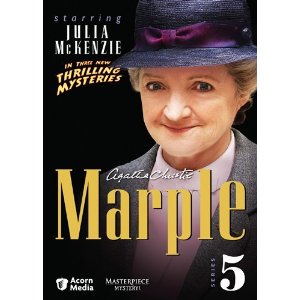 MARPLE COMPLETE SERIES 5 ($69.99 BluRay or $49.99 regular; Acorn) -- I haven't the foggiest idea why PBS bothers to show their most popular shows like Miss Marple and good ole Foyle's War in truncated form. They regularly chop off chunks of the show to fit it into certain timeslots and then include filler intros by Alan Cumming and pledge requests. Really? This forces me to NEVER watch British TV shows on PBS when trimmed down. I have to wait angrily for the DVDs and PBS loses out on my viewership and everyone loses. What a crime. So I'm catching up with Julia McKenzie in her second round of TV movies as Miss Marple. You get four mysteries, all about 88 minutes in length. Extras include an earlier TV movie version of The Pale Horse and a documentary about Agatha Christie's garden. If that intrigues you, then you've probably already ordered this set online to arrive at your home as soon as possible and could tell me at length why McKenzie is terrible/wonderful/miscast/perfect in her role as Miss Marple. I'll stick to my modest expertise in the various Sherlock Holmes that I've seen and keep my opinion of McKenzie to myself.
Also out from Acorn is George Gently Series 3 ($39.99; Acorn), a current TV series set in the 1960s which has a grieving widower at its heart, giving the show an interesting mournful air quite different from other cop shows. Trust the British to take their time: this season contains just two mysteries, each about 90 minutes long, one set on a campus and the other delving into the life of a family. Martin Shaw stars as Gently.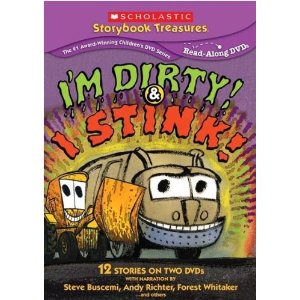 I'M DIRTY! & I STINK! ($19.95; Scholastic/New Video) -- It seemed like the epitome of laziness -- DVDs to read picture books to your kids? But in fact, the read-along DVDs don't replace an adult reading to their child. It's an adjunct and a safe, entertaining DVD you can watch together or let them enjoy when you're busy doing something else. Of course, when you do sit down to read the story of a garbage truck to your child, they may challenge you to do as good a job as Andy Richter does here. This two DVD set contains 12 stories read by Richter, Steve Buscemi, Forest Whitaker and others.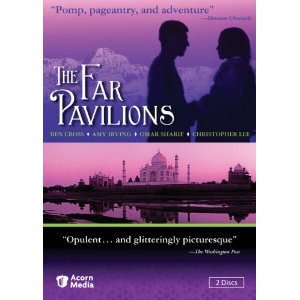 THE FAR PAVILIONS ($29.99; Acorn) -- It may seem strange now, but once upon a time the idea of HBO creating original movies and miniseries was a bold, questionable idea. They led with quality, spending a record $12 million (the most ever for a cable movie) and drawing a cast that included Ben Cross, Amy Irving, Christopher Lee, John Gielgud, Rupert Everett and Omar Sharif. The result may have been a bit stiff and not a patch on the bestselling novel by M.M. Kaye, but it was a notable first step as HBO's first miniseries and the sign of things to come.
NOTE: Michael Giltz is provided with free copies of DVDs to consider for review. He typically does not guarantee coverage and invariably receives far more screeners and DVDs than he can cover each week. Also, Michael Giltz freelances as a writer of DVD copy (the text that appears on the back of DVDs) for some titles released by IFC and other subsidiaries of MPI. It helps pay the rent, but does not obligate him in any way to speak positively about their titles.
Calling all HuffPost superfans!
Sign up for membership to become a founding member and help shape HuffPost's next chapter