WEST SIDE STORY 50TH ANNIVERSARY EDITION BLURAY ($69.99 BuRay Deluxe or $29.99 BluRay; MGM) -- West Side Story buzzes with contradictions in this lavish 50th anniversary set. The film makes brilliant use of real locations but also fully embraces a broad theatricality right down to stylized sets in some scenes essential to its success. The lead actress Natalie Wood is a movie star who has to be dubbed for her musical numbers and yet it preserves legendary stage performances by Rita Moreno and others for all time. Screenwriter Ernest Lehman did all sorts of research until Jerome Robbins teased him that they weren't making a documentary here. (By the way, the decent booklet contained in the deluxe set mentions almost every film Lehman worked on except The Sound Of Music oddly enough. And why did I never realize Lehman's screenplays begin both movies in the same way: with quiet montages of the city/the hills to create a very distinct mood?) If you have the 45th Anniversary set, you might not want to give up the thick booklet that contained the entire screenplay, but this set has loads of nice stuff like a hardcover book with some good essays, postcard sized editions of movie posters from the film around the world and a CD with eight covers of songs from the film. They messed up the legendary opening where the credits designed by Saul Bass dissolves into the city skyline (instead, the screen fades to black, fades in again on a title card of Bass's design and then dissolves into the city skyline) and others spot problems with syncing I haven't spotted yet. Otherwise, on a first look the picture and sound look good and the musical as fresh and fun as ever.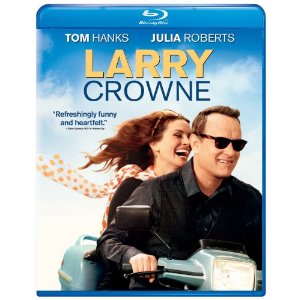 LARRY CROWNE ($34.98 BluRay or $29.98 DVD; Universal) -- Tom Hanks is gonna be fine. He has several very promising films in the works. Plus he's done some strong work as a director, namely his charming debut That Thing You Do and episodes of two great miniseries he made happen, Band Of Brothers and From The Earth To The Moon. Still, it's a shame a person of his taste should let his second feature film directorial effort be such an uninteresting romantic comedy with no fresh angle or dialogue or insight or anything. It's easy to see what motivates him towards those other works (World War II, space, a certain sweet era of pop music). But what was the attraction for this empty tale of a middle-aged man who loses his job, goes back to college and falls in love with his super-hot teacher? Maybe it was lending a helping hand to screenwriter Nia Vardalos. And certainly he planned to make a good film. But the road to bad cinema is paved with good intentions.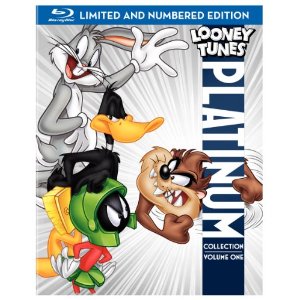 LOONEY TUNES PLATINUM COLLECTION VOLUME ONE LIMITED EDITION ($79.98 BluRay or $59.98 BluRay standard) -- We've seen smart, chronological, collector friendly editions of Popeye and various Supermans and the Disney library. The WB catalog of Looney Tunes and Merrie Melodies includes more than 1000 shorts, however so it's a massive project being told in fits and starts. WB has decided to tackle this time with a focus on characters and creators. This BluRay set contains many of the best-known shorts (like 'What's Opera, Doc" and "One Froggy Evening") that appeared on earlier DVD sets (like the six gold volumes) and you can see some visual improvement. Disc one is a greatest hits of sorts, disc two has some one-shot hits plus the complete Marvin The Martian, complete Witch Hazel and complete works of lesser known animation figures like Marc Anthony and Ralph Phillips. Disc Three has reams of extras and documentaries about Chuck Jones. The DVD volume can be taken out and put on your shelf alongside all the other DVDs or the set itself will fit on a shelf, albeit with a fat profile. The box it comes in is very handsome graphically with great detail. It feels very well-made and looks great. You also get a large fridge magnet and a litho cell. But the really odd touch is a Bugs Bunny collectible cup that looks like a shot glass to me. Maybe little Timmy can use it when downing his milk? So you get 50 shorts and loads of extras and either set (the limited edition or the standard BluRay) is a great buy for newcomers. Those who have already bought it and want to make the transfer to BluRay will just have to hold onto their old sets since this doesn't duplicate any earlier version.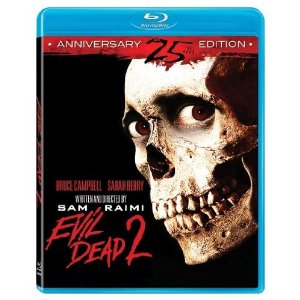 EVIL DEAD 2 25th ANNIVERSAR EDITION ($14.99 BluRay; Lionsgate) -- "What would it mean to you if I said, 'I hadn't seen Evil Dead 2...yet?'" "It would mean you're an idiot." That give and take from High Fidelity gives a hint of the passion that director Sam Raimi's fans have for his schlock B masterpiece. This Bruce Campbell starrer has been properly remastered for this BluRay release and looks about as good as a low budget horror film should look. Loads of extras. Why this wasn't released before Halloween is a mystery but it'll make a good Christmas gift for the horror fan in your life.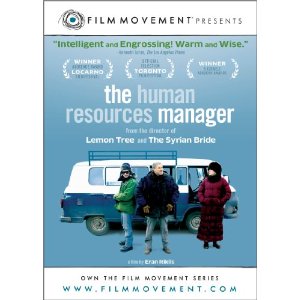 THE HUMAN RESOURCES MANAGER ($24.95; Film Movement) -- The label Film Movement has made a habit of plucking choice movies out of film festivals and bringing them to a wider audience when the movies might otherwise have disappeared. They've done it again with The Human Resources Manager, a movie they released in theaters early this year for a few months where it quietly continued to garner good reviews for this story of the human resources manager of a bakery in Jerusalem who must head to Romania to pay his respects to the family of an employee killed in a suicide bombing. Acclaimed in Israel, it's the sort of film serious buffs should not miss.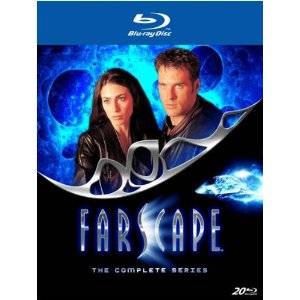 FARSCAPE THE COMPLETE SERIES ON BLURAY ($199.95; A&E/New Video) -- If you're more Doctor Who and Firefly than Battlestar Galactica and Star Trek, this oddball sci-fi series might be right up your alley. An astronaut is sucked into a wormhole and ends up breaking out of prison and being ensconced on a living spaceship called Moya with the usual ragtag group of compatriots, many of them created by Jim Henson's Creature Workshop. It's funny, silly and clever and not your neighbor's sci-fi show, thanks to the likable Ben Browder and a game cast. This BluRay duplicates the DVD boxed set, with the addition of one new documentary. For various technical reasons, the picture isn't a wow compared to the DVD but the sound is pumped up. This does not contain the two-part miniseries from 2004 that completed the storyline of the show after its four season run, so hold onto that or wait for the day when the saga is truly complete in one boxed set, which could be many years from now. If you're impatient and want a sci-fi jolt of goofiness, then dive in.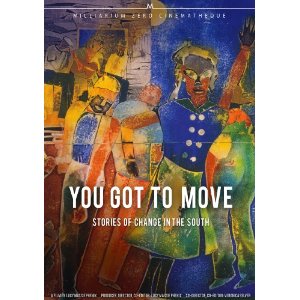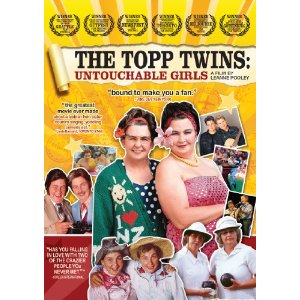 YOU GOT TO MOVE ($29.95; Milestone)
THE TOPP TWINS: UNTOUCHABLE GIRLS ($19.98; Disinformation) -- The 1985 documentary You Got To Move has been lovingly restored by Milestone. The narration is so-so and as a film it's a straightforward mix of photos and talking heads. But this labor of love by director Lucy Massie Phenix (who produced it and worked with co-editor and co-director Veronica Selver) shines a light on the pivotal work of Highlander Research and Education Center, a petri dish for change throughout the South that was harassed and accused of communism and taken to court for a square dance (it included blacks and whites dancing together) and you name it, but persevered to create leaders in the struggle for basic civil rights. HIghlander is celebrating its 80th anniversary and what better way than bringing its story new attention with the reissue of this heartfelt film that includes extras like an excerpt from a Bill Moyers interview, clips from the group's 75th celebration, a look at the people in the film and where they are today and so on.
One giggles to think of the Topp Twins popping into the Deep South in the 1950s, say. These lesbian twin sisters have a yodeling, country and western act that has made them national treasures of a sort in their home of New Zealand, though they weren't always so beloved when they first came out and sang like Guthrie at just about any leftist political rally they could find. And if there wasn't a rally around, by God they started one. This too is no great shakes as filmmaking but the gals make it memorable.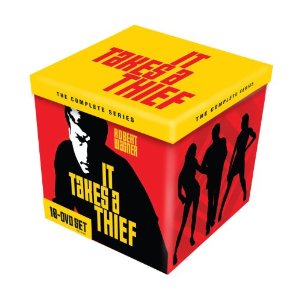 IT TAKES A THIEF: THE COMPLETE SERIES ($199.98; EOne/Universal) -- Some people don't work on the big screen but have just the right sort of easy charm made for TV. That's Robert Wagner, who enjoyed his biggest success on Hart To Hart and It Takes A Thief, this larky series about an urbane jewel thief recruited to steal for the government when they're not free to act. I enjoyed it as a kid, though now of course I'm not so patient. Still, it's fun to see Fred Astaire as Wagner's con man dad and I'm sure I had no idea who Joseph Cotten was when he guest-starred on a two-parter. What to say about the set itself? It's the sort of series that's not iconic enough to get the full-blown treatment but the hardcore fans who like it can only be disappointed by the decent but not great prints used, the failure to include the full and appropriate theme songs for each season (the title sequence changed) and so on. Heck, the expanded version of the pilot even includes a disclaimer warning us not to pirate said videocassette. (Happily, it doesn't look VHS bad; the image quality is akin to the rest of the set.) All those faults could be taken with a grain of salt by fans happy to just have some sort of edition. But the pricing is premium and the packaging is...bizarre, to say the least. It's a flimsy cardboard box, albeit of the right dimensions to fit on a shelf alongside other DVD. Balanced on the top is what I thought to be a deck of cards but turns out to be drink coasters. That's balanced on a flimsy cardboard stand of sorts that takes up most of the room of the box. At the bottom you find a loose booklet, a senitype made to imitate a frame of film featuring Wagner and then the actual discs in three season fold-out wallets in the size of a CD. You can set aside everything else but then those DVDs and the loose booklet look out of place next to regular DVDs. It's awkward, cheap, wasteful and annoying since if you use the box getting out the DVDs is a project. So you've been warned.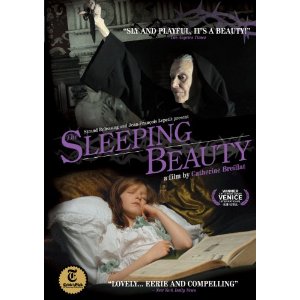 THE SLEEPING BEAUTY ($27.99; Strand) -- Has it really been nine years since director Catherine Breillat delivered Fat Girl, her best movie by a mile and one that wasn't nearly so didactic or obvious as her others? Apparently, but she's been replenished at the well of classic fairy tales. Last year's Bluebeard earned raves from my friends who are not always keen on Breillat. Now here is The Sleeping Beauty, which begins as a fairy tale, edges into eroticism and ends with a modest critique. A little girl is cursed by a witch to die on her 6th birthday. But her fairy godparents deflect the curse into just causing her to sleep for 100 years and wake up as a 16 year old. Then there's a twist. So she won't get bored, they promise lots of adventures in her dreams, which mostly consist of a spin on The Snow Queen. It's all presented in a rather faux, make-believe manner. Until the girl wakes up at 16 and deals with the modern world in the form of a strikingly handsome young man/suitor called Johann (David Chausse). It's not for everyone and the changes in tone are jarring, but it's interesting and fun
MY FAIR LADY ($29.99 BluRay; Paramount) -- I've never been a big fan of the film version of My Fair Lady; it's always felt like a museum piece to me. (The show itself, of course, is a classic.) So I'm of two minds here. Sometimes lavish boxed sets feel like a chance to make you pay again for a movie you already own. This no-nonsense package has the many excellent bonus features from an earlier DVD release, so who needs some expensive booklet and packaging to spruce it up? Not me. On the other hand, the one area they shouldn't skimp is the print and remastering. Surely a Best Picture winner like this deserves better than the perfunctory job offered here, especially since the film has been recently restored so excellent source material is available. It will do ok for newcomers but is not the big improvement over DVD that it should be.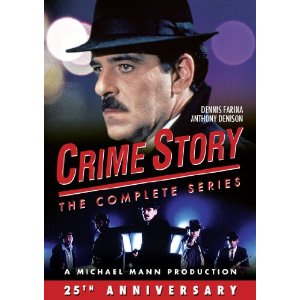 CRIME STORY THE COMPLETE SERIES ($29.98; Image) -- This seems to be the week for unsatisfying boxed sets. About the best that can be said for this Michael Mann TV show is that it's available, so if you really want to see some version of this Dennis Farina cop show set in 1963, here it is. The picture quality is poor (and this was a lavish, great-looking show) and the music is not always the original source cues (and Mann had a great ear for music). But it's cheap and it's here so if you had to choose between this and some poor import or bootleg, at least know you have the option. I was actually looking forward to revisiting this show, which lasted for two seasons and had a great cast and guest stars like Bill Campbell, Stephen Lang, Anthony Denison and Farina, who had the role of his career here. But the quality on display makes it more likely this'll sit on my shelf unwatched. The money and demand just wasn't there to do it right, unfortunately.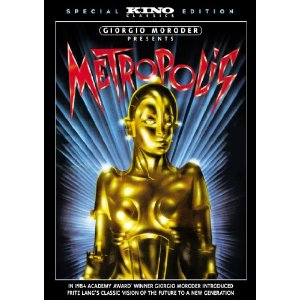 GIORGIO MORODER PRESENTS METROPOLIS ($29.95; Kino) -- I can't imagine anyone wanting to see this movie except as an example of how wrong people can be about the best way to bring new fans to a classic film. I've seen the Fritz Lang classic numerous times with numerous new scores but this horror with pop tunes by Pat Benatar, Freddie Mercury, Bonnie Tyler and other early Eighties stars is just dreadful, from his synth score right down to the final godawful tune. This isn't a newly remastered print with the Moroder tinting and score, it's the version he restored at the time. Historically accurate (as far as what Moroder did), well-meant, but not to be endured, I'm afraid unless you really really like Adam Ant.
Thanks for reading. Michael Giltz is the cohost of Showbiz Sandbox, a weekly pop culture podcast that reveals the industry take on entertainment news of the day and features top journalists and opinion makers as guests. It's available for free on iTunes. Visit Michael Giltz at his website and his daily blog. Download his podcast of celebrity interviews and his radio show, also called Popsurfing and also available for free on iTunes. Link to him on Netflix and gain access to thousands of ratings and reviews.
Note: Michael Giltz was provided with free copies of the DVds and BluRays with the understanding that he would be considering them for review. Generally, he does not guarantee to review and he receives far more titles than he can cover.
Calling all HuffPost superfans!
Sign up for membership to become a founding member and help shape HuffPost's next chapter