What's the best sitcom airing on Thursday nights? In the fall, two new shows -- How To Be A Gentleman and Whitney -- will try to join what has often been the best night for comedy on TV. Right now, the king of the night is The Big Bang Theory, at least according to the Nielsen ratings. Can any of these NBC sitcoms claim to be better creatively?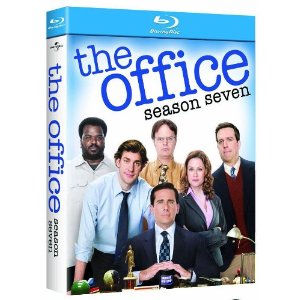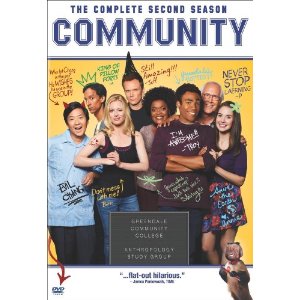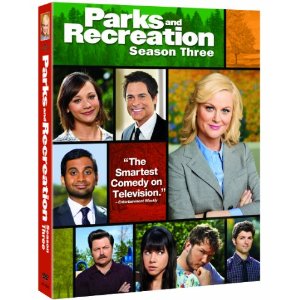 THE OFFICE SEASON SEVEN ($49.98 DVD and $59.98 BluRay; Universal)
COMMUNITY SECOND SEASON ($39.99; Sony)
PARKS AND RECREATION SEASON THREE ($39.98; Universal) -- I wish The Office had ended its run this year with the goodbye to Michael Scott (and the actor playing him, Steve Carrell). It would have been a solid finale for a good show I thought should never have been made. I was wrong -- though it can't hold a classic to the absolutely brilliant UK original, the American Office found its own path. It took them two seasons and it's outstayed its welcome, but they did it. Too bad they can't make a graceful farewell. Community is a good second-tier sitcom a la WKRP In Cincinnati or Family Ties. These sort of sitcoms get by on the chemistry of their cast more than great writing and that's certainly the case with this quirky led by Joel McHale. And then there's Parks and Recreation. It took Amy Poehler three seasons to get the mix right, but they've fiddled and fiddled with the tone and the style and the cast and finally hit the jackpot with the likes of Rob Lowe. It's the sleeper success story that for the moment has most insiders believing it's the best show of the night. What do you think? (By the way, if it's not cheating, I'd say Archer.)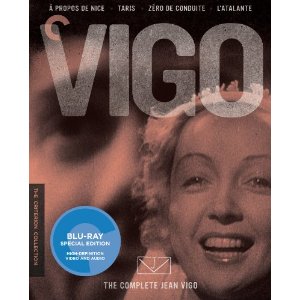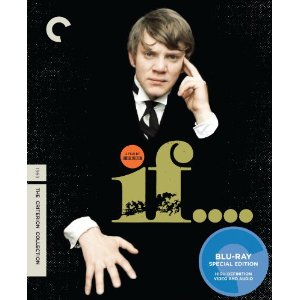 THE COMPLETE JEAN VIGO ($29.95 DVD and $39.95 BluRay; Criterion)
IF.... ($39.95 BluRay; Criterion) -- It's kind of sad but accurate to call this collection of shorts and one feature film "The Complete Jean Vigo." Hollywood has a cult for great actors who died young like James Dean. Is there any other director with such marvelous promise as Vigo, who was cut down by TB at 29 years old? This beautifully restored collection -- you'd expect no less from Criterion -- includes everything you could want. Taris is a 9 minute nothing, an offhand look at a swimmer. A Propos De Nice is a more substantial 23 minute essay/slice of life from the city of the same name. Most intriguing of all is Zero De Conduite, a 44 minute tale of students rebelling at a boarding school, making it a fascinating precursor to If.... But above all there is L'Atalante, made in the same year as Zero (1933). One of the most beautiful, romantic films of all time, it tells the simple story of young lovers on a canal barge. L'Atalante remains one of the greatest films of all time and a tantalizing hint of what might have been. The others, especially Zero, prove Vigo's success was no fluke and he was clearly growing by leaps and bounds. The bountiful extras include a great booklet, alternate edits, audio commentaries, a trifle of an animated homage by Michel Gondry and especially a TV chat about Vigo between Francois Truffaut and a pompously self-important Eric Rohmer. Also just out on Criterion is If...., Lindsay Anderson's classic tale of anarchy at a British boarding school from 1969. By all rights, this film should seem dated and hopelessly of its period (the way Lord Of The Flies has dated). Instead, led by Macolm McDowell's magnetic lead performance, it's become a fable, a reckless cautionary tale that seems far more relevant than many of the kitchen-sink dramas that came out of England in the previous decade. Loads of extras, including McDowell on audio commentary and from a making-of special, as well as Anderson's documentary about a school for the deaf which makes an odd, but intriguing double bill.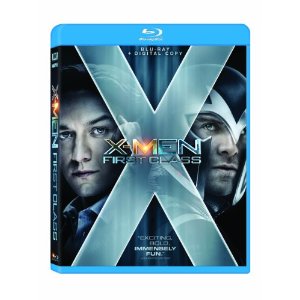 X-MEN: FIRST CLASS ($29.98 DVD and $39.98 BluRay: FOX) -- Is the fifth film in the X-Men franchise a success? Let's look at the numbers. it cost the most to make ($160 million) and made the least money in North America. (Worldwide, it's the second-lowest grossing after the original.) Financially, with $353 million coming in to cover the budget and major advertising and expenses to launch a film like this around the world, it's probably a wash, once you add in DVD and streaming and TV sales. But how was the movie? Here the news is much better. Director Matthew Vaughan delivered the best in the series after the original. Following two positively dreadful movies -- X-Men: Final Stand and X-Men Origins: Wolverine -- they took a franchise that was a dead man walking and made it viable and cool again. The sexy young cast led by James McAvoy and Michael Fassbender made the movie about how the team came together fun and delivered by far the best standard of acting the series has yet to see. It may be a close call for the accountants, but the surest proof that X-Men: First Class got the job done is that we're going to see another entry down the road.
POLICE STORY SEASON ONE ($39.97; Shout) -- This show by novelist Joseph Wambaugh will always deserve a place in TV history as one of the series that advanced the complexity and authenticity with which cops were portrayed in prime-time. Hill Street Blues and The Wire both owe a debt to it. The show was not based around certain cops, but an anthology series with new characters and storylines every week, sometimes delving into the big moments but just as often showing the drudgery that's involved in fighting crime. Certain characters reappeared while others -- notably Angie Dickinson as Police Woman, a bigger hit -- got spun off into their own shows. This set contains all 21 episodes of the first season which aired on NBC in the 1973-1974 season. Quality varies, of course, but it's a notable show that deserves to be seen.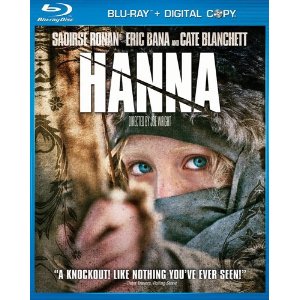 HANNA ($29.98 DVD and $34.98 BluRay; Universal) -- This nifty B movie with an A list cast is about a young woman (Saoirse Ronan of Atonement) raised in isolation by her father (Eric Bana) and trained to be the world's best assassin. In comes Cate Blanchett as a ruthless agent to track the girl down as the kid strives to complete her first mission. It wasn't quite embraced by critics or genre fans but they're going to discover it now. Let the "cult" success buzz begin.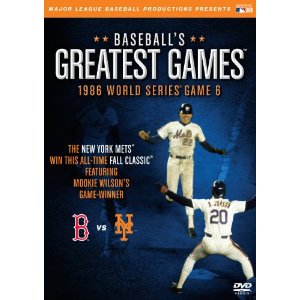 BASEBALL'S GREATEST GAMES: 1986 WORLD SERIES GAME 6 ($12.95; A&E/MLB) -- Three new releases are just out in this series featuring some of the greatest games in baseball history. But two of them involve Boston and the Twins actually succeeding. As a Yankee fan, I'm going to ignore them and focus on this 1986 game between the New York Mets and the Boston Red Sox in which (spoilier!) the Mets triumph. You get the entire 10 inning game, including Mookie's glorious roller up the first base line. The only extra is the ability to watch the DVD while substituting the Mets radio play-by-play. For those who wore out their VHS copy long ago, here it is again.
GAVIN & STACEY THE COMPLETE COLLECTION ($79.98; BBC) -- Actor James Corden is having the theatrical triumph of a lifetime starring in the UK hit comedy One Man, Two Guvnors. But he's no stranger to success, being part of the ensemble for The History Boys. What I didn't know was that he also co-starred, co-wrote and co-created the award-winning sitcom Gavin & Stacey that charts a young romance from first date to wedding and beyond. This set contains all 20 episodes from three seasons (including a Christmas special). Pity it's a bit high-priced but critical acclaim should draw Anglophiles.
SCARFACE LIMITED EDITION ($34.98 BluRay; Universal) -- Al Pacino's over-the-top performance as a drug lord is beloved by gangsters and gangstas and rappers and would-be's in all those areas. This typically overheated Brian DePalma film hasn't aged well but that's one no-holds-barred portrayal by Pacino.
SIGMUND AND THE SEA MONSTERS SEASON ONE ($29.93; SMK) Sid & Marty Krofft delivered genuine oddity on TV like no one before or since. This show is about a boy (Johnny Whitaker) who befriends a lovable sea monster and sings a song whenever he's feeling confused or blue. The show only lasted for two seasons and 29 episodes, but this contains only season one, so don't get impatient when Rip Taylor doesn't pop in to throw one of his whammy spells.
DRESSED TO KILL ($24.99; MGM) - Director Brian DePalma was once wildly overrated (see Scarface, above). But his Alfred Hitchcock fixation paid off dividends at least once with this thriller starring Michael Caine and Angie Dickinson. Dickinson was coming off her hit TV show Police Woman and had every right to expect a better film career than she got.
FRINGE: THE COMPLETE THIRD SEASON ($59.98 DVD and $69.97 BluRay; Warner Bros.) -- With some shows, it's nice to have the DVD set so you can watch the season again and revisit your favorite episodes. With a twisty, confusing, densely written series like Fringe, it's positively essential for parsing out exactly what the heck is going on in the multiverse of this sci-fi drama. Super nutty, but it keeps holding on thanks to a devout fan base that will surely snap this up and start debating the plot points all over again.
STRAW DOGS ($24.99 BluRay; MGM) -- Just in time for the thoroughly unnecessary remake comes the BluRay release of this complex revenge tale co-written and directed by Sam Peckinpah. It stars Dustin Hoffman as a mousy fellow forced to defend his British bride, discovering the violent caveman within. Only Hollywood would say, Hmm, who can take the role of Hoffman? How about...James Marsden? Of course!. Schlumpy everyman replaced by beautiful golden boy.
TWO AND A HALF MEN COMPLETE EIGHTH SEASON ($44.98; Warner Bros.) -- I'm sure some of the faithful will simply refuse to watch this show anymore now that Ashton Kutcher has stepped into a lead role. But whatever your feelings, this is the end of Charlie Sheen's reign on the biggest sitcom hit of the past decade.
UNITED 93 ($26.98 BluRay; Universal) -- What might have been a trite TV movie of the week is turned by writer-director Paul Greengrass into a thoughtful, moving, gripping and satisfying if emotionally exhausting drama about the passengers on Flight 93 who rose up against their hijackers on September 11. With all the specials and rehashes of that day looming for the anniversary, you'd do well to simply watch this movie and see tragedy respectfully turned into art.
NOTE: Michael Giltz is provided with free copies of DVDs to consider for review. He typically does not guarantee coverage and invariably receives far more screeners and DVDs than he can cover each week.
Calling all HuffPost superfans!
Sign up for membership to become a founding member and help shape HuffPost's next chapter