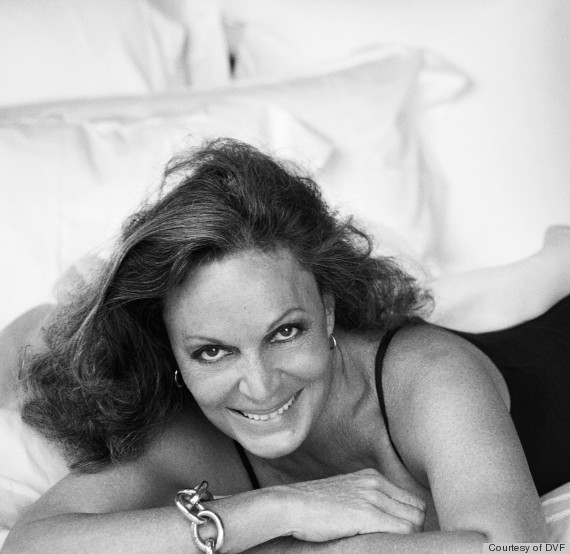 Photograph by Peter Lindbergh, Courtesy of DVF
Her 200-something page book details her successes and her failures alike. We got to chat with the icon about the advice she dispenses in her book and asked her to expand upon some of our favorite themes.
--------------------------
The Belgian-born designer is quick to point out how much privilege played into her early success. When prompted on the topic, she told HuffPost Style: "[Privilege] opened a lot of doors. But a lot of people have played on that, in the end, it helped me open the door, but it's really the product that made it happen." That's not to say her climb to the top was easy, especially as a female. "In the fashion industry women have it easier than in a lot of other industries, but I think we cannot underestimate how much work women still have to do for equality."
Although DVF sounded off on a number of topics in our interview, such as her disdain for small talk and her love of technology, one topic she was extremely passionate about was the importance of mentors. She counts many women as her supporters -- like her late mother, Diana Vreeland and Amy Spindler to name a few -- and underlined why she thinks strong women should give back. "I think it's very important for any woman with success to share her success, I think it's important for a woman, once she empowers herself, to try to empower others."
DVF's book is full of sage advice and amazing quotes -- below are some of the most interesting things we learned:
I also learned how critical it is for me to have time alone to recharge and strengthen that inner connection. It is easy to lose oneself when you are with people all the time. I need silence and solitude to create a buffer against the daily barrage of information and challenges.
Aging is out of your control. How you handle it, though, is in your hands.
On the importance of listening:
... I always tell young people[,] "Listen, always listen. Most people at the beginnings of their lives don't know what they want to be unless you have a real vocation, like a pianist or a doctor, so it is very important to listen. Sometimes there are doors that will open and you think it is not an important door and yet it is—so it's very important to be curios and pay attention, because sometimes you learn and you don't even know you're learning.
Even the staid Wall Street Journal took notice and on January 28, 1976, ran a feature about my "fashion empire" on the front page. I was beyond proud of myself that morning as I took a very early flight to Cleveland for a personal appearance... There were almost no women on that flight. I sat next to a businessman with my pile of magazines and newspapers on my lap. The Wall Street Journal was on top. After a few minutes of staring at me and my legs, huffing and puffing, trying to figure out how to start a conversation, the man asked, "What's a pretty girl like you doing reading the Wall Street Journal?" I looked at him, but said nothing. I could have shown him my front-page story, but it seemed too easy, and to this day, the fact that I did not remains one of the best personal satisfactions I've ever had.
On asking for fair compensation:
I can see myself now in that boardroom with a lot of white, middle-aged midwestern men glancing at my sketches and staring at this strange creature from New York with masses of curly hair, a foreign accent, and a lot of leg trying to sell herself to design home furnishings for Middle America. I can only imagine what they were thinking when, in response to Moran's question of what I wanted in compensations for my work, I said I wouldn't do it for less than half a million dollars. That was an unheard-of amount in those days, but I was young and bold. As weeks passed I became afraid I'd pushed too far, but then I got the call that they had accepted my proposal.
In three amazing years, I had gone from losing money, and being advised by my concerned family to shut down, to being very profitable. No one in the industry could believe it. No one expected us to do what we did, and a lot of people were surprised by how we were able to reinvent the brand.
On finally considering herself a designer:
Still, I didn't dare call myself a designer then, any more than I dared call myself a good mother while my children were still growing. You cannot make these claims until you get much older, because you need to have proof, and so it wasn't until after I discovered I did have a second act, that I could do it again and be relevant and be right that the first time was confirmed, that it wasn't an accident. Only after almost two decades since I'd created the wrap dress, did I call myself a designer.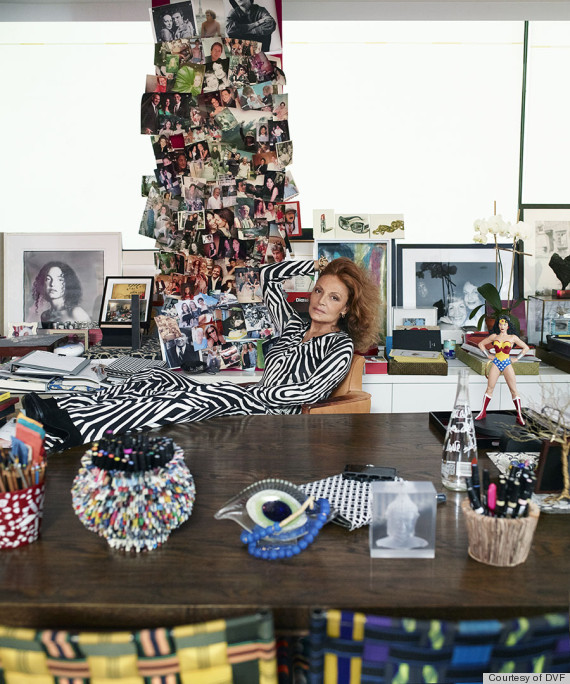 Photograph by Thomas Whiteside, Courtesy of DVF
Buy Diane von Furstenberg's new book "The Woman I Wanted to Be" here and check out her new docu-series "House of DVF," which premieres Sunday, November 2 at 10pm ET/PT on E!