Dwayne "The Rock" Johnson just shared a first look from the "Fast 8" movie, and it's got us feeling like we just earned a dance with the devil (boy).
The wrestler-turned-actor shared a black-and-white photo of himself as Hobbs on Instagram on Saturday, getting us even more excited for the upcoming film. And we're not alone -- Johnson added a lengthy caption to the pic telling followers he's ready to "disrupt the franchise in a cool way." (Is that why he got the goatee?)
"If I was going to return for another FAST & FURIOUS I wanted to come in and disrupt the franchise in a cool way that got fans fired up and their blood pumping to see a new version of Hobbs and his 'Daddy's gotta go to work' mentality and set the table in a cool way for where the character goes in the future," he wrote.
He even hinted at the possibility of a spin-off movie just for Hobbs, or more "Fast & Furious" films.
"I've had a solid first week of shooting, good to be back with the ohana, good to work again w/ my bud and director F. Gary Gray and our home studio of UNIVERSAL, as always have been the best partners to me and my #SevenBucksProds team," he added. "Most importantly ... you guys around the world will really dig this new version of the role, 'cause as we always say, disrupters dent the universe."
While Johnson continues getting into character, take a minute to watch this clip of the #F8 crew on their first day back on set together. The nostalgia is real.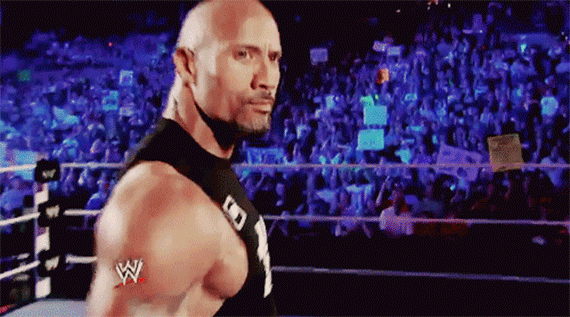 Dwayne Johnson Best Moments
Popular in the Community