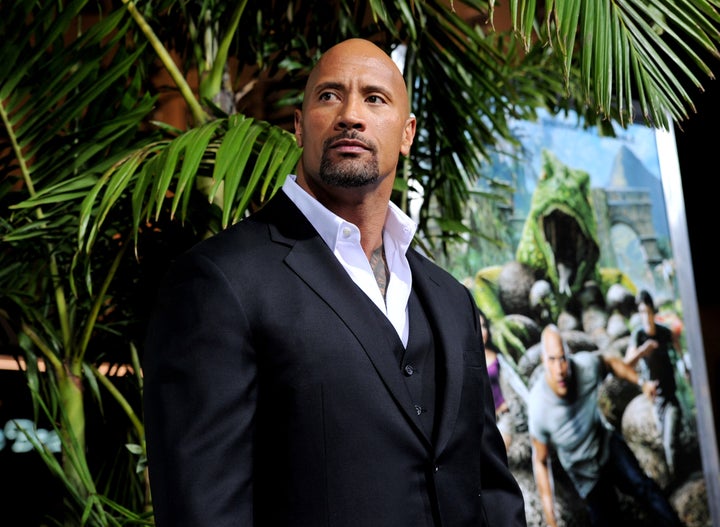 2012 is going to be a very big year for Dwayne "The Rock" Johnson. His summer blockbuster, "G.I. Joe: Retaliation," just dropped a new trailer during the Super Bowl. His 3D family adventure, "Journey 2: The Mysterious Island," hits theaters this Friday. And when he's not tweeting, looking like a living, breathing comic book character, or getting ready to team-up with Michael Bay, he's training to step back into wrestling ring -- where he'll main event that pop culture circus known as WrestleMania 28 (in his hometown of Miami, Florida).
How does he manage to do it all? Moviefone spoke to The Rock about his upcoming projects, got him to trash talk both "Star Wars" and his wrestling rival, John Cena, offer some R-rated advice to his co-star, Josh Hutcherson, and hint that we may one day be calling him President Rock.
Plus, he finally explained how he knew about the death of Osama bin Laden before anyone else.
Dwayne Johnson: What's funny is they were like, "You got 5 minutes," and I said "Bullshit, it's Moviefone, we got ten minutes."
That makes it all worth it, coming from this old-school Rocky Maivia fan.
Wow, that's a lot of love. And I'm going to reciprocate that, because for you to be a fan when I was running around with a haircut that looked like a pineapple and a blue outfit with strings and shit hanging off it, wow.
Well you can reciprocate by telling me how you found out about Bin Laden's demise before anyone else?
If I tell you that, I won't have to "kill" you, but I'll have to behead you -- no, I got my sources. I got friends in high places and low places. It was a very interesting day; I'm proud of our country and proud to be American. The individuals who were there were proud to let me know. I knew the President was going to give his speech; I thought he was going to give it at a certain time and so I thought, "I think it's appropriate that I tweet 'I'm damn proud to be an American'" and keep it in that space without giving away too much information. And then I got a call saying, "Now the President will give his speech in a couple of hours." So we had about two hours of Rock tweets out there [Laughs].
Between that, and playing Obama on "SNL," what will it take to get you to move into the political field?
Right now the best way that I can impact the world is through entertainment. One day, and that day will come, I can impact the world through politics. The great news is that I am American, therefore I can become President. But don't forget: I am G.I. Joe.
Man, that was a smooth transition.
I can't wait for it. Paramount came to me with the idea of rebooting the franchise and bringing "Roadblock" to life. It is one of the coolest roles I've ever done, I was a big fan growing up. Bruce [Willis] is a legit iconic action movie star. We always talked about doing something together, so the fact that we could come together, kick ass on this movie -- every day was great to work with him.
But looking to the immediate future, you've got "Journey 2" opening up against "The Phantom Menace 3D." How are you going to fare in that cinematic battle?
"Star Wars" is a tough opponent; the only thing you can do is lace up your boots, dig in deep and say "bring it." Either way the audience is going to be entertained, but at the end of the day what would you rather have: Jar Jar Binks or The Rock in 3D?
Well you know how to talk the talk, but what kind of action hero advice did you impart onto Josh Hutcherson?
He's poised and he's ready, he's going to have a massive year between "Journey" and a little movie called "The Hunger Games," which I'm not sure if anyone is going to see. Nonetheless, the advice I gave him is this: [clears throat] Whatever you do, do it full speed, remember speed kills -- and go fuck some shit up.
Then to go in a more sensitive direction, do you have a favorite "High School Musical" song from Vanessa Hudgens?
Uh, what songs does she sing?
"We're All In This Together" is something I've actually heard of.
OK, then my favorite song is "We're All In This Together." Because as sexy as Vanessa is, it doesn't even matter because we'll be in it together ... That doesn't even make sense but as long as you say it confidence and bravado, I think it works.
You're not even giving yourself a break after "Journey" and "Joe"; your next two projects, "Snitch" and Michael Bay's"Pain and Gain," seem a bit more serious.
We just wrapped "Snitch," that was a hell of a schedule and we shot six day weeks, for six weeks in a row. That was a very intense role, but I loved playing it and it was an honor to become that man. Those are real events and real stakes between the U.S. government and drug cartels and a family.
["Pain and Gain,"] again, unbelievably a true story. We're in pre-production, and we're all -- meaning my team and Paramount and Michael Bay -- crossing "t"s and dotting "i"s. I've known Michael for some time, this has been a passion project of his, he gave me the script to read years ago, I loved it and wanted to make it then. Unfortunately, we have a very small window of time to shoot it before I go off and film "Fast Six."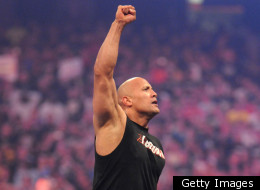 Now with this incredibly busy slate of action movies, how are you finding time to train for a WrestleMania main event?
You fit it in, that's what you do. I make sure there's a ring on location with me, anywhere that I shoot. I had a ring down in New Orleans, when I was preparing for the Madison Square Garden event. I have a ring down in Florida, a ring down in Louisiana; there's always a ring close by. In order to prep for WrestleMania, it's a lengthy training camp that requires daily work inside the ring because you can't simulate the physicality of professional wrestling.
But is your opponent John Cena really going to be that much trouble?
The only trouble he's going to have is removing my size 15 boot from his ladyparts.
I think that's what a lot of people wanted to hear.
That's right -- I'm excited about all the projects you just mentioned. I'm excited about WrestleMania; to be able to go back, team up with Vince [McMahon] and make a big vision like that come to life and create the biggest match-up of all time is very special to me. There's countless matches that have moved me and inspired me, and we're going to do something very special down in Miami, my hometown, sold-out Sun Life Stadium. Boots to John Cena's ass.
Finally, playing a round of word association, if you were a movie producer, what kind of character would you cast these wrestling stars as, in their Hollywood debut: "Macho Man" Randy Savage?
A great villain.
Heir to the WWE Empire, Triple H?
The small pipsqueak of a body, what do you call it?
A henchman?
No, because henchmen are big and bad. [Laughs] I'm kidding, guy's an animal.
John Cena?
The female lead.
Popular in the Community