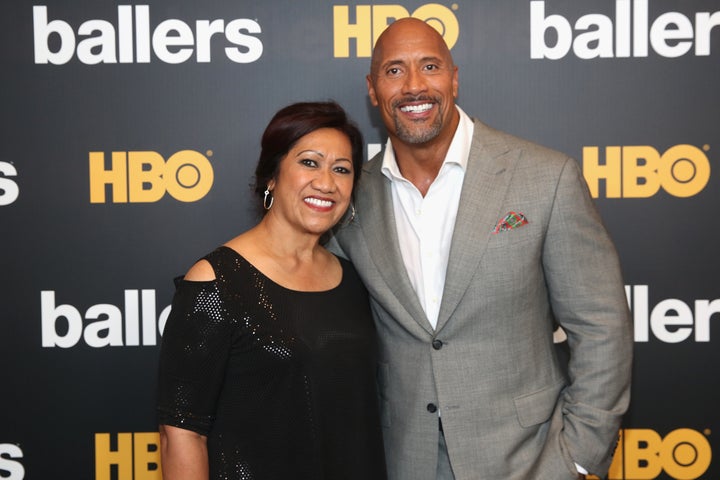 Actor and wrestler Dwayne Johnson opened up about his memories of his mother's suicide attempt in a powerful Instagram post Thursday.
In a caption with a photo showing Johnson filming a scene in a graveyard for his HBO comedy show, "Ballers," Johnson said that the show's fictional suicide reminded him of his mother, Ata, who attempted suicide many decades ago.
He described the incident in vivid detail.
"Got me thinkin' though bout how many of us have been affected by suicide of our friends, family. Struggle and pain is real," he wrote on Instagram Thursday. "We've all been there on some level or another."
"My mom tried to check out when I was 15. She got outta the car on Interstate 65 in Nashville and walked into oncoming traffic," he said. "Big rigs and cars swerving outta the way not to hit her. I grabbed her and pulled her back on the gravel shoulder of the road."
The actor wrote that his mother has "no recollection" of the incident and added that it's "probably best she doesn't."
Johnson has spoke about his mother's attempted suicide before and said it occurred during a particularly tough time for the family. Johnson's father, who was also a wrestler and often had to move for his job, relocated the family from California to Tennessee. Johnson and his father moved first, and Ata followed later.
"I'll never forget it. It was probably about 1 o'clock in the afternoon. We were at a restaurant, the three of us, and they got into it," the actor revealed during a 2015 appearance on "Oprah's Master Class." "They got into a very big fight. Not physical, but just really loud arguing."
Johnson said that his family left the restaurant in two cars ― his mother and father in one, and the actor driving the other. He recounted seeing his parents' car swerving ― indicating they were in a fight ― before his dad pulled over to the side of the road, and his mother walked into the road.
After rescuing Ata, the actor said he didn't remember what he said to his mother.
"I remember she didn't say a thing," he said. "In that moment, one of the greatest lessons I've ever learned was how precious life is and how in an instant, it can all go away. [It] changed me."
Support HuffPost
The Stakes Have Never Been Higher
Popular in the Community