Wrestler turned actor, Dwayne "The Rock" Johnson may seem like he has a tough exterior. But beneath his hard shell of drool-worthy muscles is a soft spot for dogs.
Last week, actress Michelle Trachtenberg tweeted out that an abused dog -- named Dwayne "The Rock" Johnson by the rescue organization, Saving SPOT -- needed someone to throw him a financial bone. 
According to PIX 11, the poor 4-month-old pup was dumped at North Central Shelter in Los Angeles with a large metal wire wrapped around the bottom portion of his mouth. It took bolt cutters to remove the wire, but it was successfully taken off, 17 stitches were put in and it was soon discovered that the pooch had a much bigger problem -- he suffered from a severe heart murmur that required surgery. 
"Dwayne has a grade 5 heart murmur," the organization wrote. "Grade 6 is considered the most severe. Stress such as the shelter, too much exercise or being left alone or even being kenneled can cause a heart attack."
A GoFundMe page to raise money for the procedure was set up straightaway.
Due to Trachtenberg's handy use of @TheRock, the man known for playing The Scorpion King, Hercules and the tooth fairy was signaled and sprang into action.
After he retweeted Trachtenberg, he donated $1500 to the dog's surgery, which helped save little Dwayne "The Rock" Johnson's life.
And he never even met the dog.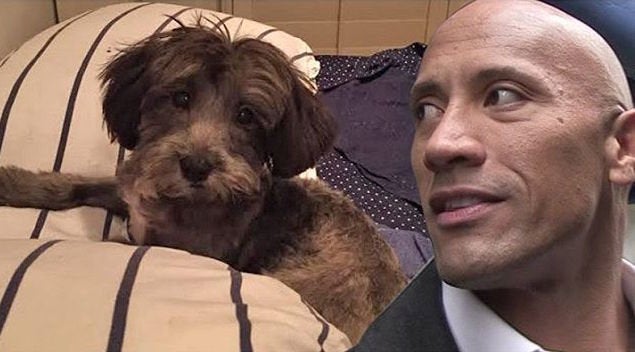 This isn't the first time the actor has proven how much he cares about canines.
Last Labor Day, when Johnson brought home two new members of his family -- a pair of adorable French bulldogs named Brutus and Hobbs -- the first thing the dynamic duo did was jump into the pool. Hobbs was a fine swimmer, but Brutus sunk "like a brick," according to Johnson's Instagram page. Here is how he described the experience:
I take off into a full sprint, fully clothed, dive in the pool, swim to the bottom, rescue my brick, I mean BRUTUS and bring him back to the edge of the pool. He was a little delirious.. took a moment, threw up all the water he swallowed and looked up to me as if to say, 'Thank God you didn't have to give me mouth to mouth!' and then ran off to play with his brother.
Unfortunately, last October little Brutus had to be put to sleep after he ate a poisonous mushroom.
"I held his lil' paw as he was finally at peace," he wrote in his moving Instagram post.
Yet, hopefully being able to save another dog with severe medical needs is cathartic for Johnson, who is surely still licking his wounds.
PHOTO GALLERY
Dwayne Johnson Best Moments
Calling all HuffPost superfans!
Sign up for membership to become a founding member and help shape HuffPost's next chapter