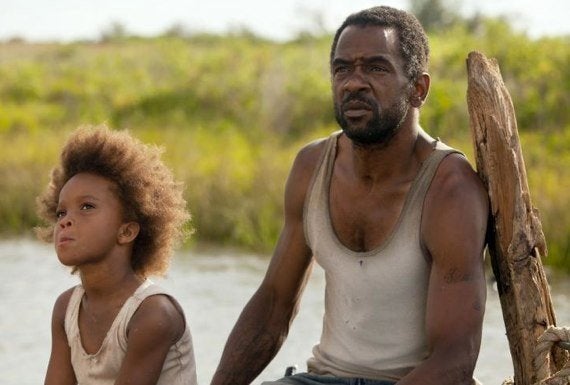 Dwight Henry is just one of those guys that you can't help but root for. His story is that of fiction: a humble baker living in New Orleans, Henry was tapped to play a lead role in a small, independent film. Called "Beasts of the Southern Wild," Henry's debut feature premiered at the Sundance Film Festival in January, promptly won the fest's grand jury prize, later picked up an award at Cannes, and has been put in the same sentence as the Academy Awards ever since.
I'll let Henry, who I met with last week at a posh Soho hotel in New York City, explain his personal story, but in "Beasts," he plays Wink, a loving but stern father to a young girl named Hushpuppy (Quvenzhané Wallis). The two live in a flood-prone Delta community, which they are in great jeopardy of losing. Here, Henry explains what the film is about (much better than I just did), how he was cast in the role, why he was the perfect actor for the part -- even though he wasn't an actor -- and the emotions he felt when he saw the film for the first time at the Sundance Film Festival.
I liked your movie, a lot.
You did? When did you see it?
At Sundance.
The Eccles was amazing, with the audience. That was my first time seeing the film. You know, when we were shooting the film, the director [Benh Zeitlin], he didn't want me to watch any dailies. Because he didn't want me to critique my performance. He loved my performance, the way I was doing things.
You've never acted before, how did you know even what dailies were? He could have kept that a secret from you.
Well, I learned these things -- the lingo -- on set. But, he explained why he didn't want me to watch any [footage]. So, my first time seeing it was, like you, at Sundance. So I'm sitting in the audience, nervous, my hands sweating -- I don't know how the audience is going to react.
So you had seen zero footage.
No footage. I'm sitting there thinking, I hope they enjoy the film. I hope we don't get booed then people start walking out. And it was totally the opposite. When 1,500 people stood up, applauded, whistled and screamed ... I lost it. I was so happy with joy to where I had to compose myself.
Were you aware of the post-screening buzz, which pretty much took over the festival?
It snowballed. It kept coming downhill, building momentum. And it's unbelievable! it's still building momentum. And it's to a point that the whole world is going to see this movie. People are going to see this movie in Poland, the Ukraine, Australia -- places I've never heard before are going to see this movie.
What's frustrating for me is that people will ask me what it's about ... and I never have a good answer other than, "See it."
It's hard to describe.
What do you say?
It's about a resilient group of people that live in this town and they're facing some of the worst circumstances -- dire circumstances -- in the world. They're about to lose everything that they live for and worked so hard to build. And there's this guy who loves his daughter so much. He's dying in the movie, but he's doing everything in his power to show the people -- that he lives and his daughter -- that we can beat anything that comes to us.
And there's a supernatural element.
And there's a supernatural, mythical element -- only seen through a six-year-old child's point of view. It's a balance of true-life nature -- what's really going on -- and the views from a six-year-old child, the way she sees things. When you're six years old, you don't look at things the way an adult looks at things. Just like I had a make-believe friend and nobody could tell me that was make-believe. Ain't no way in the world you can tell me that Superman can't fly or they don't have a Batmobile. All of that stuff is real.
You're from New Orleans.
I'm from New Orleans. And I'm just as resilient. My bakery that I built, that I worked so hard to build to pass on to my kids, it will take hell and high water to get me to walk away from my child. Because that business is like my child.
How was your bakery affected by Hurricane Katrina?
I was fortunate. I was in an area where my whole building didn't go under water. I got about four feet of water in my building. And some of the stuff I saved, but, most of the stuff I had to throw out on the street and get new equipment. But, I came back. I rebuilt. I was one of the first businesses in that whole area to reopen.
What happens now that you're an actor?
Well, I have two partners. And they're actually running it for me right now. But, still, I mean this with all my heart, I would never pack up my bags and say that I'm ready to move to Hollywood and be some type of Hollywood movie star. Hollywood will have to come to me.
It seems like they are. A lot of movies are filmed in New Orleans.
They are. They're calling us the Hollywood of the south. I actually start working on a project this month ["12 Years A Slave" with Brad Pitt], a big production that's going to be going on in New Orleans. Big project! Working with big stars.
So things are really happening for you.
It's happening. Things are snowballing for me. And I'm blessed with the opportunity to do these things. And I hope that I can have an impact on some other people -- because it's never too late. You never know when you're going to get an opportunity.
Did you audition, or were you discovered?
I auditioned. They used to put the flyers in the bakery. And I became friends with all of them. They'd come into the bakery and we'd talk, shoot the crap. One day I was like, "I'm going to come over there and audition." I had a little time and I went over there and auditioned for the part. I then moved my bakery from one location to another location and, in that time period, they were actually looking for me to give me the part. They couldn't find me. And I took some time off to just relax. Two days after I opened up the new location, they found me. "Mr. Henry, you've got the part." I just opened up, so I turned them down three times. Reluctantly. But, they gave me time. They gave all kinds of concessions for me and I realized how much they believed in me. And we worked things out an I was able to go do the film. It was wonderful.
You had almost this intense anger in the film, I had a hard time believing you've never acted before.
It's a passion because I go through these things. Same things these people go through, man, I go through in real life. Often, things pop up in my mind -- especially during our shoot -- when I was in Katrina. Neck-high water. I was two years old when Hurricane Betsy came through and devastated our community. I was on top of the house and people had to come get us. It's not just one incident, it's things that i had to go through the entire course of my life that made me strong. And all of that came out during the shoot. I brought a passion that an outsider couldn't bring to that film. You know, if they would have gone outside of New Orleans and got Denzel Washington, or somebody to do it who has never been in a flood. Never seen a hurricane and just went in and did the part. I brought passion because i went though these things and it brought back memories to me.
Especially with another big project coming up, is it now "actor/baker" or is it still "baker/actor"?
"Baker/actor." Baking is my business and it will always come first.
Mike Ryan is senior entertainment writer for The Huffington Post. You can contact him directly on Twitter.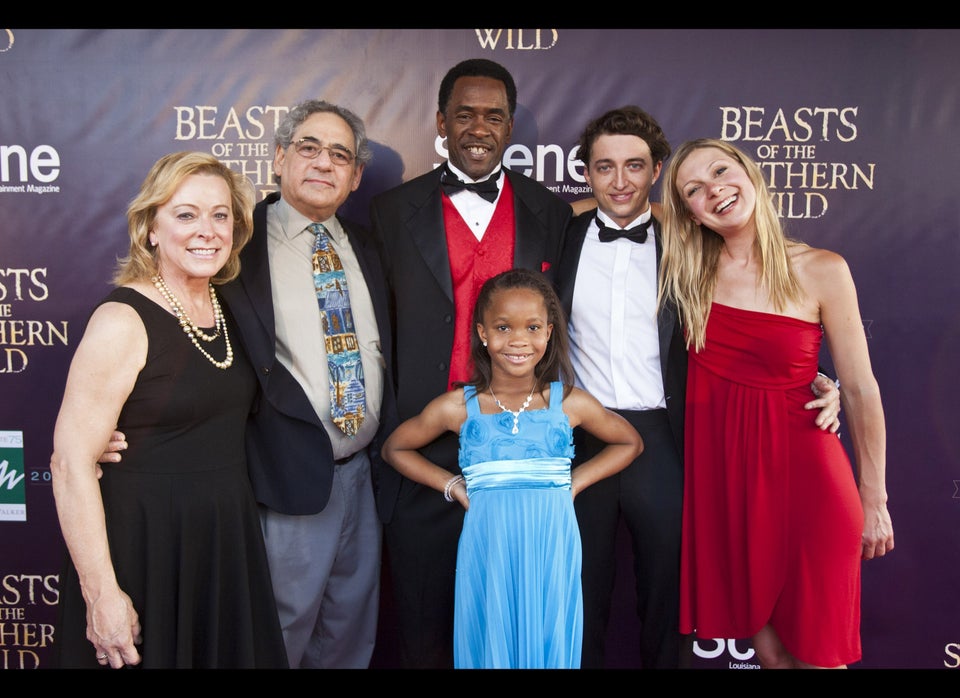 'Beasts of the Southern Wild' Photos
Popular in the Community