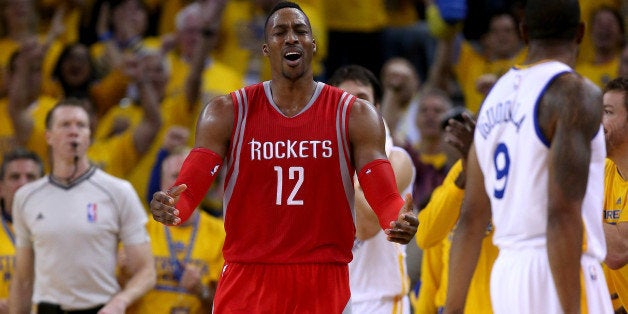 Dwight Howard is a fine basketball player. It's not his fault that Houston was foolish enough two years ago to award him with a four-year, $88 million contract. As the Western Conference finals against Golden State displayed, though, Howard is selfish -- and about as far from a cornerstone as a max contract player gets.
On paper, Howard's healthy 16-point, 10-rebound postseason average tell one story. But they don't tell the most important story.
Body language is far from the most telling sign on a basketball court, but it does matter. Howard's body language when things go awry is that of a petulant child: sulking, whining to the refs along with his teammates and worst of all, committing errant fouls and flagrants.
When he shot 41 percent from the free-throw line during the playoffs -- one of the worst clips ever -- he got chippy when Leandro Barbosa fouled him. Pathetic. When the NBA opted not to suspend him for Game 5 against the Warriors after an unnecessary and blatant foul from Game 4, he rewarded the league with a forearm shiver from a screen to Andre Iguodala in the waning moments of a loss.
To understand Howard's negligence now is to know that at one point in his career, he was beloved, almost unanimously. The son of a Georgia State Trooper who attended a prestigious prep school in his hometown of Atlanta, the former No. 1 overall draft pick took a limited Orlando team to the Finals in 2009 with Rashard Lewis and Hedo Turkoglu as its second- and third-leading scorers. Then came a disastrous, almost laughable stint in LA, where he feuded with Kobe Bryant like they were on a reality television show. And, despite working out with Rockets great Hakeem Olajuwon to become the game's next dominant big man, his offensive game showed little improvement. These days, at 29 years old, Howard still lacks a post-game or a legitimate go-to move other than a left shoulder hook, and he still lacks the fierceness to make the leap from good to great.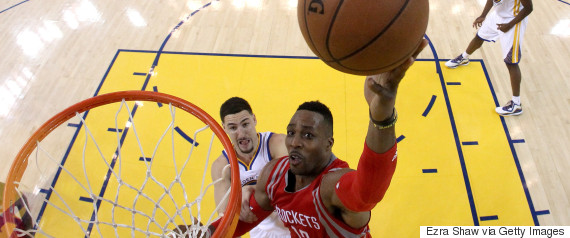 The list of highly overpaid NBA players is long and will only expand. But Howard is somewhere near the top, and it's not merely because of what he doesn't do, but what he should do. To be sure, he is not a 7-footer. He doesn't have great hands, and he plays in an era where it's increasingly easy to double-team with the elimination of illegal defense. His natural tools are robust though: He's a remarkable athlete with elite quickness and strength. At times, he displays an unstoppable counter drop-step that even the most talented defensive centers struggle to contain. But basketball is a game of "want," and Howard's "want" is when it's convenient or when he feels like it. He doesn't come through in key moments because he doesn't demand the ball in key moments.
Speaking of those moments, I wrote a column on James Harden after his 45-point Game 4 performance in the conference finals. Interestingly enough, that outing was sandwiched between two horrendous games from Harden, including his all-time playoff record 13 turnovers in Game 5. Was he awful? Yes. But Harden never shied away from the ball. He tried to make plays. Howard doesn't make plays so much as he waits for Harden to make them for him. Almost all of his offense, according to Synergy Sports Technology, comes from put-back dunks and assisted dunks. Defensively, he blocks a ton of shots but is oddly unproductive in several areas, including his help defense and non-area rebounding. Perhaps this play, when the 190 lb. Stephen Curry boxed him out, summed up the lack of non-area rebounding.
Had the Rockets actually won Game 5, it's worth noting that Howard's seventh technical foul of the series -- which he picked up in a useless scuffle with Andrew Bogut -- would have prevented him from playing Game 6. Think about that for a moment. This is not a one-time mistake. This is a trend for a star player masquerading as a superstar who clearly doesn't value winning as much as he does serving his own personal interest: an inflated checkbook and a severely bruised ego.
Then again, Howard's self-image seems to have been kept perfectly intact.
"I'm still a champion," he said after the Rockets were vanquished Wednesday night. "And I won't let anyone tell me anything different."
Correction: A previous edition of this article incorrectly stated that James Harden had 12 turnovers in Game 4. It has since been changed to reflect that he had 13.
Popular in the Community