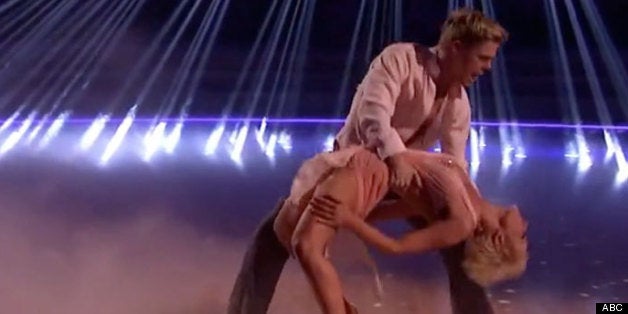 It's down to the final four on "Dancing with the Stars," but only one contestant will take home the Mirror Ball trophy tomorrow night. The "DWTS" finale was action-packed, with each couple performing three times and getting the chance to show off their skills and prove why they deserve to be named Season 16's champion.
First, each couple danced a traditional ballroom routine, followed by a "Cha Cha Relay" that pitted the couples against each other, awarding five additional points to the winner, four to the runner-up, three to the third-place performer and just two to the loser. Finally, each contestant was given total freedom in his/her "Supersize Freestyle," which allowed the "DWTS" finalists to truly showcase all of their talents. The night delivered some of the most unique and entertaining dances of the season, making for a tough decision for the voters. So who will take home the prize tomorrow night? And who will walk away empty handed?
Zendaya and Val Chmerkovskiy: After last week's quickstep earned them their lowest score yet, Zendaya and Val were hoping to redeem themselves with their samba. The judges had nothing but praise for the couple, with Len calling it "eye-popping" and "show-stopping" and Carrie Ann saying it was "absolutely great." Score: 30
Cha Cha Relay: Zendaya and Val came in first place. Score: 5
Supersize Freestyle: Zendaya ended the night with an inspiring freestyle that combined elements of cha cha, contemporary and hip-hop, and even brought in an entourage of young hip-hop dancers. "Everything you do, you always shine through it," Bruno told her. Carrie Ann agreed, telling Zendaya that she is a true role model and simply "divine." Score: 30
Kellie Pickler and Derek Hough: Kellie and Derek were desperate to earn a perfect 30 with their quickstep, a dance that had previously earned them a 29. The upbeat, Gastby-inspired number had Len calling it pure excitement and Bruno telling Kellie that she was better than ever. Carrie Ann congratulated the couple on their improvement before awarding them with the perfect score they were after. Score: 30
Cha Cha Relay: Kellie and Derek came in second place. Score: 4
Supersize Freestyle: Kellie and Derek performed a stripped-down and honest freestyle routine that left Carrie Ann sobbing. "It was one of the most beautiful things I've ever seen," the judge said. Score: 30
Aly Raisman and Mark Ballas: Aly was anxious to stay in character in her playful samba, and she didn't miss a beat! Carrie Ann felt that Aly captured the best qualities of all the other remaining contestants and Bruno insisted that there is no stopping her now. Score: 28
Cha Cha Relay: Aly and Mark came in third place. Score: 3
Supersize Freestyle: Aly and Mark's futuristic pole-dancing freestyle routine had Len dubbing Aly "Alexandra the Great." "That was one of the most amazing routines I've ever seen on 'Dancing with the Stars,'" Carrie Ann told them. Score: 30
Jacoby Jones and Karina Smirnoff: Jacoby started off the night with an enthusiastic jive. Though the judges nitpicked over his footwork a bit, overall they agreed that the entertainment value was unmatched. "You brought the swagger and you know how to turn the house upside down," Carrie Ann told him. Score: 27
Cha Cha Relay: Jacoby and Karina came in fourth place. Score: 2
Supersize Freestyle: Jacoby created a New Orleans-inspired freestyle routine, complete with a marching band and small children tap dancing. The energetic routine had the audience roaring, but Carrie Ann felt the dance outshined Jacoby. Still, the celebratory routine suited Jacoby's style and Len thought it was a job well done. Score: 27
Tune in for the two-hour "DWTS" finale results show on Tuesday, May 21 at 9 p.m. ET on ABC.
PHOTO GALLERY
Dancing With the Stars Season 16 Cast Stills
Calling all HuffPost superfans!
Sign up for membership to become a founding member and help shape HuffPost's next chapter