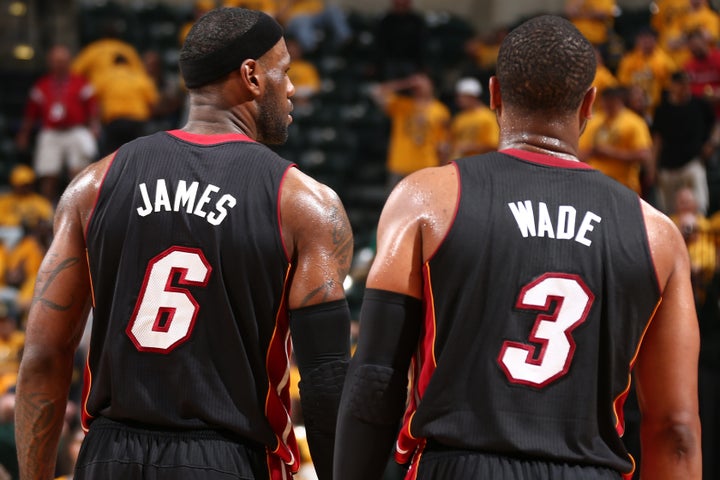 If the Cleveland Cavaliers are going to compete with the new and improved Golden State Warriors in the upcoming season, they are going to need help. And people are rampantly, and maybe even irresponsibly. speculating over whether Dwyane Wade might be that help. 
The Wade-to-Cleveland rumors started to appear shortly after Adrian Wojnarowski of The Vertical reported on Friday that Wade was not very pleased with the Heat's initial offer of a $10 million annual payday. Since then, Wade has also reportedly rejected a contract that offered $40 million over two years. 
The friction between Wade and the Heat opened the door for hopeful Cleveland fans to start convincing themselves that Wade could team up with his old buddy LeBron James in Ohio. And for people to start reading way too far into vague tweets like this one.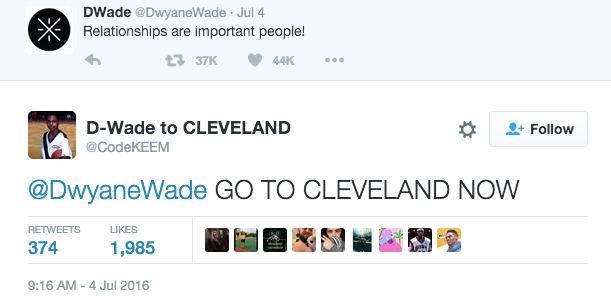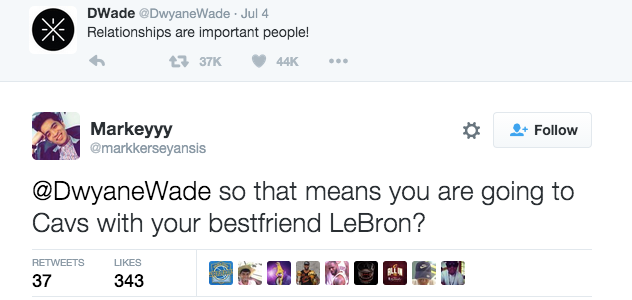 The Cavaliers and Cleveland Indians have since stoked the rumor flames by following Wade and his wife, Gabrielle Union, on various social media platforms -- a beautifully devious move. 
Even the son of Cleveland legend Austin Carr chimed in via Facebook with his own thoughts.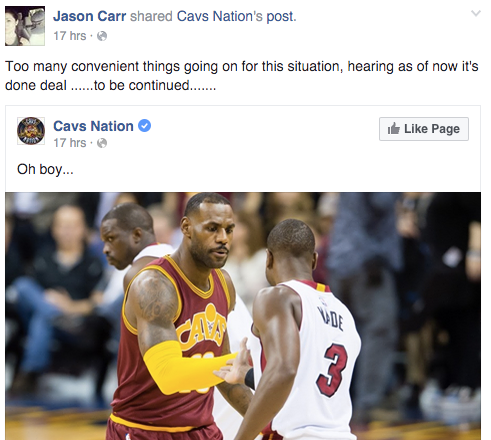 It's not only social media gossipers that are stirring the pot, either,. Ethan Skolnick of the Miami Herarld wrote,: "And yes, joining LeBron James in Cleveland is an option. Among a few still, and 'a long shot' due to the economics, according to a source, but definitely an option." 
Will Wade actually sign with the Cavs? Probably not. For one, there are plenty of financial obstacles in the way, primarily the Cavaliers' lack of cap space. According to ESPN's Brian Windhorst, the Cavaliers could only offer a $3.4 million mid-level exception contract to Wade. 
If $20 million was not enough for Wade, it is hard to image that $3.4 million will be. Not to mention Wade has previously taken multiple pay-cuts to give his Miami Heat more flexibility. According to Fox Sports "[Wade] expected that loyalty to be repaid this season." 
However, what would the NBA offseason be without some wild speculation about a mouth-watering possibility that has very little chance of actually happening? Well, it wouldn't be the NBA offseason, certainly. 
OK, one more delicious tweet. 
Calling all HuffPost superfans!
Sign up for membership to become a founding member and help shape HuffPost's next chapter
BEFORE YOU GO
PHOTO GALLERY
Cleveland Cavaliers 2016 NBA Champions