"I tried to break up with her," Wade said. "'Hey, you know, things have been bad lately,' 'Hey, we've been having a little distance in our relationship anyway,' I tried all of that. She kept showing up."
Wade shared that being honest with Union was "scary" because he was a public figure and also that he was going to hurt someone he loved.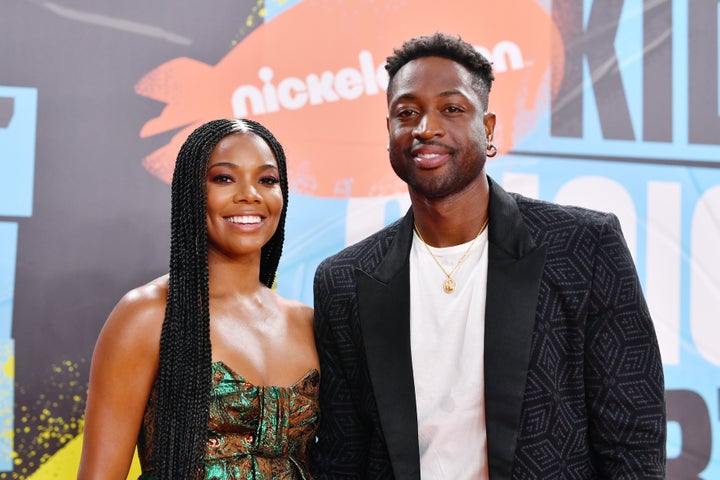 "You know that this is going to hurt someone that you've been building a relationship with and a life with, right?" he said. "No matter what people say on the outside, or what people want to think, this and that, ultimately you gotta sit with you, and you gotta sit with this person if this is gonna who you're gonna be with. And I had to sit with my now wife and have this conversation."
Wade added he "couldn't have gotten through that moment" of the news going public without Union "sticking with me."
Though the couple has since moved on from the situation (the two tied the knot in 2014), the 41-year-old said they're still actively working on their relationship.
"It hasn't been perfect ― it will never be perfect ― but that was nine years ago," Wade said of the controversy. "We go to therapy, we've been to therapy, we've had shouts about it, we've had regular conversations about it. And so it's been something that's going to be something that I have to work at and work on. It doesn't go away because years come or because I say 'sorry.'"
"In 2013, before we were married, Dwyane had a baby with another woman," she wrote of the child, named Xavier. "It should go without saying that we were not in a good place at the time that child was conceived. But we were doing much better when he finally told me about the pregnancy."
"To say I was devastated is to pick a word on a low shelf for convenience," the "Bring It On" actor shared. "There are people ― strangers I will never meet ― who have been upset that I have not previously talked about that trauma. I have not had words, and even after untold amounts of therapy, I am not sure I have them."
Union also shared in her memoir that she experienced fertility struggles and multiple pregnancy losses before she was finally able to welcome a daughter, Kaavia James, with Wade with the help of a surrogate.
In addition to Kaavia James and Xavier, Wade has two children: son Zaire and daughter Zaya. The couple also parent Wade's nephew, Dahveon Morris.
Support HuffPost
The Stakes Have Never Been Higher
Popular in the Community