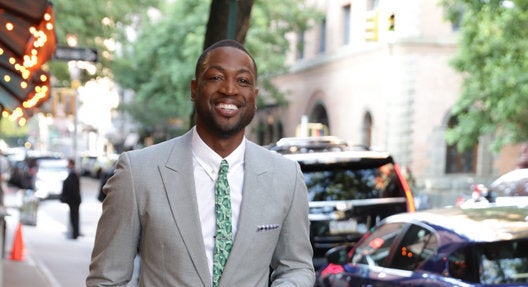 Dwyane Wade -- shooting guard for the Miami Heat, all-star MVP, 3-time NBA champion, husband to Gabrielle Union, Snapchat pillowtalker -- is good at a lot of things. One thing he told The Huffington Post he wasn't so good at when he entered the NBA, though, was tying his tie.
"When I got to the NBA, I did not know how to tie a tie and I had to ask one of my teammates on the plane one day [to teach me], because I used to be the guy that'd bring the tie on the bus and have one of the veterans tie it for me," he said.
Wade said he eventually wanted to learn how, "so I can teach my kids." So on a 5-hour flight to LA, he said he learned how to tie it many ways: "When I first started tying, the big knots were really in, the real big knots. But now I do the Windsor, the double Windsor, the single -- all that."
And he invented a new knot of his own: "I do the Pat Riley knot with the little bitty knot, so I do a lot of different ones."
Wade brings up a good question. Why are Riley's knots so tiny?