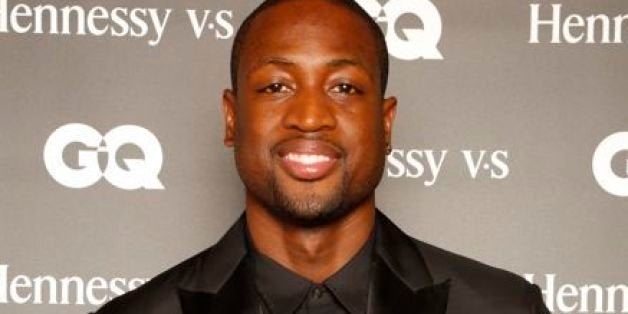 It was a Saturday night in Miami, so it's a given that Dwyane Wade was somewhere looking sharp. We found the Heat star at the SLS Hotel on South Beach hosting a Hennessy-sponsored "GQ Men" book celebration, fitting for one of the most stylish and sartorially experimental men in the NBA. Nas even made an appearance to perform a few of his greatest hits.
We're here for GQ, you're a fashion icon --
Really? Icon? That's a lot.
Everyone looks to you! I have to ask you about fall fashion, because we're about to have basketball season and you guys always show up for games and pressers wearing really great stuff.
We try, we try.
What's the new thing for fall? What are you most excited about?
Obviously, we all have our own style. We all have our own thoughts of what we want to do. I go into every year with my stylist, thinking about what're the trends that are going on, what's on the runway. But then sometimes I go in just thinking about how I want to present myself.
So this year I'm going into more of a gentleman kind of mindset. You'll see a lot more suits, a little bit more toned down. Just real gentleman-like from me this year -- not as loud as I'd normally be -- in my grown-man status.
So real proper. But not too proper!
Yeah, but not too proper. I'm gonna still throw a little bit in there, still gonna be stylish and try to be fly with it. But I feel like so many people are doing a lot of the same things, and I've done it, and now I kinda wanna move away from it. Just be that gentleman. I have a tie line coming out called The Gentleman, and I think it's just the perfect time for me to move over into that [look].
So as much as after games you don't want to put a suit back on, I'm gonna try to do that this year a little more.
You're also about to make socks cool with your own line.
They're already cool, I'm just going to help them! Stance is an unbelievable brand. I have an opportunity just to put my touch on it and my personality. It's fun, I've got them coming out November 1. They'll hit Champs and certain stores, it's gonna be cool.
Socks are cool, but they're a very underrated item in a man's wardrobe. Not the most noticeable thing, or where your eye typically goes first. So when you were focusing on the line, what were hoping to accomplish with it?
The reason I started even loving socks to the point I was trying to wear something different is that it's something people don't see. You look at people and you see what's on the outside, but you don't see what's on the inside as a human. It's the same thing with socks: Until I walk or take a step or until I sit down, [you don't see my socks]. And then once you see it, you get a different thought of my personality, and you start thinking, 'Who is this guy really?' I love it, I look at guys' socks all the time because it changes what you see about them.
They help tell a man's story, in a way.
Yeah, they definitely do that.
One issue really divides Miamians. Do you prefer the Julia Tuttle Causeway or the MacArthur Causeway?
I love the MacArthur.
BEFORE YOU GO
PHOTO GALLERY
Hennessy/GQ Party With Dwyane Wade And Nas