This blog post is part of a series of profiles of Atlanta-area drag queens and is funded by a grant from Idea Capital.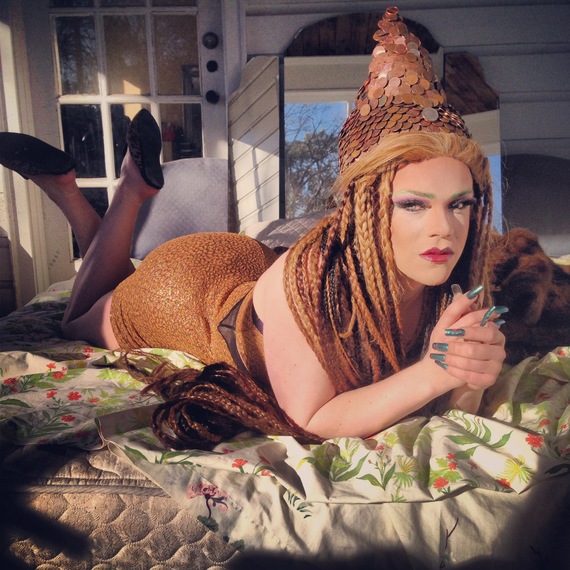 "I can't remember if I'm 23 or 24," says Nathaniel Jeffery. "But Mo'Dest is 2," he adds assuredly.
Mo'Dest Volgare first performed at local drag dive Friends on Ponce two years ago and has been part of Nathaniel's life since. Mo'Dest has built a safety net for Nathaniel in the drag community, and he would probably be homeless if it weren't for her. When he is down on his luck, which is quite often, Mo'Dest's friends have stepped in to help.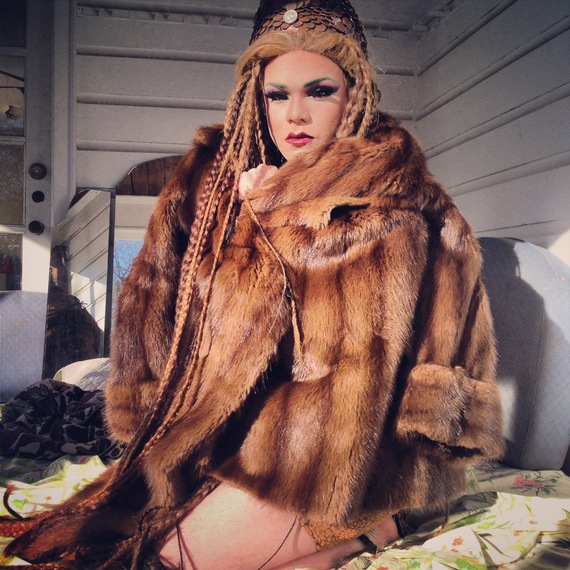 Nathaniel was born up in Connecticut, but by the time he was 12, his family had settled in the golf-cart community of Peachtree City, Ga. Nathaniel's parents practice their Presbyterianism very seriously; they have eight kids, and they believe the family should have complete control over what the children learn. Nathaniel's mother taught him the ways of the Lord until he was able to teach himself out of a book. In high school Nathaniel earned the privilege of going to a private "regular" school a couple of days a week to socialize.
Nathaniel remembers himself as femme and artistic as a child -- not the strapping oldest boy his parents expected. By middle school, Nathaniel had put it together that he is gay. On a 13th birthday vacation to Italy (they weren't poor Christians; his father was a financial planner), his father had "the talk" with him.
"When my dad asked if it was OK to have sex outside of marriage, I knew to say no. When dad asked if it was OK for two men to have sex, I pretended to not know that two men could have sex."
Deception plays a crucial role in the relationship between Nathaniel and his parents. At 15 he told his parents he doesn't believe in God. They put him on lock-down for weeks, until he said he was Christian again. As a child he learned to lie to his parents about himself, his desires, and his beliefs in order to have a decent life.
Nathaniel, the good, creative, Christian boy, was sent to the Rhode Island School of Design (RISD) for a pre-college program at 17. During his pilgrimage to the holy land of parent-free life, Nathaniel had (gay) sex for the first time.
Soon after, he came out to his dad over email.
"He was supposed to be at a business conference," Nathaniel says, "but he just stayed in his hotel room and cried all weekend."
Within 30 days, Nathaniel had left his parents' house and moved in with a guy he'd met on MySpace. His parents have not supported him or accepted him back into their life since.
At 19 Nathaniel moved to Statesboro to study photography at Georgia Southern University. He made it two years on grants and loans before dropping out. With no familial support, he just couldn't afford college. After Nathaniel dropped out, he moved back in with his MySpace ex; however, their relationship soon soured. The boyfriend became an abusive alcoholic, and Nathaniel suffered in his shelter. They were homeless for months, living in cars and budget hotels by the week. Eventually they found a place outside Atlanta, but Nathaniel soon struck out on his own. He found a job and a place to stay in the city without the MySpace jerk.
"I got a job as a receptionist at a salon, but they fired me after a year for being grumpy. I was just in my shell all the time," Nathaniel says.
When pressed to explain what "grumpy" means, he clarifies, "A perpetual bitch."
While at the salon he heard his boss joke about a dancer at the strip club next door.
"Her name was actually Modest," Nathaniel recalls, "but he called her 'Moh-dest,' and I liked that name a lot."
After being fired from the salon, Nathaniel took up graphic design to pay the bills and moved in with a "queeny" guy at Atlantic Station. In this living situation he finally started to move out of his grumpy shell and blossom. Nathaniel started to wear heels out. He made costumes for himself and finally embraced his femme side. Nathaniel doesn't identify as trans, but he likes the accoutrements and attitude of femininity more than the weapons and attitude of masculinity. He named his drag persona "Mo'Dest Volgare."
"I like the way 'modest' sounds trashy and 'vulgar' sounds fancy," he says.
Mo'Dest can best be described as a MARTA queen. As Nathaniel eked out a living in Atlanta, he rode the public transit system across the city. There he connected with other low-income folks waiting for bus after train after bus, day after day. Mo'Dest's hair comes from the beauty supply stores you see advertised on the back of city buses that careen through Atlanta. Mo'Dest loves to wave her braids through the air, showing off her skin-tight, too-short, shiny, animal-print dresses. She's a connoisseur of Cheetos, especially the Flamin' Hot variety. Her foot-tall wigs and 7-inch heels transform tiny (5-foot-5) Nathaniel into a big ball of banjee energy. Some would call his stylistic inspiration "ratchet," which is quite a change for home-schooled white boy Nathaniel.
Nathaniel acknowledges his debt to black culture in creating Mo'Dest Volgare -- her style, her music, and her attitude are clearly black-girl influenced. When he was young, he rebelled against his parents and listened to rap music. To this day it's his favorite genre, and Mo'Dest always performs to it.
"Rap songs say 'I'm better than this' about being poor," Nathaniel says. "There's a fake-it-till-you-make-it attitude, and I'm doing that now as a poor drag queen."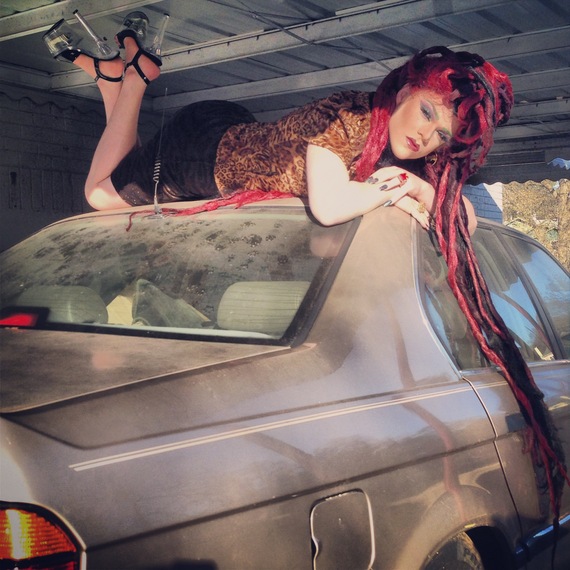 His favorite performance number is "It's Free (Swipe Yo EBT)," a song about the perks of the Women, Infants, and Children public assistance program. In the song, California rapper Chapter Jackson points out the fast-food joints, liquor stores, and clothing shops that will take the EBT (welfare) card. Jackson extols the nutrition assistance program for providing her pickles, Kool-Aid, Cheetos, Jolly Ranchers, and other gas-station fare. Nathaniel is on both food stamps and unemployment benefits; however, in Atlanta you can only use the card legitimately -- no Popeyes and Patron.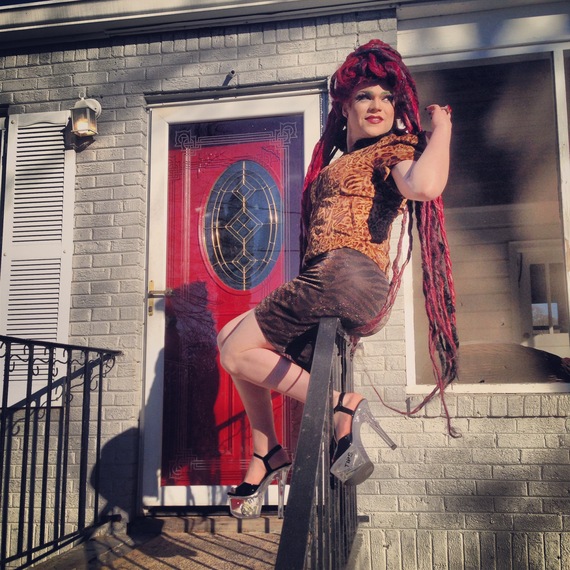 For four months he's lived rent-free with photographer friend Blane Bussey. Blane carts Nathaniel and Mo'Dest around and helps them out when needed. Nathaniel pays bills here and there, but he's essentially living in poverty. What little money he gets he puts into his drag. He weaves cheap hair extensions from the ghetto beauty supply store into his own wigs -- he can't afford real pieces. He's turned a small bedroom at Blane's house into his own drag studio. Blane lives way out in a neighborhood called Riverside, which is many slow buses into the city. Nathaniel mostly stays at home and works on his drag.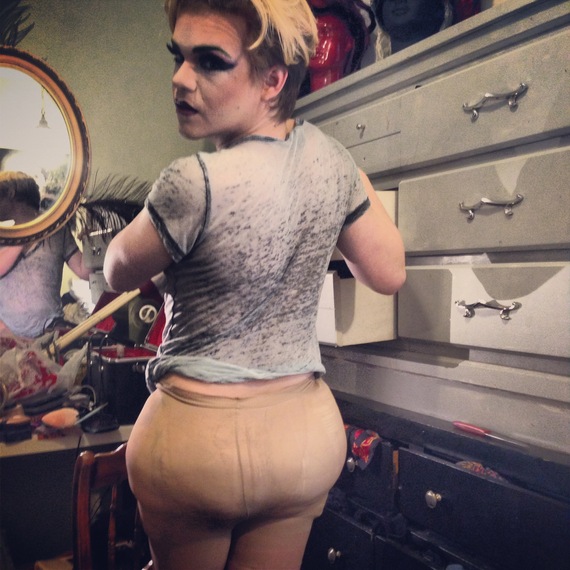 He's learned how to make his own wigs, headpieces, jewelry, and costumes, foundational skills for any drag performer. Mo'Dest often wears handmade headpieces constructed of mirror shards, pennies, and other detritus arranged jauntily. Mo'Dest helps transforms Nathaniel's poverty into art; drag allows him catharsis from his welfare-check-to-welfare-check lifestyle. He hopes to make money from drag one day -- selling his handmade items, or maybe being on a drag reality TV show. Picking the bills onstage at the club isn't Mo'Dest's idea of success; she's in this for something bigger.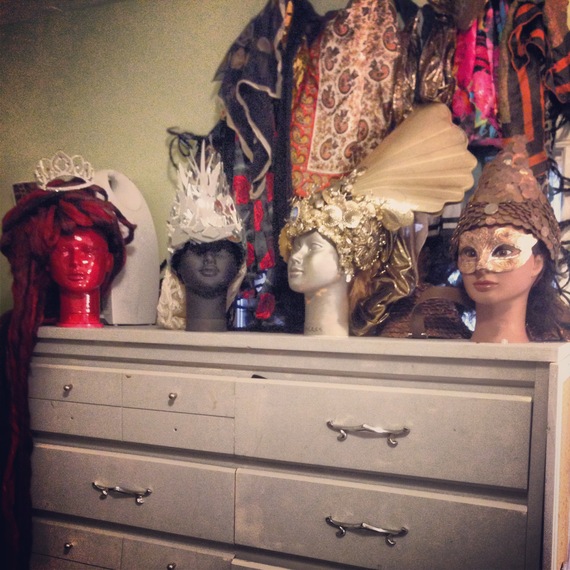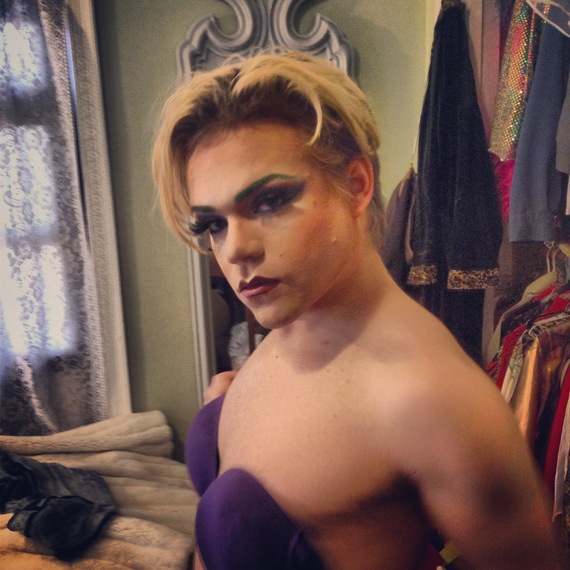 Nathaniel learned the patience of Job dealing with homophobia, Christian zealotry, poverty, homelessness, abuse, and more in his 23 or 24 years. The Lord comes through for good people, and she gave Nathaniel the gift of drag when he was most vulnerable. Mo'Dest brought Nathaniel through welfare, and though his future is uncertain, drag has become his anchor. Because of Mo'Dest, Nathaniel was not allowed back to his parents' house for Christmas this year. They gave him an Amazon gift card as a consolation gift.
"I bought stripper clothes [for Mo'Dest] and dildos and lube for myself," he says.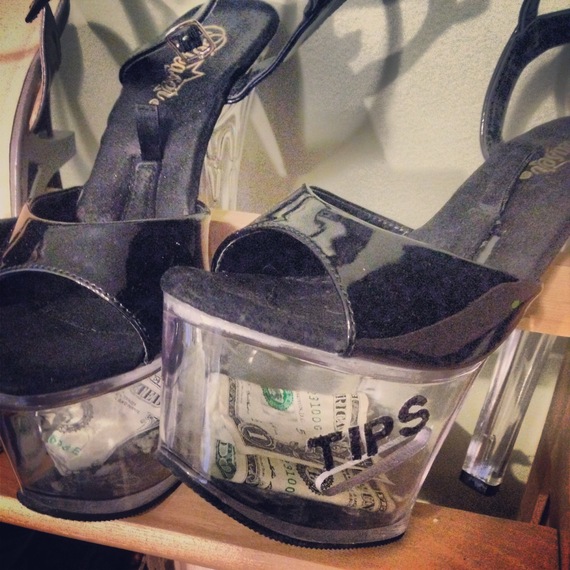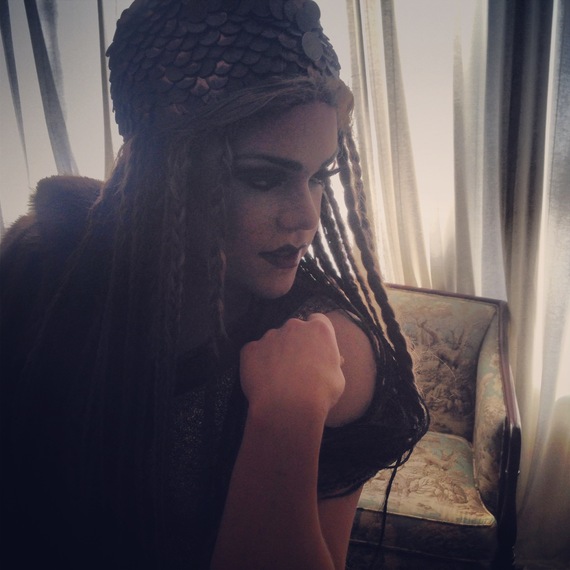 Calling all HuffPost superfans!
Sign up for membership to become a founding member and help shape HuffPost's next chapter