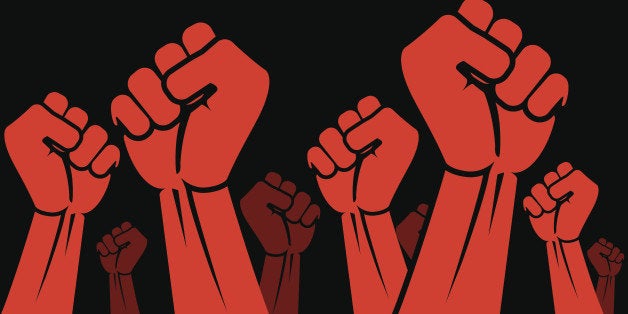 Dashcam video footage of the last seconds of Laquan McDonald's life was finally released tonight after over a year had passed since he was killed by a Chicago police officer. Thousands were already taking to the streets as mayor Rahm Emanuel (the corrupt ex-Obama chief of staff) called for peace, murmured something about holding someone "accountable" and then went off to attend the city Christmas tree lighting.
Not even 24 hours had passed since reports started to come in last night that protesters in Minneapolis had been shot while occupying part of a police precinct in protest over the shooting death of another unarmed black man there, Jamar Clark. Clark had been shot in the head with some claiming that he'd been shot while handcuffed.
If it feels like shit is about to hit the fan, that's because it is.
This all comes in a week where organizers and groups had just marked the anniversary of the shooting death of Tamir Rice, the 12-year-old Cleveland boy shot last year when police claimed they felt threatened by the boy's toy gun. Protesters marched in Brooklyn this past Sunday to decry Rice's death and that of Nicholas Heyward Jr., a 13-year-old Brooklyn boy killed in 1994 in eerily similar circumstances.
That black life is so casually and violently taken away is something that can no longer be ignored. Every march, every name, every hashtag underscores that point. So what are the responses?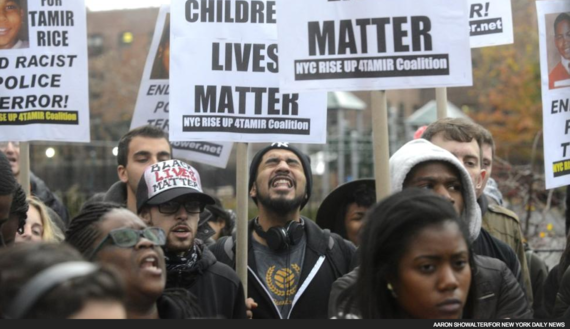 In Brooklyn, a rally for Tamir Rice and Nicholas Hayward Jr (credit NY Daily News)
In New York, the NYC Shut It Down Crew has been holding weekly protests for almost a year, most of them in Manhattan's Grand Central train station. The group, made up of activists who got together during last year's protests, honors victims of police violence every seven days and always take to the streets after, marching in front of cars and sometimes disrupting restaurants and stores with the facts around a particular police brutality case. It's an amazing and largely underreported continuous string of direct actions.
Mike Bengo, 30, says what's happened in Minneapolis and Chicago proves that white supremacy is going strong -- and it's only getting more dangerous. He points to the police victim count topping 1,000 as constant reminder of what's at stake. Part of what he and other activists do on "People's Monday" is read, in unison, printed fact cards that have information about the circumstances of what happened during fatal police encounters.
"It's important to have a counter narrative to expose the fact that the system will attempt to protect the perpetrators."
That seems pretty important in the context of what many have said is an attempted cover-up of the McDonald incident. Today's release of the video was at times confusing, with the media only being given access for an hour -- some really weird shit. In many other cases that type of footage is not even provided. In the case of Rice the local prosecutor has been bending over backwards trying to get a grand jury to not indict the police officer who shot the young boy. In the case of Heyward Jr., it didn't even get to a grand jury as no complete investigation was ever done.

NYC Shut It Down's fact cards for Akai Gurley (credit: Erik McGregor)
So as activists push for transparency and try to shine more light on an epidemic of police violence -- while also ducking bullets from apparent police-sympathizers -- there are also calls to gradually disconnect from the economic system.
Timothy Ford, 47, is a longtime activist and organizer who's been at the forefront of protests in New York from Amadou Diallo to Akai Gurley. He and other activists are pushing a boycott of Black Friday, the after-Thanksgiving shopping extravaganza where people literally kill themselves over merchandise. He says that stopping the dollar is one of the only things that can gut check a capitalist society.
"The Black Friday Boycott is a collective effort by many organizations", he explains. Ford thinks that the boycott could have a large impact even with just a 30 percent drop in shopping sales "because the only thing that this system respects is violence and money." Behind a mantra of "No justice, no profit", the calls for a boycott have come from camps ranging from the Nation of Islam to a more loose network of Black Lives Matter protesters. "Last year they lost 10 percent and they talked more about that than the 90 percent they got off of us", Ford continues. "Our community spends 2.1 trillion. This boycott would show not only unity but that there is a price to pay for killing us."
Some want to take that even further. Ty Black is a NYC-based activist who's been promoting a "Buy Black Tour" for almost a year (you can see some dope videos here, here and here). After the fatal police shooting of Akai Gurley last year, Black's response has been black unity. She thinks supporting black-owned businesses should go hand in hand with boycotting the big-chain stores that rake in holiday spending money this time of year.
Not only should we be boycotting black Friday. We should be spending black. Not just any black businesses, the ones that support black communities and/or black products in their establishments, and hire black employees.
As protesters clash with police in Chicago and activists recoup from the shooting in Minneapolis, the NYC Shut It Down Crew and other groups will be holding a solidarity protest tomorrow at 6 pm in Washington Square Park. Ford, Black and others then will try to squeeze the economic system Friday and build black unity for the long term. Shutting down the system may not be easy but people are pushing on all sorts of different fronts.
Let's all push as hard as we can, too.
Calling all HuffPost superfans!
Sign up for membership to become a founding member and help shape HuffPost's next chapter