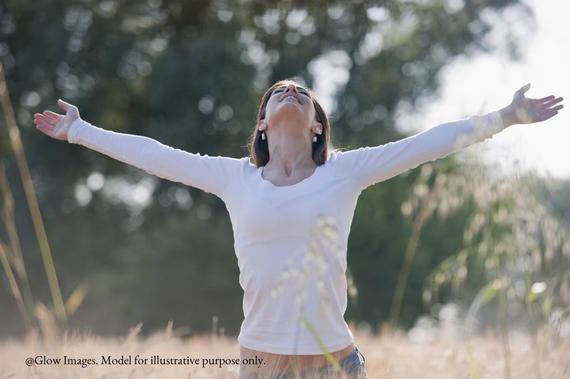 Anita Moorjani has a recipe to fight cancer that might catch some by surprise.
The New York Times bestselling Dying to be Me author revived from a near death experience (NDE) in February 2006 and completely recovered from end-stage cancer. In fact, she says she knew she was well before her body or her doctors caught up with her conviction. Within weeks they couldn't find any trace of cancer.
If Anita's doctors had been right, she would not be alive today. But she is -- and not, according to her, because of the chemotherapy or invasive procedures. Something radical changed within her thinking while she was "away."
On a Skype call with me from her home in Hong Kong, Anita shared insights she gained from this experience. Her newfound view of health and living made sense to me. In fact, throughout our conversation we found common ground on an approach that takes the focus off disease and puts it on the decidedly mental nature of health.
It's a concept I've considered integral to my own spiritual practice, through which I help people find healing through God and Bible-based prayer. And, though Anita generally shies away from religious discussions and doesn't want to be viewed as a spiritual teacher, the value of taking the focus off of disease and the fear of it is common to both of our approaches.
Prior to her NDE, Anita said she had been living in constant fear of disease and she never really valued herself. Yet her experience gave her the conviction that true healing and living an authentic life begin with loving yourself and eliminating fear.
I shared that I think of God as Love to which she replied, "I often am asked if I believe in God and I answer yes, but I have to define God first. The way you've articulated it is very beautiful -- because for many people, they've created God in their image, giving him human traits like jealousy, and so on. But these are not God-like traits."
In her book, Anita writes about her journey to "true healing." She says what saved her life was "knowing that I deserve all the good things in life, including good health." Her experience brought her to the conclusion that in order to eliminate cancer, the focus needs to be taken off the disease.
"It's so important for doctors/healers -- any health care practitioner -- to empower the patient and not make the person feel that You can't heal unless I intervene. It's really got to be about the patient feeling they have the capacity to heal," she said. "And I believe you don't even have to understand or know biology to heal. Very often we get in our body's way of healing. I'm not saying we don't need health care practitioners -- sometimes we do -- but I think we over-diagnose, and we're over-dependent on them."
"We spend billions of dollars on campaigns for early cancer detection, machines, drugs, awareness, etc.," she said. "Yet has the number of people getting cancer gone down? No, it's gone up. That's because we're too focused on disease."
Her solution? "Imagine if we spent the same billions of dollars, and instead focused on what wellness is -- what is joy, what is love? If we had ad campaigns on that, and taught doctors to help their patients look for what it means to be healthy rather than looking for cancer, wouldn't we see a completely different world?"
Anita compares her NDE to being in a dark warehouse with just a flashlight that suddenly illumines things she hadn't seen or understood in her life before. This prompted me to share a statement from my own spiritual study -- "Though the way is dark in mortal sense, divine Life and Love illumine it, destroy the unrest of mortal thought, the fear of death, and the supposed reality of error" (Science and Health with Key to the Scriptures).
We agreed that heaven and hell are not places, but rather states of consciousness. Anita says, "In that realm I felt this incredible unconditional love and I knew that love was my birthright and it lifted my awareness."
"In that state of clarity I realized it was incredibly simple -- that heaven is loving and valuing yourself and knowing you are deserving and worthy. It didn't matter whether I had a physical body. Whether I was in that realm or not, heaven was the same thing. It was about knowing this love and being aware of our connection to it. When your realize that you are worthy and deserving of everything God is, then you experience heaven."
That realization preceded her healing, which happened rapidly once she regained consciousness, with her husband characteristically right by her side.
I commented on how elated he must have been. "Oh he was -- and he refused to let me die. Sharing my healing has sometimes been lonely since not a lot of people truly understand it. But my husband does understand because he was by my side each step of the way," she said.
"It wasn't that I knew I was going to heal, it was that I knew I was already healed. My body just needed to catch up. It happened so rapidly. Within weeks they couldn't find any trace of cancer. The doctors didn't know what to write in my medical records!"
I naturally wondered if Anita is unafraid of death and disease now. "Yes, I'd say I am," she replied without hesitation. "Death is nothing to be afraid of."
And she speaks from experience.
Related