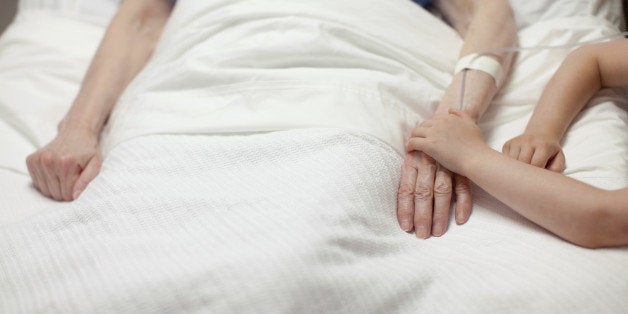 This article is co-written by Patrice Hirsch Feinstein and Tara Sonenshine. Feinstein is a grief counselor and expert on health policy.

Talking about death is hard. Really hard. Studies show that most people, even in their later years, resist the notion of talking about dying. In fact, many media editors and news sites do not like featuring stories about end-of-life issues, viewing them as depressing.
But more and more people are thinking about the issue. According to PEW Research Center, 37 percent of Americans say they have given a great deal of thought to their own wishes for end-of-life medical treatment--up from 1990. Yet over a quarter of Americans (27 percent) say they have given no thought or not very much thought to their own wishes.
Americans are living longer these days, and with the growth of assisted living, hospice benefits, palliative care, and life-extending health care measures, conversations about death may recede even further into the distance. At the same time, a quiet movement is growing within various states to address the issue of "how" people die, and the degree to which a person with a terminal diagnosis is permitted to exercise autonomy and self-determination with respect to the means and timing of their death, as well as the legality/morality of others assisting in hastening death, be it physicians or loved ones.
Some U.S. states already have so-called "death with dignity" or "aid with dying" statutes; other states are just beginning to consider the issue. In fact, 17 percent of the U.S. population reside in states where they now have more autonomy at the end of their life: this is not the case for more than 250 million Americans.
Debates within U.S. states (six of which have passed legislation) are raising necessary questions around sensitive issues of personal freedom and independence, control, quality of life at the end of life, the cost of prolonging life, dignity in decision-making, and how to instruct others to carry out one's wishes.
Even with so-called "advanced directives," there are situations in which individuals with terminal or progressive diseases want to hasten death. (Recall the case of Brittany Maynard, the terminally ill 29-year-old who spent her final days advocating for death-with-dignity laws. She took lethal drugs prescribed by her physician in 2014.)
Further complicating matters is the inherent tension over doing whatever it takes to save a patient, and respecting individual choice. While a clear majority (66%) of U.S. adults say, according to the same PEW study, that there are sometimes circumstances in which doctors and nurses should allow a patient to die, nearly a third (31%) say medical professionals always should do everything possible to save a patient.
One of the obstacles to talking about death and dying is finding the right words. The vocabulary around end-of-life issues is often conflicting, confusing, contrasting, and hard to navigate. There is the "death with dignity" movement, a "compassionate choice" movement, an "assisted suicide" discussion, various legislative bills with differing language about when a person is considered "terminally ill," and a host of other terms associated with "aid in dying." Even the polling data can be hard to interpret, depending on how the questions are asked and the words chosen.
Conversations on this topic are happening. A new book, On My Own, by radio journalist Diane Rehm, is drawing readers and listeners with its moving account of her husband John's decision to "hasten" his death. (He wanted help in dying but because he did not live in one of the six states with enacted legislation permitting him to exercise such control and because he was physically unable to take action, his choices were limited and all he could do was to "relinquish" his life, by denying himself food, water and medication.)
As public attention to this issue grows, there will be questions about how to approach the question of who should decide when life ends, where it ends, and even whether or not the issue deserves discussion. A good starting point is figuring out the lexicon--what are the words that explain the issue?
Words matter -- especially when it comes to legal liability for those who aid in an individual's desire to speed up the death clock. Suicide is against the law. But what about "assisted suicide?" Will the law and an insurance company defend a physician or assisted living facility that aided in hastening the death of a patient? What if that patient was, perhaps, depressed or frail?

Words are also important because of the religious overtones of going "against God's will" by refusing to "let nature take its course." We have seen what can happen when words like "choice" or "life" become weighted with religious and political meaning.
As the popular conversation builds, and states grapple with referenda and legislative moves to put the "death with dignity" issues on their ballots, we, as individuals, will have to grapple with words. Dying is a hard subject. But it's part of life and should be part of our public dialogue.

Sonenshine is former under secretary of state for public diplomacy and public affairs and lectures at George Washington University's School of Media and Public Affairs. Feinstein is a grief support counselor who has listened to survivors lament the final stages of their loved ones' lives. She was formerly the associate administrator at the Department of Health and Human Services.
This post is part of Common Grief, a Healthy Living editorial initiative. Grief is an inevitable part of life, but that doesn't make navigating it any easier. The deep sorrow that accompanies the death of a loved one, the end of a marriage or even moving far away from home, is real. But while grief is universal, we all grieve differently. So we started Common Grief to help learn from each other. Let's talk about living with loss. If you have a story you'd like to share, email us at strongertogether@huffingtonpost.com.