Dylan Howard, the chief content officer of American Media Inc., was the subject of an internal investigation into sexual misconduct during his brief stint in charge of the celebrity site Celebuzz, multiple sources have told HuffPost ― the second investigation into Howard's behavior to be made public this week.
Early on at the job, Howard made his new colleagues uncomfortable. They knew of his personal reputation, and his behavior once there did nothing to disabuse them of their preconceptions.
"We knew and it was very well known that he had some type of inappropriate behavior at work with his female employees," said a former Celebuzz editor who worked directly with Howard. "You knew it was going to go downhill." (HuffPost spoke with a number of former employees, all of whom wished to remain anonymous because they still work in the industry.)
A second former Celebuzz employee said in an email that she recalled Howard making "inappropriate remarks" about being attracted to a co-worker during his time there. "His way of relating and cutting lose with his co-workers seemed to be by telling crass and shocking stories that were offensive at times," the former employee said.
He called me into his office, shut the door and berated me because a woman he slept with who he found "fucking disgusting" had her period all over the bed, yelled at me and said, "What the fuck is wrong with women like you? Get out."

A former Celebuzz producer
A third employee said that Howard made her "feel like my job was threatened" because she was pregnant. "It was a real hostile work environment," she said.
A separate former Celebuzz producer described Howard as "creating a toxic environment" at the company. "Right off the bat, he made every woman in the office feel incredibly uncomfortable," the producer said.
At one point, she said, "He called me into his office, shut the door and berated me because a woman he slept with who he found 'fucking disgusting' had her period all over the bed, yelled at me and said, 'What the fuck is wrong with women like you? Get out.'" (Three people confirmed to HuffPost that the employee told them the story at the time.)
In a statement provided to HuffPost, Howard denied that he ever made such a statement, calling it "incredibly offensive" and based on the memories of a "disgruntled former employee."
"Let me be crystal clear and very direct: The statement HuffPo attributed to me never came out my mouth. It is incredibly offensive, and deeply saddening that a media organization would publish such abhorrent words — as fact — based on the threadbare sourcing of a disgruntled former employee," he said.
"My 2012 tenure at BuzzMedia was thoroughly reviewed, as the AP reported Friday, and the undisputable fact is that this claim was not made until HuffPo chose to publish it in 2017," he added.
HuffPost followed up with the source about Howard's response. "It happened, standing by the story," she wrote. 
The producer ultimately left the company of her own accord in late 2012, she said.
"I just want nothing to do with this place," she said. While she never filed an official complaint, she said she "certainly let them know during my exit interview that he was the reason I was leaving because I could not stand to be a part of that."
In early 2013, employees around the newsroom became aware that Howard had come under internal investigation over harassment allegations, a source close to the situation said. The AP reported Friday that an internal investigator wrote a letter in April 2013 saying Howard violated the company's sexual harassment policy, citing eight separate allegations, which included throwing a "sexual aid" at an employee, the AP said.
"There is nothing here that has any truth to it," Howard told the AP. AMI did not immediately respond to a request for comment from HuffPost.
One of the Celebuzz employees confirmed to HuffPost she was contacted in early 2013 by the company "very specifically to ask me about sexual stuff." "I could basically confirm that he was inappropriate and would make comments that were completely unprofessional," she said.
"And then, he was gone," the employee added.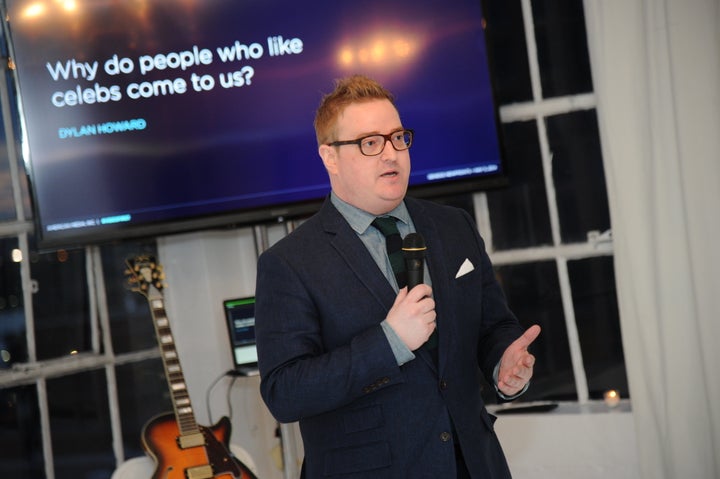 After just a little over a year at Celebuzz, Howard left the site and returned to AMI. He has since risen up the masthead and now controls a trove of tabloid brands, including the National Enquirer and Radar Online, as part of his new role as chief content officer. It's not clear if Howard left Celebuzz as a result of the investigation. 
Earlier this week, the AP reported that former employees at AMI felt Howard often belittled and degraded female employees at the office. That AP story contained a number of allegations. Former reporter Liz Crokin said Howard once asked her if she was "going to be walking the streets tonight" when she was wearing heels. He told another former employee he wanted to create a Facebook page for her vagina. He forced women to watch pornography. His nickname for himself was "Dildo."
Howard has called the claims about his behavior "baseless," and AMI has said that Howard "has the full support of AMI and its executives." A lawyer for AMI, Cam Stracher, said the investigation into Howard's alleged misconduct found nothing seriously impermissible.
The Australian journalist first became embroiled in controversy last month, when Ronan Farrow reported in The New Yorker that Howard had obtained negative information on actress Rose McGowan on behalf of Harvey Weinstein ― part of the film mogul's complex campaign to dig up dirt on his vast number of potential accusers. McGowan has since accused Weinstein of rape.
This article has been updated with a response from Dylan Howard and a follow-up reply from the source.
Calling all HuffPost superfans!
Sign up for membership to become a founding member and help shape HuffPost's next chapter
BEFORE YOU GO