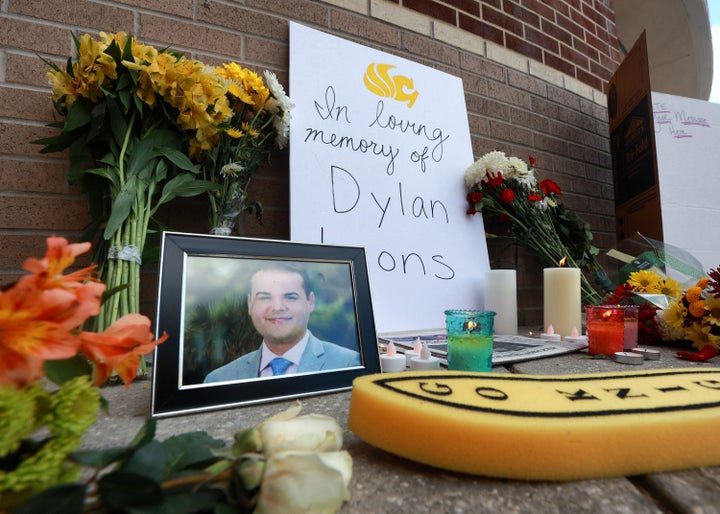 The fiancée of a journalist killed in a shooting in Orlando, Florida, on Wednesday shared her grief on Twitter, writing that her life will never be the same.
Spectrum News 13 reporter Dylan Lyons was shot dead in Pine Hills on Wednesday afternoon while reporting about another fatal shooting that had happened in the area earlier that day. He was 24.
"The love of my life was murdered. I will never be the same person ever again. Please help my family and I during this time," Lyons' fiancée, Casey Lynn, posted Wednesday, sharing a link to a GoFundMe page to help raise money for his funeral.
In November, Lyons had tagged Lynn in a post celebrating the anniversary of when she became his girlfriend.
"One year down and a lifetime to go! I can't wait for what the future holds! I love you!" he wrote.
The GoFundMe page, set up by Lyons' sister Rachel Lyons, described him as a "happy soul and wonderful person."
"He was an acting father to his niece and nephew who he loved so much," the page said. "He loved his [fiancée] and he was a devoted son to his mother and father. Dylan would have been 25 years old in March."
Lyons and another Spectrum New 13 reporter, Jesse Walden, were shot while covering a homicide that had occurred Wednesday morning. A woman and her 9-year-old daughter were also shot that afternoon in a home nearby. Lyons and the child died. Walden and the mother were critically injured.
In an interview from his hospital bed, Walden said Lyons was a friend "that made working fun."
Luana Munoz, a reporter at WESH 2 Orlando, gave an tearful report from outside the Orlando Regional Medical Center on Wednesday evening. She said Lyons' family and fiancée were "distraught."
"His fiancée and I were just embracing," Munoz said. "This is every reporter's absolutely worst nightmare. We go home at night afraid that something like this will occur, and that is what happened here.
Keith Melvin Moses, 19, was arrested and charged in the death of the woman who was shot Wednesday morning, Nathacha Augustin. The Orange County Sheriff's Office said it expected he would also be charged in the two additional fatal shootings.
Popular in the Community