From "Glee" to "Modern Family," primetime television's roster of gay characters has become an increasingly full house as of late. So when Dylan Marron landed a role in "Whatever this is.," the new Kickstarter-funded web series written and directed by Adam Goldman ("The Outs"), the actor wanted his portrayal of the openly gay Ari to not only be more nuanced, but also emblematic of different aspects of the community.
"Ari is exactly the type of gay character I would have liked to have seen on TV when I was growing up," Marron, a 25-year-old New York City native and Wesleyan University alum, said in an interview with The Huffington Post. "I love seeing an out gay character who hasn't figured it all out. He isn't necessarily the sassiest … Ari not only feels flawed, but also a bit like he's still under construction."
As seen in the darkly comic series' first episode (which can be viewed above), Ari's outsider status is heightened by the fact that he's the only gay character among the central triumvirate of "Whatever this is." The show focuses on Ari's personal and professional relationship with his straight friend Sam (played by "Outs" veteran Hunter Canning). Together, the cash-strapped pals toil, often begrudgingly, as production assistants for a "Real Housewives"-like reality series in New York. Meanwhile, Sam's similarly down-on-her-luck girlfriend Lisa (Madeline Wise) experiences some trials and tribulations of her own.
As Marron also points out, the introspective Ari is set apart from many of his bed-hopping counterparts on mainstream television and film in that he has deliberately opted for "an elected vacation" from romance. The pilot episode featured a saucy love scene between Sam and Lisa juxtaposed with a painful, though humorously played, scene in which a male suitor rejects Ari on a street corner with a racially-charged remark. The sequence portrays what Marron describes as a less savory, though little-discussed, aspect of many men in the gay community.
"Racism, as it exists within the gay community, is one of the most disheartening things," Marron said. "When I first came out, I thought, 'Oh my God, I am done with hardship -- everyone in the community is so accepting!' It was such a naïve, uninformed view." Noting the ample presence of racially-charged remarks on a number of gay-focused dating sites, he added, "It's very bizarre and it makes me really sad."
These days, Marron's primary focus is completing the first season of "Whatever this is.," which recently surpassed its Kickstarter goal by garnering over $171,000 in funding from enthusiastic viewers (the show's near-rabid community of fans, many of whom were first hooked on Goldman's work in "The Outs," made their presence known at a sold-out July 30 premiere party in Brooklyn, N.Y.). But Marron can also be frequently seen onstage as an active member of The Neo-Futurists writing and performance ensemble, as well as in "Ridgefield Middle School Talent Nite," which he co-wrote with fellow sketch performer Jo Firestone.
As to whether he feels compelled to emphasize lesbian, gay, bisexual and transgender (LGBT) themes in his stage and screen work, Marron noted, "You know, I do! I just don't think it would be possible for me to make 'not queer' art, if that makes any sense. That isn't to say I couldn't write or perform on a different experience. I will always be the jumping off point so even if there's no specific gay component to my character or my material, it will be from a queer perspective."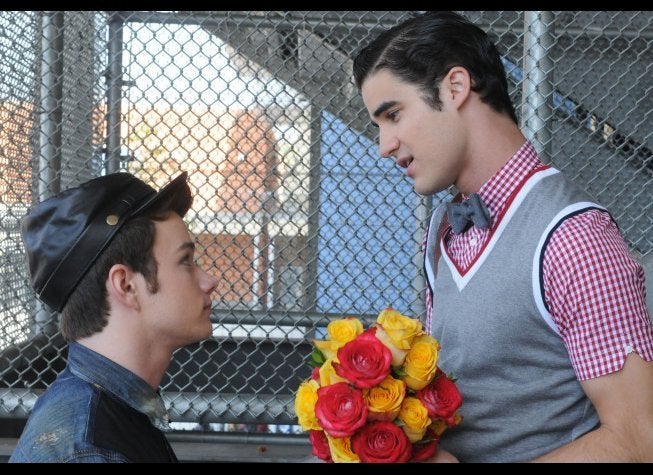 Favorite Gay TV Couples
Popular in the Community