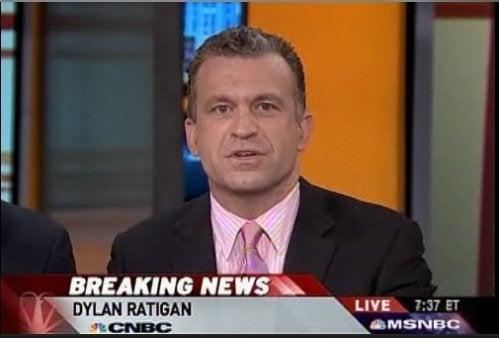 The network announced today that the former host of CNBC's "Fast Money" will be anchoring 9-11 AM weekdays beginning June 29.
Last month, Ratigan told Business Insider's Henry Blodget that he wanted to address "major policy failures in America" through at a larger news platform than CNBC. When asked which outlets he had in mind, Ratigan, who had been rumored to be in talks with ABC, rattled off the names of several networks.
"Pick them," he said. "ABC, CBS, HBO, MSNBC, CNN, FOX."
"MSNBC is on a terrific roll, and adding Dylan really bolsters our lineup of strong personalities," said network president Phil Griffin in the announcement. "Dylan will be the perfect complement to 'Morning Joe' and he rounds out a great team in the morning."
"I am grateful to Phil Griffin for this incredible opportunity to create a program and collaborate with the impressive talent that makes up MSNBC," Ratigan added. "While I look forward to broadening my scope in covering the multitude of issues facing our country today, what draws me to MSNBC is that they have offered me a 2-hour forum to discuss any and all political issues with no directive other than to provide compelling content. Which apparently now I actually have to do."
Related
Popular in the Community