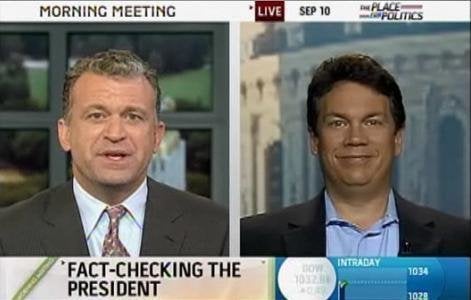 Over at Media Matters, Eric Boehlert calls out the media for covering Rep. Joe Wilson's interjectory fireworks during President Obama's address to a joint session of Congress on Wednesday night without delving into whether Wilson was correct in his assertion -- that Obama was lying when he said that illegal immigrants would not qualify for credits for the proposed health care exchanges:
What's been completely glossed over by the press is the fact that the "You Lie!" was itself built upon a lie. That the rude outburst was yet more GOP misinformation. Instead, too many in the press treat the exchange as a he said/he said. i.e. Obama claimed illegal immigrants won't be covered, and Wilson called him a liar. What are the facts? Which man was telling the truth? The press won't say.
In an update, Boehlert credits Michael Scherer at Time Magazine for digging into Wilson's claim. But he should also dole out a kudo to MSNBC's Dylan Ratigan, who invited Politifact's Bill Adair on the show to provide fact-checking of the speech. Ratigan got right to it, leading off the segment by asking Adair to rate the accuracy of Wilson's outburst, citing it as "the obvious [item] to fact check." Adair, noting that it was the first time he'd ever "fact-checked a heckler," said that he rated Wilson's assertion "false."
ADAIR: Obama is right. When you look at the bill, it does go to some lengths to make sure that illegal immigrants do not get the credits for the health care exchange that would allow them to get free care. They'd have to pay for it, like everybody else. False for Wilson.
[Would you like to follow me on Twitter? Because why not? Also, please send tips to tv@huffingtonpost.com -- learn more about our media monitoring project here.]
Related
Popular in the Community