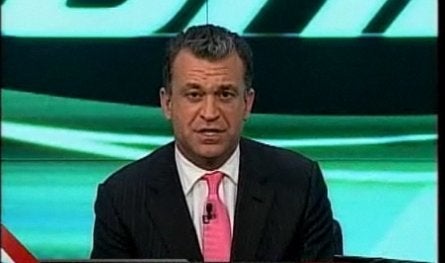 Dylan Ratigan has left CNBC effective immediately, network spokesperson Brian Steel told TVNewser.
The New York Post's Page Six reported Friday that Ratigan had quit following a dispute with network VP Susan Krakower — though insiders deny to TV Newser that Krakower is responsible for Ratigan's exit:
"It's less about Krakower and more about him," says the source. "He wants to be the next Letterman."
Steel told TVNewser that Ratigan's departure is a mutual decision and said, "Due to the serious economic times in which we live, we made a decision that it would be a distraction for Dylan to host 'Fast Money' today."
Page Six also reported that it heard a tape of Ratigan, recorded last summer, ranting to a producer (suggesting he's been unhappy for some time):
Page Six heard a tape of highly volatile Ratigan, who also co-anchors "The Call" and "Closing Bell," ranting to a producer at a commercial break last summer: "Don't ask me to talk about every [bleep]ing e-mail that comes up on the screen. I'm not going to host a [bleep]ing TV show that consists of reading [bleep]ing e-mails to [bleep]ing traders." He then accuses Krakower of never addressing his concerns in private. "You know what, Susan, I'm in the middle of hosting a show right now, so now is an unwelcome time to hear your voice . . . If you want to pull me off the show, please do," he roars. "[You are] rude and disrespectful. . . . You lie to me routinely."
Popular in the Community