Dylan Siegel goes beyond what many first graders might do for a pal.
Siegel, a 6-year-old from Los Angeles, wrote a book called "Chocolate Bar" to raise money for research into what ails his best friend, Jonah Pournazarian. Jonah, 7, suffers from a one-in-a-million liver disease called glycogen storage disease type 1B.
"Chocolate bar" is Dylan-speak for "awesome," which pretty much describes the campaign so far.
The attention that the young do-gooder has received exceeds what Mom and Dad foresaw when he pitched them the idea in October.
"As far as a 6-year-old can process it, it's pretty exciting to him, seeing himself on TV," his mom said to HuffPost. "[But] we're not making that big a deal of it at home."
At first, the parents suggested Dylan try a more conventional method of fund-raising (bake sale anyone?), but were shot down with don't-patronize-me attitude, Debra confirmed. Then Dylan produced the first handwritten and illustrated pages within an hour. "Dylan actually gave us something to work with," she recalled to HuffPost.
Debra, a professional organizer, and Dylan's dad, David Siegel, a marketing executive for Disney, soon realized the book "would strike a chord," she said.
The original volume sat on her desk while she dealt with a family emergency but as the boys' "Good Deeds Day" at school approached in early November, Dylan stepped up his entreaties for Mom to copy the book. Finally, the big day arrived and the book sold $6,000 worth of copies and chocolate bars.
SEE PHOTOS OF DYLAN, JONAH AND THE BOOK. STORY CONTINUES BELOW.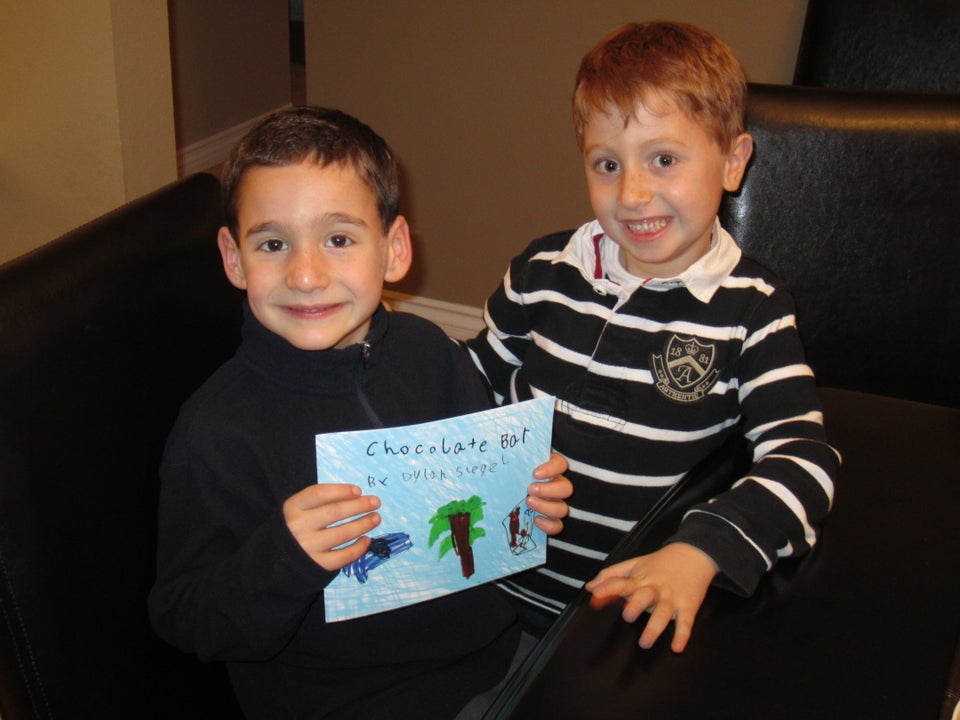 Boy, 6, Writes Book To Raise $30,000 For Sick Friend
Later, a book-signing by both Dylan and Jonah at a popular L.A. mall, the Grove, generated $5,000 in book sales, she said. Other book sales, including online proceeds, resulted in the addition $19,000 raised.
The momentum has not stopped since, as media outlets put the spotlight on a disease that doesn't get a lot of attention.
Meanwhile, Dylan and Jonah continue their best-buddyship at their elementary school and after class. Jonah has a monitor at school to measure his blood sugar because the disease hinders the metabolizing of food, Debra says. After school, it's easier for the boys to have play dates at Jonah's house as his parents can be sure the disease is effectively managed, she adds.
And he is vulnerable. He caught the common cold last month and ended up in a hospital for several days, his father, Rabin Pournazarian, told the news outlet.
The Chocolate Bar Facebook page points out that a cure is close and that Dylan has elevated his fund-raising hopes to $1 million to hopefully accelerate the research. You can donate to the project through Facebook, on the page found here.
Dylan summed up his effort on the Chocolate Bar website: "Helping my friend is the biggest chocolate bar."
Those who would like a copy of "Chocolate Bar" or to donate in another way can click here.

Support HuffPost
The Stakes Have Never Been Higher
Related
Popular in the Community