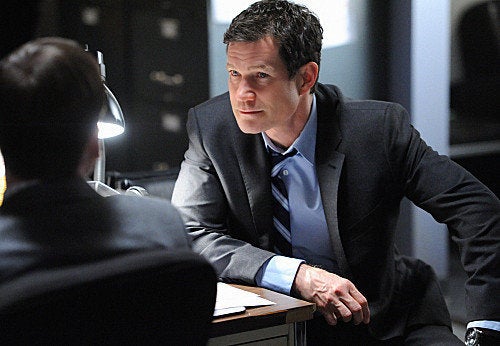 Imagine being able to remember every single day of your life. It's an extremely rare gift and serves as the premise for the CBS drama "Unforgettable."
In the detective series, former "Nip/Tuck" star Dylan Walsh and actress Poppy Montgomery play exes who still mangage to heat up the screen. The show also has a very special consultant: "Taxi" actress Marilu Henner, who has the capacity for total recall in real life.
Walsh talked to The Huffington Post about his on-screen chemistry with Montgomery in "Unforgettable" and his plastic surgery days on "Nip/Tuck."
You play Poppy Montgomery's ex on "Unforgettable." I have to say, there is a lot of sexual tension between you two.
Exactly. It's funny, when you're shooting a show like this, the couple has to have some sense of history. And of course, we have no history. So either you get lucky and two people have chemistry, or you don't. We were lucky, because from the minute I shook her hand we were laughing.
Poppy's character remembers everything that's happened to her, just as Marilu Henner does in real life. Would you want that gift?
I would not. To me, it would be a burden. I think it's part of your mental health to let go of things. I think if you would have it all right there, it would be a little overwhelming. I don't know how you'd have a relationship. When you have a relationship, don't two people collude to kind of forget certain things? I think we use that in the show.
Have you asked Marilu about her ability?
I know Poppy talks to her to know what the gift is like. I've talked to her a bit. I was more curious to know what it was like to be her husband. When a lot of people first look at the show, they think it's some kind of supernatural thing. Although it's extremely rare, it is an ability that a few people have.
You starred on "Nip/Tuck" a few years ago. Did you have a lot of women showing you their implants?
I would get people coming up, but more tongue-in-cheek -- never really meaning it, but kind of wanting to know what work they needed done. The answer always was, "Oh, you don't need a thing done." I was lying nine times out of 10. One of the great things about that show was that it coincided with the trend itself. I think [creator] Ryan Murphy was a genius in that he caught it right when the trend was on the rise and so it became a cultural thing. It wasn't just a TV show.
You grew up in a lot of different countries. Was is hard to relate to your friends back in the U.S.?
Yeah, my dad was in the foreign service. We lived in India, Indonesia and Africa, and we traveled a lot from those places. I was 10 when we moved back, and I felt like the odd guy out. It wasn't until later that I appreciated it. But coming back I didn't know any TV shows or music, which was even worse.
Who is your celebrity crush?
Charlize Theron. But what guy wouldn't say that? I've never met her; I'd probably be a bit tongue-tied around her.
Check out a promo for "Unforgettable" below:
Popular in the Community