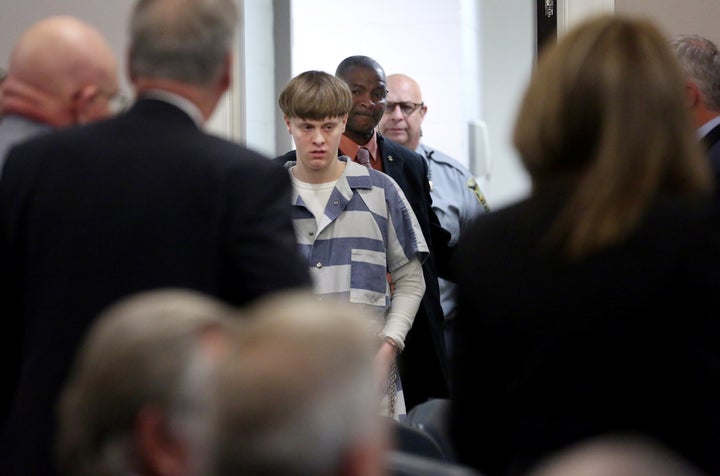 Update (Sept. 20, 2017): The 4th U.S. Circuit Court of Appeals refused Dylann Roof's request to fire his Jewish and Indian lawyers, The Associated Press reported.
"The court denies the motion for substitution of counsel on appeal," the judges wrote on Tuesday.
White supremacist and convicted mass murderer Dylann Roof has petitioned to remove two lawyers from his defense team.
Roof claimed it was "impossible" for him to "trust" his court-appointed attorneys, according to a handwritten letter filed Monday with the 4th Circuit Court of Appeals in Richmond, Virginia, that was obtained by BuzzFeed and reported on earlier by South Carolina's The State. Roof identified the attorneys, Alexandra Yates and Sapna Mirchandani, as Jewish and Indian, respectively. He also described them as his "political and biological enemies."
Because of their race, he wrote, it was "quite literally impossible that they and I could have the same interests relating to my case."
Roof, 23, killed nine people at Emanuel African Methodist Episcopal Church in Charleston, South Carolina, during a 2015 shooting rampage. He later said he'd hoped the slayings would ignite a race war.
In his recent petition, Roof requested that Yates and Mirchandani be dismissed from his defense team and "replaced."
"I am confident after meeting my current attorneys that they will be unable to represent me in an efficient manner," he wrote, noting that he had clashed with his former attorney, the renowned death penalty lawyer David Bruck, who is Jewish.
Bruck's "ethnicity was a constant source of conflict even with my constant efforts to look past it," Roof wrote.
UPDATE: This story has been updated to show the court's refusal of Roof's request.
Popular in the Community