The suspect in Wednesday's deadly shooting at a South Carolina church has been apprehended in Shelby, North Carolina, according to local outlets WLTX and WSOC.
Dylann Roof, 21, is wanted in the massacre of nine people during a Bible study session at Emanuel African Methodist Episcopal Church in Charleston Wednesday night.
Attorney General Loretta Lynch confirmed Thursday that the suspect has been captured.
"I've had to make statements like this too many times. Communities have had to endure tragedies like this too many times," President Barack Obama said in a news conference. "There is something particularly heartbreaking about death happening in a place in which we seek solace."
CNN reports Roof was apprehended at a traffic stop in Shelby, a city located about 245 miles from Charleston, approximately 14 hours after the manhunt began.
#BREAKING: A source told Channel 9 the #CharlestonShooting suspect Dylann Roof is in custody in Shelby. We are cutting in on the air now.

— WSOCTV (@wsoctv) June 18, 2015
#BREAKING: Law enforcement source tells News19 Charleston church shooting suspect arrested in Shelby, NC

— News 19 WLTX (@WLTX) June 18, 2015
Roof is suspected of opening fire in the church around 9 p.m. Wednesday. Eight people were killed at the scene, while a ninth person later died in the hospital.
The church's pastor, Rev. Clementa Pinckney, was among the victims. Pinckney, 41, was a state senator and a married father of two.
Witnesses said the gunman spent about an hour inside the church with victims before the shooting.
"I have to do it," Roof reportedly said. "You rape our women and you're taking over our country. And you have to go."
Roof's uncle, Carson Cowles, told Reuters that his nephew had received a .45-caliber pistol from his father for his 21st birthday in April. Authorities declined to disclose details about the weapon used in the massacre.
"Nobody in my family had seen anything like this coming," Cowles told Reuters before Roof was caught. "I said, if it is him, and when they catch him, he's got to pay for this."
Charleston Police Chief Greg Mullen called the mass shooting a hate crime during a news conference Thursday morning. The FBI and Department of Justice are investigating the shooting as a hate crime.
"The only reason someone could walk into a church and shoot people praying is out of hate," Charleston Mayor Joe Riley said at a Thursday news conference. "It is the most dastardly act that one could possibly imagine."
Roof's Facebook profile photo shows him apparently wearing patches on his jacket that represent apartheid-era South Africa and the unrecognized, white-dominated state of Rhodesia.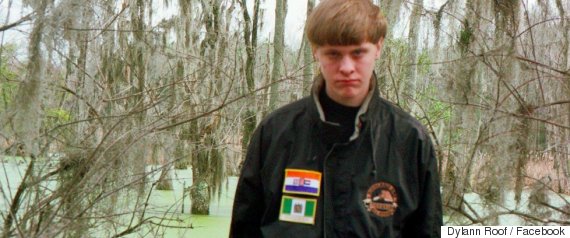 John Mullins, a former classmate of Roof's at White Knoll High School, told the Daily Beast that Roof "made a lot of racist jokes" but people never really took them seriously. "You don't really think of it like that," Mullins said.
The White Knoll High School administration did not immediately return multiple requests for comment from The Huffington Post.
"We woke up today and the heart and soul of South Carolina was broken. So we have some grieving to do and we have some pain we have to go through. … Having said that, we are a strong and faithful state," Gov. Nikki Haley (R) said in news conference after Roof was captured.
Emanuel is the oldest African Methodist Episcopal church in the South.
Community members, shocked by the brazen attack on one of the oldest African-American churches in the country, gathered early Thursday morning to pray and show support just blocks from where the shooting occurred.
People praying and singing for God's help in the middle of Calhoun St. in Charleston. 2 blocks from church shooting pic.twitter.com/Dhd9mFmq6v

— Matt Alba (@mattalbaWCBD) June 18, 2015
Others expressed outrage, condemning the racially motivated nature of the shooting.
"People are afraid to talk about the real issue, which is race. People dislike other people simply by the color of their skin," one man, who was not identified, told MSNBC. "We are communities that are trying to live and survive. Why do we have to live like this?"
Records show Roof was arrested in Columbia, South Carolina, on drug charges in February, and in April for trespassing.

REAL LIFE. REAL NEWS. REAL VOICES.
Help us tell more of the stories that matter from voices that too often remain unheard.