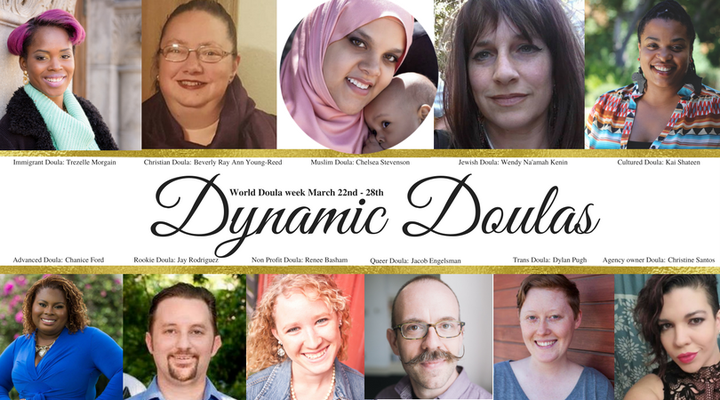 The legacy of a Doula lives in the hearts of the many families who've experienced nonjudgmental, unbiased labor & postpartum support, which I'm sure initiated a ripple effect of positivity. Many families who have utilized a Doula's services encourage others to do the same. The title Doula stems from ancient Grecian culture. A Doula was considered a "woman's assurance and calm during birth." In today's culture a Doula is an individual who provides physical, emotional and sometimes virtual support to the birthing individual during pregnancy, labor & postpartum. Doulas were & still are supportive, compassionate, caring, calming and provide evidence-based birthing education.
The profession as it stands now wasn't as prominent, or business minded just 50 years ago, yay for progress. While this profession is gaining momentum, the perception remains that
*Doulas are only straight/ CIS gender/ women
*Doulas are all "crunchy"
*Doulas do not support non-vaginal births
*Doulas are fighter on behalf of birthing individuals
*Doulas only serve CIS couples
Professional Doulas serve all births & provide support without discrimination, ridicule or negativity. The point of this post is to break the chains of stereotypes and create an open dialogue so that others can see that we as Doulas are diverse, our support is unchanging and that we are strong and proud professionals.
In today's modern world, Doulas have become rather mainstream. Celebrities like Angela Simmons, Dj Khaled's wife Nicole Tuck, and Joseline Hernandez are a few examples of the celebrities that have chosen to utilize a Doula's services. Statistically, only 9% of birthing individuals use a Doula. While Doulas do not guarantee outcomes, ACOG reports that the presence of a Doula during birth helps keep a calm & reassuring atmosphere in childbirth & helps decrease the rate of postpartum depression.
World Doula week (March 22- 28th) has come & gone but, I would still like to introduce you to a few Doulas who I call colleagues. Before you read on, please open up your heart & eyes to see each person for who they are.

KAI SHATTEEN: BIRTH AND POSTPARTUM DOULA, PLACENTA ENCAPSULATION SPECIALIST
Kai is a Black Queer Mother of two teenagers living in the Bay Area. She has dedicated her life to strengthening the lives of young people and their families. For more over ten years, she has worked alongside a training program that supervises and mentors young development workers empowering them to be all that they can be. Her involvement with the program opened her eyes to the lack of support families suffered from at the beginning stages. This is what led her on the journey of Birth Work for Black and POC Families, single parents, young parents, and Queer parents.

JACOB ENGELSMAN: BIRTH AND POSTPARTUM DOULA, Owner QTP Doula
Jacob has been working in kitchens for about 17 years and recently decided to make a career change and become a doula. He has always thought of babies as the ideal of human existence. "All they do is learn and grow. I can't think of anything better than to spend my days taking care of them and helping to bring them into the world." His desire to help babies and their families propelled his Doula career.

JAY RODRIGUEZ: Rookie Doula BS NRP CD, BIRTH AND POSTPARTUM DOULA
CEO The Great Northwest Doula Service
33-year-old Jay Rodriguez is a Male Doula serving Auburn Washington. He recently moved there from Texas with his lovely wife Heather, who are celebrating over seven years of marriage. They have two pets which they love, and both love education. In fact, they moved to Washington so that Heather can further her education. As a scholar, he holds two Bachelor's degrees, three Associates degrees & many medical certifications. In college, he realized that following in his father's footsteps wasn't what he wanted, which is when he decided to venture on his own. His mission is to serve & help birthing people.

WENDY NA'AMAH KENIN: Birth & Postpartum Doula, Owner Imeinu Doulas
Faith-based Doula (Jewish)
Wendy is the mother of 5 children, a Doula, and founder of a Jewish birth professionals network called Imeinu. She is an ecofeminist and views birth work as direct action against patriarchal violence.

Chelsea Stevenson: ProDoula CCE (Certified Childbirth Educator), Postpartum Doula, NCS (Newborn Care Specialist), CEO Birth Under Wraps
Faith-based Doula (Muslim)
Chelsea Stevenson is a Muslim American living in a quiet community tucked between Baltimore, MD. and Washington, DC. She has been a caretaker most of her life, stemming from her childhood as the eldest of multiple siblings being raised by a single father, Chelsea believed that her upbringing played a major role in who she is today. Her candor, resilience, and resourcefulness are all direct reflections of her childhood. Alongside her career as a Doula & business woman, she home schools her three vivacious little ones whose objective like most children is to keep her on her toes. She spends her free time with her family because she knows that they are her "most treasured assets in life." She enjoys traveling, creating in the kitchen, moseying around Target, and indulging in the occasional Netflix binge."

Beverly Young Reed: Birth & Postpartum Doula, Childbirth Educator and Accredited Triple P level 2/3 provider,
Faith-based Doula (Christian)
Mom to 5, Beverly knows grief all too well. She has experienced child loss twice, and most recently the passing of her husband who suffered from MELAS a mitochondrial disease for 17 years. Beverly is a Christian woman who believes in being honest, true, and faithful. She is an amazing individual and truly has a "servant's heart." She is on a mission to make the world a better place, doing so by providing safe, non-judgmental support and education to those who need it most. To her, her business serves as more than a means to create income. Her desire is to create impact and change lives by giving of herself and helping others however she can.

Renne Basham: Birth & Postpartum Doula, Executive Director Hope's Embrace
(Alternative Doula (Non-profit Doula)
Renee is a wife, mother and is also expecting a baby soon. She is a passionate Christian with workaholic tendencies, who has a compilation of experience in different fields. She has been quoted saying "when I have a dream I dream big, and I'm driven to get it done." She lives her life by the example of Christ and pushes herself always to be a reflection of Him.

Christine Santos: Birth & Postpartum Doula, CEO Sun State Doulas
Alternate Doula (agency owner)
Mom to 3 "wonderfully dynamic children and wife to an amazing, caring, phenomenally understanding husband." Christine spends her days filling up her tank with poetry and basking in nature's glory. She has three years experience as a roller derby player and she love it! "I enjoy a good cup of coffee- if I'm supporting a local roaster, even better. I love food experiences; fondue, Korean bbq, dining in the dark, chef tables- so much fun and memories. I am incredibly introverted even though I come across as an extrovert. Very few people know me deeply."

Chanice Ford: Labor & Postpartum Doula, NCS, CBE, baby planner, & infant sleep coach. CEO Concierge Doulas, Lullaby Little
Chanice Ford is a certified labor and postpartum doula, newborn care specialist, baby planner, childbirth educator, & infant sleep coach. She was introduced to birth work while on the path to midwifery, and found herself in love with a career that she is quickly turning into an enterprise! Together with her partner, Lily Gann, they own Concierge Doulas, Lullaby Baby, and are actively working on other projects and community involvement. Chanice is as light hearted and open minded, as she is introspective. She strong values and commitment to equality has allowed her into the hearts and minds of all who know her. In her spare time, Chanice is quite the wanderer. Sometimes she finds herself at an excellent brunch enjoying her foodie fantasies, and other times at the beach closely noticing the wind on her face. She values time with her family and friends and feels the most fulfilled when there's none neglected. Chanice resides in West Palm Beach, FL with her husband and threenager, Corey and Cori!

DYLAN PUGH: FULL SPECTRUM DOULA, Birth and Postpartum Doula, Owner Seahorse Doula
Dylan is a Transgender and Queer full spectrum doula and sexual health educator. Dylan answers to they/them/theirs pronouns. A native of San Diego, Dylan went to college in San Francisco. Dylan's Ideal work would be to help transgender parents with their family planning and their birthing journey. "I want Trans parents to know that there are Trans Doulas like myself who respects their gender and have knowledge about how to support them."

Trezelle Morgain: Labor & Postpartum Doula, CEO GLAM Birth Services
Immigrant & Independent parent Doula
As a born citizen of St. Lucia, Trezelle Morgain migrated to the US with her family when she was a minor. She is a mompreneur, who loves to blog, eat and live a happy, colorful life. She is an independent parent to her little rainbow daughter who she refers to as "Queen Sass," she also has two angel babies who she thinks about often." She strives to live a life that aligns with who Christ desires her to be, and believes in accepting, loving and caring for everyone, no matter their differences. She loves socializing, getting to know others and empowering others to live in their truth and find happiness amidst their struggles and challenge.
This profession is more than a job; it's more than a hobby, It's a lifestyle. Though our skin color, experience levels, gender /nongender conformity, origin, religion, beliefs, etcetera may differ we stand before you, equipped with compassion, empathy & heart service. Professional Doulas although individually unique, help empower, educate, and provide personalized support, no matter how different your family dynamic is.
Be kind and share this with your friends. Please share this post on your social media channels and let's raise awareness to the diversity of Doulas.

Related
Popular in the Community