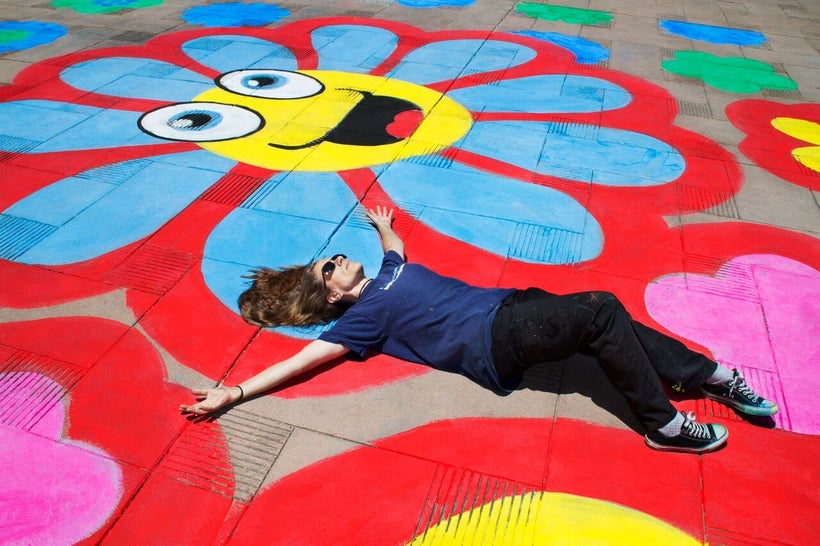 Creative beasts inspire us. And rightly so. Super funky ideas swim around in the rivers of their imagination and somehow, by grace, by goodness, and by intent, they manage to take those impressions out of the invisible realm and bring them into the Here and Now, for the entire world to see.
In that respect, many creatives are the agents of change among us that warrant our attention.
Naomi Pitcairn is no stranger to this process. In recent years, the creatively adventurous Southern California-based artist-activist-free speech proponent's site-specific artistic works have managed to turn heads—from Oakland to L.A.—as much as they inspire the masses with their visually breathtaking and insightful provocations.
Enter: The Los Angeles Department of Recreation & Parks.
Now that L.A.'s behemoth entity has commissioned Pitcairn to produce six temporary, vivid mega-artworks in downtown Pershing Sqaure—the first endeavor came to life July 15—locals, visitors and social media marvels near and far can view and celebrate the works prior to a series of Saturday evening concerts (July 22, 29, Aug. 5, 12, 19), which are slated as part of the Square's summer concert series.
It makes prefect sense that the Department of Recreation & Parks would seek out Pitcairn. The intrepid, award-winning artist is now being commissioned more for large-scale works and other gallery shows. But having Pitcairn create something dynamic in the Square is a fitting "coming full circle" moment—in 2012, Pitcairn was handcuffed on the Square during her first uninvited public art action. While these new site-specific works don't have the political punch as the artist's previous outings, they are stunning nonetheless.
So let's break down it all.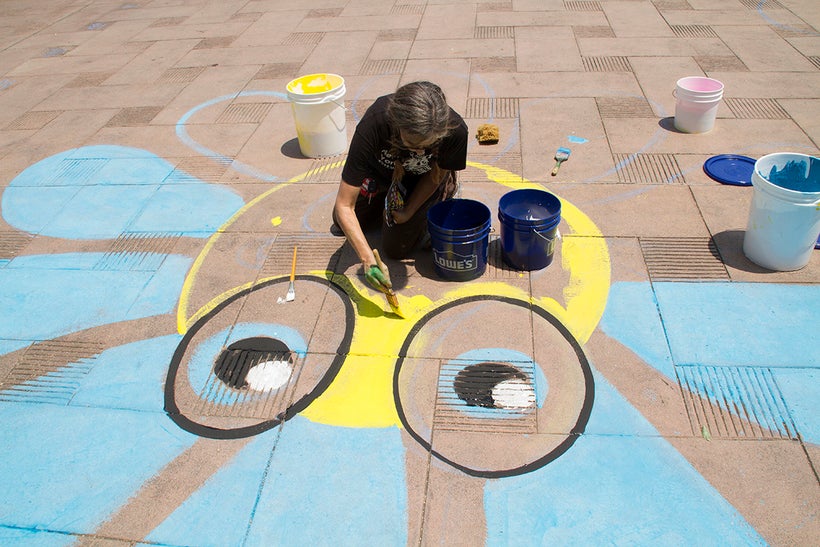 Each of Pitcairn's 60' x 40' massive artwork in the Square is intended to celebrate a slew of various bands—from L.A.'s punk rock X to roots rockers The Wallflowers—but each one of the large-scale drawings requires almost 2,000 pounds of electrifying marking chalk.
"I've personally lifted every pound at least once" the artist remarks.
What we get, in many ways, is a homage to the 50th anniversary of The Summer of Love—trippy neo-psychedelic compositions that "pop" in the modern park; dazzling works with influences of symmetry as well as Op and Blotter Art, which are evident in the intricate backgrounds. Not to be left out: Manga and Anime.
This particular commission also allows Pitcairn to build upon her grad school study of design and technology—she created code to visualize the symmetries that bring various patterns to life. To that end, she uses a scaling technique of gridding off a drawing into smaller sections, which makes it more streamlined for her to extrapolate a much larger version.
"But here in the Pershing Square, there are pavers in a basket weave pattern, so I just work with that existing matrix," she says. "This location gives me the opportunity to use stencils and mess with it. We have a lot of fun transforming the street under our feet into temporary art."
Temporary being the key word. Like a dedicated Tibetan monk creating a vivid sand mandala, there's a Zen-like sense of impermanence in Pitcairn's work. Inevitably her chalk creations meet their maker: a power washer.
And yet … it's all part of this unique artistic process.
To date, Pitcairn has conceived and orchestrated more than 50 political street-art chalks that have graced a variety of locales—from the Bay Area to Baltimore. That she draws upon on what comes naturally to her is a testament to her artistic integrity—on so many levels. Much of her work addresses the most crucial social justice issues currently unfolding—environmental causes (Standing Rock's DAPL), anti-immigrant policies, drone warfare.
Stimulating? Yes. Memorable? Even more so.
Learn more about Naomi Pitcairn's art projects, "chalkupy," commissions, gallery shows, and activism at naomipitcairn.com. Find out more about the concert series here.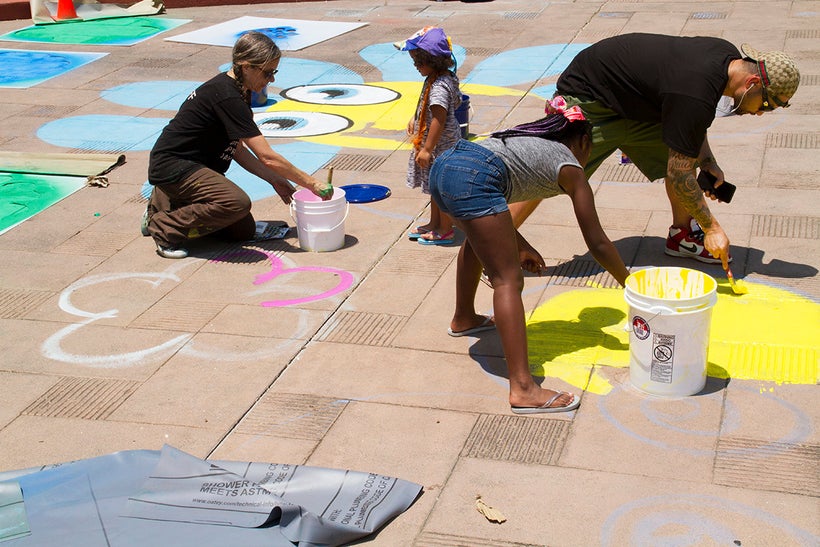 REAL LIFE. REAL NEWS. REAL VOICES.
Help us tell more of the stories that matter from voices that too often remain unheard.
This post was published on the now-closed HuffPost Contributor platform. Contributors control their own work and posted freely to our site. If you need to flag this entry as abusive,
send us an email
.