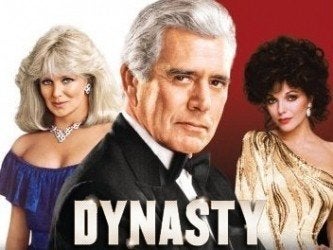 'Dynasty' may be getting its next chapter. On film.
The massive 1980's soap opera about a rich oil family in Colorado ran from 1981-1989, registering as the number one show on television in 1985. E! Online spoke with the show's creator, Richard Shapiro, who said that the film is very much on -- but will be a prequel, set in the 1960's.
"It was my daughter Florie's notion to do a prequel, and that sounded very very good to us," Shapiro said.. It's how young Blake doesn't realize he's the son of Tom Carrington, but then he finds himself at the head of this company and surrounded by assassins and people who want to do him in."
The original show featured John Forsythe as Blake Carrington and Linda Evans playing Krystle, his secretary-turned-second wife. When Joan Collins joined the cast in the second season as Carrington's conniving first wife, Alexis, the show shot to the forefront of national discussion.
In 1991, they filmed a TV miniseries reunion, but this would be the first foray into movie theaters. It may not be the last -- Shapiro says he's planning on a movie franchise for the show.
Popular in the Community