I received my first meditation training in 1975 when I was living in Minnesota. At that time, there were very few books on meditation or spirituality and even fewer tailored to the "modern Western" mind. Today, we have lots of mindfulness and meditation classes, books, websites, etc. Spirituality is a hot topic, so it's much easier to find guidance from a teacher. Today, rather than being too little, there's too much, and finding a reliable, authentic teacher or source book can be problematic.
From personal experience, I can attest to the fact that Dza Kilung Rinpoche is an authentic Tibetan Buddhist teacher and his new book The Relaxed Mind provides what Buddhists often refer to as genuine pith instructions into seven different types of mediation. Although it is subtitled "A Seven-Step Method for Deepening Meditation Practice," this book is actually the perfect guide for people at any level of meditation training. Each of its "steps" is a different type of meditation that builds upon the previous meditations in the book.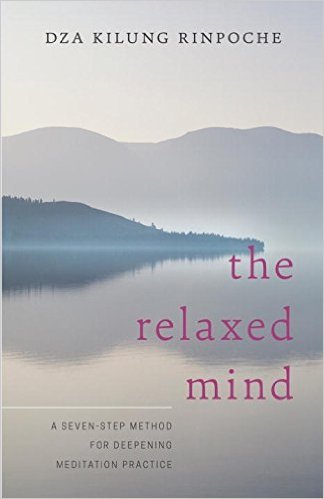 In other words, The Relaxed Mind is a simple yet complete, 150-page manual for the mind training that we label meditation. And although it is a complete package, I believe that the best way to use this book is with the support of an accomplished meditation teacher. Since Dza Kilung Rinpoche is a Tibetan Buddhist teacher of the highest caliber, it would probably be best to find a teacher / spiritual friend / guide who is accomplished in Tibetan Buddhism.
Here's the description of The Relaxed Mind from Amazon:
In the late 1990s, shortly after arriving in the United States, it became clear to Dza Kilung Rinpoche that his Western students were unable to progress in meditation as well as his students had back in Asia -- and he realized that was because the pace of Western life made it difficult for them to relax. The Relaxed Mind contains instructions for the seven-phase meditation practice Dza Kilung Rinpoche developed for Westerners. It's very traditional but adapted to help those of us who live in a culture of distraction. The method is a way for tense meditators to relax and deepen their practice -- but it's also an excellent meditation manual for any beginner.
I agree with this description, and I would add that The Relaxed Mind provides a tested system for progressing in your meditation practice and on your spiritual path. Kilung Rinpoche and his senior students have been teaching the seven meditations outlined in The Relaxed Mind at his Meditation Center for many years, and the book itself is a derivative of his precise teaching to Westerners. It's also quite useful that his students' questions about a particular meditation along with Kilung Rinpoche's answers are provided at the end of each meditation section.
All in all, The Relaxed Mind offers great benefit to anyone searching for a spiritual path as well as people who have been practicing meditation for decades. May The Relaxed Mind and Dza Kilung Rinpoche's teachings find their way into the hands and hearts of all those who seek and need this wisdom.
REAL LIFE. REAL NEWS. REAL VOICES.
Help us tell more of the stories that matter from voices that too often remain unheard.