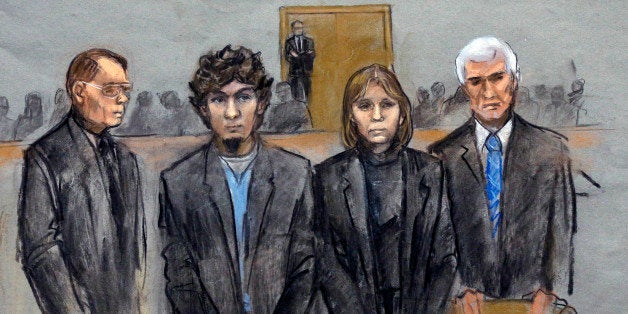 If Dzhokhar Tsarnaev is given the death penalty, it'll mean years of appeals, a media circus and a martyred killer.
That's an argument defense attorneys used Monday as they began to mount their case against killing the Boston Marathon bomber, according to The Boston Globe. Attorney David Bruck told jurors during opening statements that Tsarnaev should instead spend 23 hours of every day in a tiny room at the United States Penitentiary Administrative Maximum Facility in Florence, Colorado.
"He goes here and he's forgotten," Buck said in court. "No more spotlight like the death penalty brings. ... No martyrdom."
Jurors already convicted Tsarnaev on 30 charges related to the bombing and the killing of a police officer. Now his defense team will try and convince jurors to give him life in prison without the possibility of parole.
During Monday's penalty phase hearing, Bruck acknowledged the pain and suffering that so many victims sustained in the 2013 attacks. But he spent his opening statements shifting the focus away from Dzhokhar and back toward his dead brother, Tamerlan, saying, "If Tamerlan hadn't been in the picture, would Dzhokhar have done this on his own?"
Maintaining the focus on Tamerlan, who was killed after a shootout with the police and after his brother drove over him in a getaway car, Mr. Bruck also said that Tamerlan was committed to violence.

"What Tamerlan's computer shows is obsession," he said. "He was consumed by jihad. It had become almost all he did and all he thought about," as he plotted revenge for Muslim deaths in American-led wars in Iraq and Afghanistan.

Referring to Tamerlan, he added: "The man who conceived, planned and led this crime is beyond our power to punish. Only the 19-year-old brother who helped is left."
Instead of letting Dzhokhar appeal his life away on death row, Bruck argued, why not put him away in a place that already houses Unabomber Ted Kaczynski and "other terrorists who used to be famous?" He said inmates at the federal prison, also called ADX, have very little contact with the outside world, The Globe reports.
On Monday afternoon, the defense also called in witnesses to testify, including acquaintances of the Tsarnaev brothers and Tamerlan's mother-in-law. Judith Russell -- the mother of Tamerlan's widow, Katherine "Katie" Russell -- spoke out for the first time since the bombings, saying Tamerlan's relationship with Islam became an "obsession," according to the Boston Herald.
An acquaintance testified that Tamerlan criticized the U.S. government's actions abroad about four months before the 2013 Boston Marathon bombings.

Robert Barnes spoke Monday during the penalty phase of the federal trial of Tamerlan's younger brother, Dzhokhar (joh-HAHR'). Dzhokhar Tsarnaev has been convicted of all 30 charges against him, and the jury will now decide whether he should be executed for his crimes.

Tamerlan Tsarnaev died days after the April 15, 2013, bombings following a gun battle with police.

Barnes says he and Tamerlan spoke in December 2012 at a pizzeria in Cambridge. Barnes says Tamerlan was "very passionate" in his criticisms.

He says Tamlerlan became aggressive when another man criticized Tsarnaev's religion for how it treated women. Barnes says Tamerlan poked him in the chest.
Dzhokhar's defense is expected to continue arguing that his older brother masterminded the bombings and then pressured Dzhokhar into them.
Calling all HuffPost superfans!
Sign up for membership to become a founding member and help shape HuffPost's next chapter
BEFORE YOU GO
PHOTO GALLERY
Boston Bombing Trial Evidence