WASHINGTON -- Sen. Dianne Feinstein (D-Calif.) strongly rejected calls to declare Boston bombing suspect Dzhokhar Tsarnaev an enemy combatant, arguing that it would be unconstitutional to do so.
"I do not believe under the military commission law that he is eligible for that. It would be unconstitutional to do that," Feinstein said on "Fox News Sunday."
"Let me say this … one of the great things about America is that we come together at times of trial," she continued. "I very much regret the fact that there are those that want to precipitate a debate over whether he's an enemy combatant or whether he is a terrorist, a murderer, et cetera."
The Senate Intelligence Committee chairwoman pointed out that there have been 435 terrorist convictions under federal law.
"You've got the high-value interrogation group. They're skilled. They know how to do this," Feinstein said. "The Miranda rights can be read at a later time. He has reportedly been shot through the throat. He's intubated. He can't talk now."
"So there is time to do the investigation, to make a clear assessment and to move from there," she said. "I really regret all of this discussion, which is creating a conflict that need not be there. The administration is ready for this."
On Saturday, Sens. Lindsey Graham (R-S.C.), John McCain (R-Ariz.) and Kelly Ayotte (R-N.H.), along with Rep. Peter King (R-N.Y.), had issued a statement urging President Barack Obama to treat the 19-year-old Tsarnaev as an enemy combatant. Graham told CNN's "State of the Union" on Sunday that a U.S. citizen, such as Tsarnaev, can still be an enemy combatant and that Tsarnaev was a good candidate for enemy combatant status.
"When the public safety exception expires, and it will here soon, this man in my view should be designated as a potential enemy combatant, and we should be allowed to question him for intelligence-gathering purposes to find out about future attacks and terrorist organizations that may exist and he has knowledge of," Graham said Sunday.
Law enforcement authorities have said they plan to invoke a public safety exception that would enable a special interrogation team for high-value suspects to question Tsarnaev without reading him his Miranda rights. The exception is in place to protect the police and public from immediate danger.
"That evidence cannot be used against him in trial. That evidence is used to protect us as a nation," Graham continued. "Anytime we question him about his guilt or innocence, he's entitled to his Miranda rights and a lawyer, but we have the right under our law -- I've been a military lawyer for 30 years -- to gather intelligence from enemy combatants, and a citizen can be an enemy combatant."
Graham added that it was too early to know if Dzhokhar Tsarnaev had any connections to al Qaeda.
King also weighed in on the subject during an appearance on "Fox News Sunday."
"The reason for it is there are so many questions unanswered. There are so many potential links to terrorism here," King said. "Also, the battlefield is now in the United States, so I believe he is an enemy combatant."
Law enforcement officials captured Tsarnaev late Friday in Watertown, Mass., following an extensive manhunt, in which residents were urged to stay indoors. Tsarnaev was rushed to the Beth Israel Deaconess Medical Center, where he remains in serious condition.
Support HuffPost
The Stakes Have Never Been Higher
Before You Go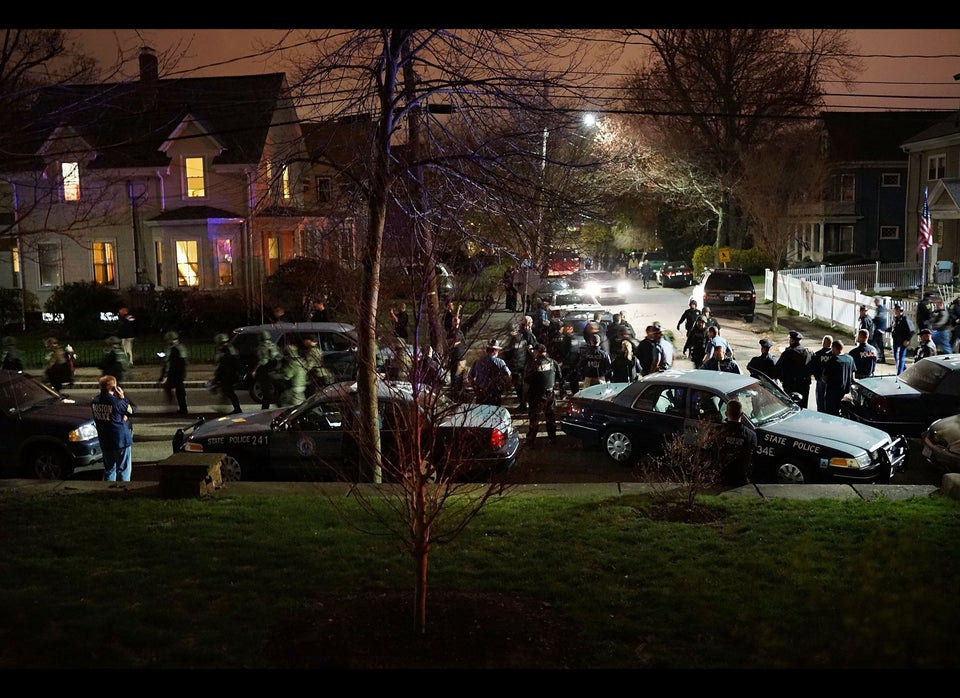 Manhunt For Suspect #2
Popular in the Community