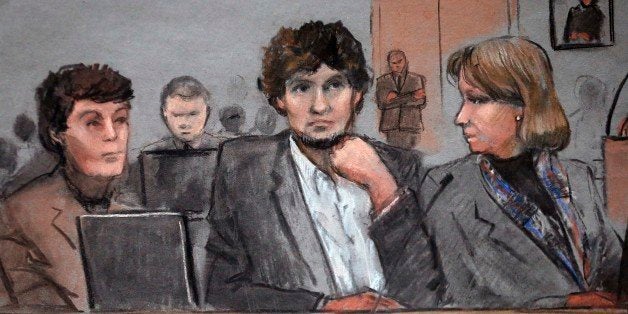 BOSTON -- If both state and federal prosecutors get their way, Dzhokhar Tsarnaev will face murder charges after he is sentenced to death.
The federal death penalty trial of the Boston Marathon bombing defendant began with his lawyers admitting in opening statements that Tsarnaev was involved in the attack that killed three people and injured 264 more, many of whom suffered amputations and other serious disfigurement. Whether Tsarnaev pays the ultimate price for those crimes, state prosecutors plan on dragging him into court again once the first case is complete.
A local district attorney said Thursday that she intends to prosecute the 21-year-old defendant for the fatal shooting of Massachusetts Institute of Technology police officer Sean Collier.
Dzhokhar Tsarnaev and his older brother Tamerlan allegedly killed Collier on April 18, 2013, three days after the bombing, as he sat in his patrol car in Cambridge, just across the Charles River from Boston. Collier died from several gunshot wounds to the head, including one right between his eyes.
"Dzhokhar Tsarnaev has been indicted by a Middlesex County grand jury for the murder of Sean Collier and we intend to move forward with criminal charges against Tsarnaev after the current federal trial is completed," said Middlesex District Attorney Marian Ryan in a statement.
Tamerlan Tsarnaev, 26, died in a battle with Watertown, Massachusetts, police just hours after Collier's slaying. His younger brother was captured and indicted in federal court on 30 charges for the violent spree that began with the Boston Marathon attack. Those charges include "use of a weapon of mass destruction" and "bombing of a place of public use."
Homicide, however, is a state crime, which is why Tsarnaev may be put on trial again after the federal jury reaches its verdict and potentially sentences him to death. Capital punishment is possible for 17 of the charges against him.
Collier's killing has repeatedly come up during the federal trial because it pertains to several firearms charges. Tsarnaev's lawyers have admitted that he was present when Collier died, but argued that it was his brother who pulled the trigger.
The Middlesex DA's office didn't respond to The Huffington Post's request for comment.
Tsarnaev was indicted on June 27, 2013, for killing Collier, but the state case was put on hold as the federal trial moved ahead. A guilty verdict in state court would carry a life sentence.
But if the federal jury convicts Tsarnaev, the state trial would have little more than symbolic consequence, a legal expert told HuffPost.
"On the one hand, the state has an interest in prosecuting a serious violation of state law. What is more, Officer Collier's family may have views on that," said Northeastern University law professor Daniel Medwed. "On the other hand, if Tsarnaev is convicted in federal court and sentenced to death or even to life imprisonment, then there is a question about the benefits of a state prosecution."
An ongoing investigation into the shootout between the Tsarnaev brothers and police on April 19, 2013, could lead to additional charges, the DA's statement said. The barrage gravely wounded transit officer Richard Donohue, although it was a bullet fired by another officer that struck him.
Testimony continued on Thursday in federal court. Prosecutors called a series of FBI agents, who discussed forensic evidence retrieved from the site of the Watertown shootout and files pulled from Tsarnaev's laptop.
There were computer files apparently related to terrorism and Islam, such as an image that looked like a poster with the words "And Allah selects the martyrs. They only come to journey to their lord," and several issues of Inspire magazine, published by Al Qaeda in the Arabian Peninsula. One had an article titled "Make a bomb in the kitchen of your mom."