Amazon recently announced that its June 2010 Kindle e-book sales nearly doubled its hardcover book sales (180% higher). Many of those e-books were self-published books priced under a dollar; however, data indicates e-books may become the dominant long-form format in not too many years.
Are low-overhead e-books better for authors or publishers than their print counterparts? This infographic shows the breakdown of where the dollars from e-book and traditional book sales are going: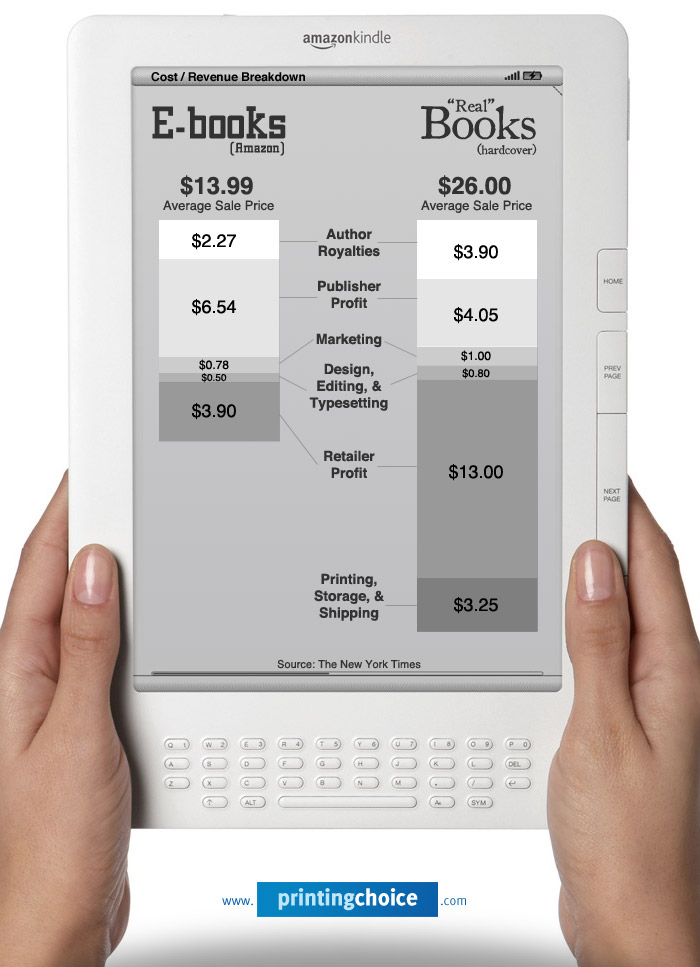 Forrester Research says retailers will sell 6.6 million e-readers this year. Apple has already sold 3 million iPads, which are capable of reading Amazon Kindle e-books as well as Apple's iBooks. At average prices, one would need to buy 15 e-books to offset the $189 pricetag of a Kindle, 12 e-books to pay off a $149 Barnes and Noble Nook, and 39 e-books to justify a $499 entry-level iPad (assuming price is the only factor).
E-books are up 200% from last year, according to the Association of American Publishers; however, they still only represent 3-5% of total sales for publishers, accordint to the New York Times.
Hardcover books are also up 40% since last year, indicating that while e-books are undoubtedly a big part of the future of long-form publishing, people will still be turning paper pages for a while.
Shane Snow is a writer and web entrepreneur in New York City. A graduate of Columbia University Graduate School of Journalism, Shane has written for Wired, Mashable, Gizmodo, and Fast Company. He runs the online printing site PrintingChoice.com and draws financial infographics for VisualEconomics.com.
Popular in the Community