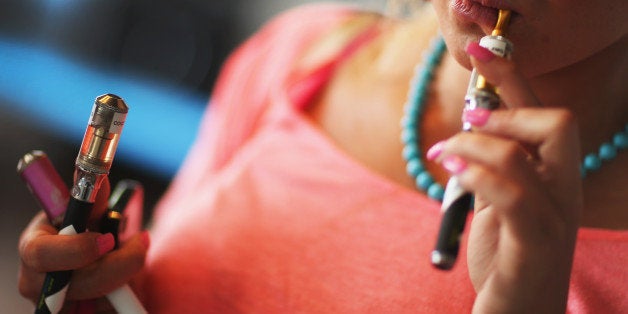 Vials of poison are lurking in nearly every corner bodega. And according to reports, they're hidden beneath the flashy exteriors of e-cigarettes, the popular alternative to traditional smokes.
The New York Times exposed the latest dangers of liquid nicotine -- the juice used to refill e-cigarettes -- and warned parents of its potentially fatal effects in the hands of children. If the liquid is ingested or absorbed by contact with skin, it can lead to seizures and, potentially, death. "A teaspoon of even highly diluted e-liquid can kill a small child," the outlet notes.
Some officials shared their concerns.
"It's not a matter of if a child will be seriously poisoned or killed," Lee Cantrell, director of the San Diego division of the California Poison Control System, told the Times. "It's a matter of when."
Due to a lack of federal regulations on e-cigarette devices, the exact health consequences of inhaling vaporized nicotine are unknown. In addition, the FDA notes "it is not known if e-cigarettes may lead young people to try other tobacco products, including conventional cigarettes."
"We think of concentrated nicotine as a very serious poison, equivalent to dangerous prescription drugs," Stacey Bangh, clinical supervisor of the poison center at Hennepin County Medical Center, told the news outlet.
So, what should you do if a child comes in contact with the liquid?
If the liquid was swallowed, DO NOT induce vomiting. However, if there is skin contact, it is important to quickly wash the area thoroughly with mild soap and lots of water. And, to protect children from exposure in the first place, parents are urged to keep e-cigarettes and the solutions used to refill them far out of reach of children.
Support HuffPost
A No-B.S. Guide To Life
Related
Popular in the Community