 Electronic cigarettes exist in a limbo world of laws, even as use of the battery-powered nicotine vaporizer grows across the nation. The U.S. Food and Drug Administration has yet to regulate e-cigarettes the way it does cigarettes or tobacco, leaving states and cities to come up with their own ordinances on how to restrict their sale and use.
Los Angeles is the most recent city to ban the use of e-cigarettes (or "vaping") in public places. The councilmembers who voted on the law lamented the lack of scientific evidence for two seemingly opposing claims: that e-cigarettes can either help smokers quit their cigarette addiction, and that e-cigarettes are essentially a gateway for teens to cigarette smoking.
But evidence on these claims is slowly emerging. A study published today (March 6) in JAMA Pediatrics shows that e-cigarette use has doubled among teens between 2011 and 2012, with 3.1 percent of teens saying they had ever tried an e-cigarette and 1.1 percent being current e-cigarette users in 2011, compared with 6.5 percent of teens ever trying an e-cigarette and 2 percent of teens being current users in 2012. The study also establishes a link between vaping and smoking; teens who smoked e-cigarettes (even just once) were more likely to have experimented with conventional cigarettes.
The study was supported by the National Cancer Institute and surveyed tens of thousands of middle and high school students; 17,323 in 2011 and 22,529 in 2012. It's the first study to examine e-cigarette use and tobacco cigarette use in teens at the same time, and its also one of the few studies that uses a nationally representative sample.
The study also provided some insights on e-cigarettes supposed role in quitting smoking. "We saw that kids who used e-cigarettes were less likely to have stopped smoking and were more likely to be planning to quit," said lead researcher Lauren Dutra, ScD, a postdoctoral scholar at the UCSF Center for Tobacco Control Research and Education.
Dutra argues that this finding challenges the e-cigarette industry's claims that vaping could lead to quitting.
The study is cross-sectional, which means that it cannot show that vaping caused smoking, or vice versa. Despite that limitation, Dutra and co-author Stanton Glantz, Ph.D., write that their study suggests e-cigarettes are not discouraging the use of conventional cigarettes, and that they could actually contribute to nicotine addiction.
But David Abrams, Ph.D., the executive director of the Schroeder Institute for Tobacco Research and Policy Studies at the anti-smoking advocacy group Legacy, disputes Dutra's conclusion and says the study doesn't hold up.
"We need balance and the rationality of science to dominate over biased ideology," Abrams said to The Huffington Post. "There is absolutely no evidence that using e-cigarettes makes [teens] more likely to use cigarettes."
The problem with Dutra's conclusion, said Abrams, is that causality could run the other way; kids who smoke (because of genetics, or parents who smoke) could simply be more likely to engage in other risky behaviors as well, such as alcohol, marijuana or e-cigarettes.
"One does not lead to the other [in this study]," said Abrams. "The behaviors just travel together in vulnerable kids." The only way to establish causality is a rigorous longitudinal study that follows a large number of people over a long period of time -- something that would take decades. In the mean time, said Abrams, "the science doesn't support panic or fear [of e-cigarettes] -- yet."
Best known for its "Truth Campaign" ads, Legacy's vision is a society free of the death and disease caused by tobacco. And according to Abrams, e-cigarettes could be the key to achieving that society. "They are the first product in 100 years that might make cigarettes obsolete," said Abrams. "That would literally wipe out the death cause to 5.6 million kids alive today, as well as 480,000 adults every year."
To be clear, Abrams isn't pro-vaping; it's just that absent any data that proves using e-cigarettes lead to tobacco cigarette addiction, a known killer, he's reluctant to label them bad and dangerous. (However, it should be noted that in 2009, the FDA found toxic chemicals in leading e-cigarette brands.) Like Dutra, Abrams supports the FDA regulation of e-cigarettes, as well as a ban on vaping in public places and sales and marketing targeted at minors. Even Smoke Free Alternatives Trade Association, an e-cigarettes trade organization, agrees that the devices should not be marketed to minors.
"[E-cigarettes] should not be targeted to kids in any shape or form, and no kid should be exposed or easily able to use any nicotine or tobacco product, including e-cigarettes," said Abrams. As for the teens surveyed in Dutra's study, Abrams says it's no surprise that there are a few teens who will always find ways to use a variety of tobacco products, despite the laws in place.
Dutra doesn't deny that a longitudinal study is needed to truly assess causation, but she did point out that her study also found that 20 percent of the middle schoolers who had used e-cigarettes had never tried a tobacco cigarette. For high schoolers, that number was 7 percent.
JAMA Pediatrics published an editorial alongside Dutra's study, and it points out that her findings highlight both exciting and discouraging possibilities for e-cigarettes and their potential to make people want to quit smoking. However, empirical data on the success of e-cigarettes as a smoking cessation tool is "mixed at best" so far, writes health economist Frank Chaloupka, Ph.D. of the University of Illinois at Chicago. Instead, he writes, the high use of both e-cigarettes and cigarettes among smokers suggests that they're simply vaping to get their hit of nicotine in places where they aren't allowed to smoke.
But if the nationwide trend of banning e-cigarette use in public places continues to pick up steam, vapers will soon have to resort to puffing away outside the club, along with the smokers.

Related
Before You Go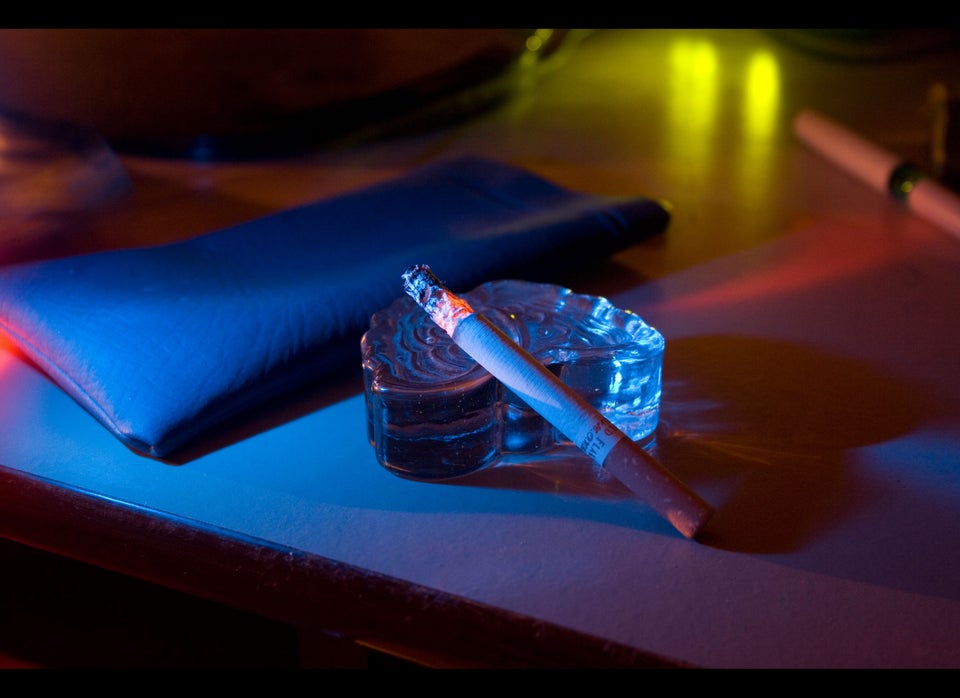 Natural Ways To Quit Smoking