Recently a father contacted CEH with concerns about his 16-year-old son's health. The teenager had purchased nicotine-laced e-liquids from a website that had no age verification or nicotine warnings. The packaging on the e-liquid also had no warning labels, despite the known health consequences of exposure to nicotine. Angry and frustrated at the lack of rules on e-cigarettes, the dad told us, "If you can help get them to do the right thing, that would be awesome."
Parents around the country are now realizing that they need to learn more about e-cigarettes and their children's health. According to recent research by the Centers for Disease Control, the e-cigarette industry aggressively targets teens in their advertising, with nearly 70 percent of middle and high school students exposed to e-cigarette ads. As the tobacco industry knows from a century of experience, their advertising works: E-cigarette use is skyrocketing among teenagers.
"Vaping" proponents say that e-cigarettes are primarily used by smokers as a cessation aid, but according to CDC chief Dr. Tom Friedman, the tobacco industry has another reason for the spate of ad dollars targeted at our kids. As he told the Los Angeles Times, "The same advertising tactics the tobacco industry used years ago to get kids addicted to nicotine are now being used to entice a new generation of young people to use e-cigarettes."
Meanwhile the evidence of health risks from e-cigarettes continues to mount. A recent study found that smoke from e-cigarettes may be at least a million times more toxic than the polluted air in Hong Kong, finding that vaping can expose users to cancer-causing formaldehyde and other toxic chemicals. The study also for the first time found harmful flame retardants from e-cigarettes, including chemicals linked to infertility, low birth weight, hormone disruption and other serious health problems.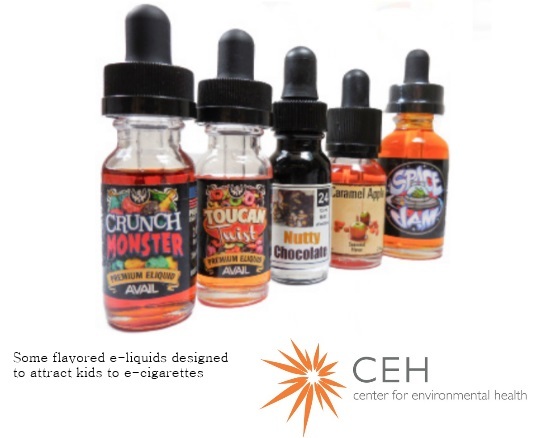 Even younger children are at risk from e-cigarettes. Nicotine is a powerful poison -- a child ingesting just a teaspoon of liquid nicotine could suffer severe or even fatal consequences. The tobacco industry has been banned from selling candy-flavored and brightly-colored traditional cigarettes that appeal to children, but such varieties are sold by dozens of e-cigarette companies, increasing the likelihood that children will be poisoned. In fact, there has been a dramatic spike in calls to poison control centers for exposures to nicotine since the advent of e-cigarettes; more than half of the calls were for incidents with children under age 6.
Given the risks to teens and children from e-cigarettes, CEH is taking action. We are currently suing nearly 50 companies for selling e-cigarettes without safety warnings that are required under California law. In several recent legal agreements with CEH, companies have agreed to meet binding requirements to adopt child-proof packaging, implement strict age verification processes, stop selling candy and other flavors that appeal to children, and to end the use of unverified health or safety claims.
While we are making progress, parents need to know that the tobacco industry continues to prey on their teens and younger children. We must not stand by and let a new generation get hooked on toxic tobacco.