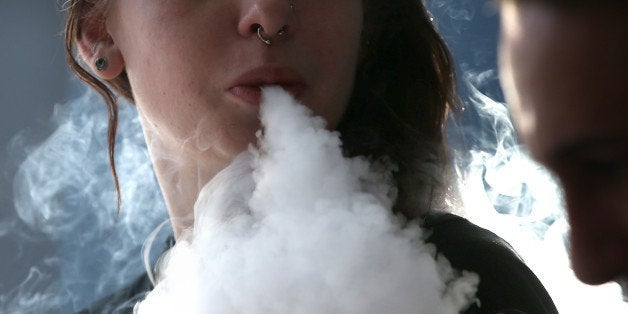 Electronic cigarette use among young people has surpassed traditional cigarette use for the first time, according to data released Thursday by the Centers for Disease Control and Prevention.
Although cigarette use is at a record low among young people, that doesn't mean fewer teens are using tobacco. Increased use of hookah -- a form of water pipe -- and e-cigarettes -- which produce a vapor instead of smoke but still contain nicotine -- cancelled out the declines in cigarette smoking.
"It's the first uptick in children using tobacco products in a generation. This is a very alarming finding," CDC Director Tom Frieden said Thursday in a conference call with reporters. "The tobacco industry spends more in a couple days than we do in an entire year on educating the public."
The survey, published in the Morbidity and Mortality Weekly Report, asked 22,000 middle and high school students about their tobacco usage over a 30-day period. The overall results were roughly consistent with recent years, with 24.6 percent of high school students and 7.7 percent of middle school students saying they had used some form of tobacco in 2014.
The survey identified one major change in tobacco use among young people: In past years, traditional cigarettes were always the most popular form of tobacco, but the new survey found that they had fallen to third place. Among high school students, 9.2 percent said they had smoked a cigarette in the month leading up to the study, compared to 13.4 percent who said they'd smoked an e-cigarette and 9.4 percent who had smoked hookah. The same order held for middle school students.
The American Lung Association created this graph based on the CDC data, demonstrating how quickly the rise of e-cigarettes has occurred: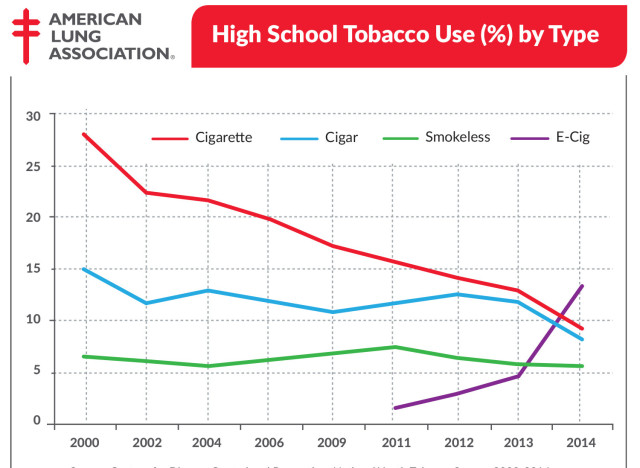 Experts say that a combination of lax regulation and rules, as well as youth-focused marketing tactics, have contributed to this quick change.
"E-cigarettes are cheap, highly available, come in youth-appealing flavors, and they're new. So no surprise that kids are going to try them. Experimentation is the nature of being a young person," Robin Koval, CEO and president of public health advocacy organization Legacy For Health, told The Huffington Post. "So it's our responsibility to do the right thing, put in place the things we know work."
"Look, when you make these things taste like gummy bears and cotton candy, you're not targeting long-term smokers," Koval added.
The Food and Drug Administration regulates the sale and marketing of traditional cigarettes as well as several other products, but it currently does not have authority over e-cigarettes or hookah. In April 2014 it proposed extending its regulation authority to those products, but the rule has yet to go into effect.
"A few states have passed laws, but we need federal rules on aspects like setting age minimums and banning their sale through vending machines," said Andrea Villanti, associate director for regulatory science and policy at the Schroeder Institute for Tobacco Research and Policy Studies.
Frieden said young people widely -- and inaccurately -- believe that these products are somehow safer than traditional cigarettes.
"Nicotine is dangerous for kids at any age," he said. "The human brain development still in process during these years, and nicotine use is associated with lasting cognitive impairment."
Public health advocates are now turning their focus toward the FDA's proposed rules, which have been in the works for a year and should likely be implemented soon.
"We are always the underdogs in the fight against Big Tobacco. We expect they will mount legal challenges to anything FDA puts forward," Villanti said. "But that's not a reason we shouldn't pursue these types of policies."
Related