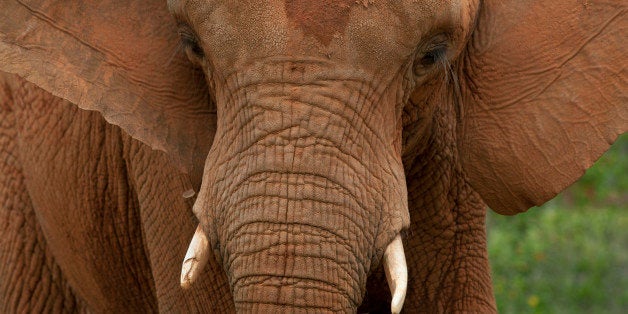 One of the most ubiquitous elements in English speaking classrooms around the world is the presence of an alphabet chart stating that "E is for Elephant". Imagine the next generation learning their alphabet and "E" standing for elephant is only a concept, not a reality -- the way we learned about the woolly mammoth or dinosaurs. At the rate of 100 elephants killed for their ivory every day, it is a distinct possibility that these extraordinary animals will cease to exist within our lifetimes. Like the dinosaur or woolly mammoth they will be beloved behemoths of the past. Similar fates will befall the African lion, rhino and other iconic species if we don't act now. At Tusk, we have been working for over 25 years to protect African wildlife for generations to come.
At Tusk, we partner with over 65 projects in 19 countries in Africa providing protection for 36 endangered species. The core of our philosophy is what is known as "community conservation" which aims to make the wildlife and land of Africa a valuable resource for people. It is through these programs that Tusk's vision of a world in which wildlife and people thrive and coexist becomes a reality.
Over the last 40 years, the world's wildlife population has decreased by more than half and some of the planet's most iconic species are on the brink of extinction. Fueled by the illegal wildlife trade, rapid population growth, and economic inequality - the destruction of Africa's natural resources has reached an unprecedented level. This threatens not only Africa's wildlife but also the entire fabric of African society. Community conservation is one of the greatest hopes we have to end this devastating cycle.
At Tusk, we invest in three areas that work together to protect Africa's wildlife:
The first piece of the puzzle is simple -- boots on the ground and anti-poaching efforts. Tusk supports training programs for rangers - which not only prepares the first line of defense in the fight against poaching but also provides professional training for well paying, highly respected jobs. With the current poaching crisis becoming more and more intense and militarized, rangers are risking their lives on a daily basis. Since 2013, over 1,000 rangers have lost their lives in the fight to save their country's natural heritage. Tusk supported programs provide much needed training and employment as well as the backup of tracker dogs, vehicles, aircrafts and additional support to combat the slaughter of Africa's wildlife.
The second component is education. Tusk's education programs have reached over 350,000 children. By building schools, providing environmental education, and offering new career paths, children learn the value of the wildlife and nature that surrounds them. They become part of the solution by joining the next generation of our planet's caretakers.
The third component is community development and income generating programs. Projects supported by Tusk directly employ over 6000 people and support the construction of clinics, water projects, roads, airstrips and schools within the rural communities that live alongside wildlife under threat. By introducing employment, increasing security and alleviating poverty, local communities realize the economic benefit of their natural resources and become stewards of conservation.
Community conservation is complex, dangerous and sometimes unforgiving. But, when it is done well, with adequate resources, it is an extraordinarily successful way of mitigating the destruction of our planet.
We are thrilled that this year's Tusk Wildlife Gala on April 7th will launch our 2020 Strategy. Our pledge is to redouble our commitment to the wildlife and people of Africa. As we look ambitiously toward the future, Tusk is dedicated to being a catalyst for change and a voice for conservation.
The evening will honor some of our conservation heroes: John Heminway, Bryan Christy, JJ Kelley and Katie Carpenter -- the creators of the groundbreaking National Geographic film Explorer: Warlords of Ivory -- as well as Sir Richard Branson, the first recipient of the Tusk Legacy Award in recognition of his continued and unwavering dedication to conservation and the environment.
Together, we must work towards an Africa in which wildlife and people thrive and co-exist. Without a collective effort to turn the tide on today's poaching crisis, our children will grow up in a world where these extraordinary animals only exist in their storybooks.
Calling all HuffPost superfans!
Sign up for membership to become a founding member and help shape HuffPost's next chapter