 "I scored a solo recording contract with Columbia Records, and I argued to get to choose my recording 'sidemen,' which was a misnomer, in this case, if there ever was one," said Bruce Springsteen inducting the E Street Band at the 2014 Rock and Roll Hall of Fame Induction Ceremony. "So, I chose my band and my great friends, and we finally landed on E Street -- the rare, rock and roll hybrid of solo artistry and a true rock and roll band." Through various incarnations, the "mighty men and women" of the E Street Band, as Springsteen calls them, have provided a unique and powerful sonic template for Springsteen's music, combining British invasion guitar-driven rock, the joy of 1950s rock and roll and the drama and dynamics of soul music. They are showmen of the first order, and have more stamina than any rock band in the history of the music. And they had a lot of memories and kudos to the Boss to share while accepting their Hall of Fame awards.
David Sancious:
It's incredibly impressive, and it is also a privilege to be associated with an artist whose body of work speaks rather so much not just to music and genres and stuff, but to what's essential in life. What life itself is about and that's why people love you so much Brucey. It's true. So, you know, again all that sharing from my parents and all my friends, it has allowed me to have this wonderful life I have. I get to play with some of the best musicians on this planet, and it's beyond any dream I had as a kid. The reality of my life now far surpasses anything I imagined younger.
Vini Lopez:
All I can say is whoa-ho ho, man! This is incredible! I wanna say my first thank you to Bruce. That's the dude that wrote all the songs and made us all look good. Love you Bruce. But I don't get to stand on this stage here without going through the years with all the fellow musicians that I've worked with over that last 50 years.
Jason Federici accepting for Danny Federici:
If my father was here tonight he would thank his parents, Gene and Dan Federici. He would thank his family and Mya. And then he would thank Bruce for giving him chills on the back of his neck the first time he heart him play at the "Up Stage." Then he would thank his brother and sisters in the E Street Band for creating some of the best songs and best music that rock and roll has ever heard.
Nils Lofgren:
Without my entire family and musical heroes blazing the trail I would not be here tonight. Thank you lord for this sacred weapon of music in my life. Now I've been in the band for 30 years so I'm the new guy. Words can't describe how incredible it is to play inside the bands energy and feel. Last tour we played over 220 different songs with wild ass-on-fire improv every night, where nothing was off limits except maybe wearing white. And to the spectacular fans whose presence and passion for 45 years are the glue and inspiration for me always, bless you. To finish, a big thanks to a big man, Clarence Clemons. I know you're here tonight C. For 30 years of deep friendship on and off stage. For those countless magical moments reveling in this musical family we've all been so blessed to create, share and inhabit all these cherished decades as Bruce Springsteen and the E Street Band. With my whole heart, God bless and thank you all.
Victoria Clemons accepting for Clarence Clemons:
I really wish Clarence was here tonight to receive this award. It would have meant so much to him but, I am sure he is here tonight with us smiling down on all of us. Music was everything to Clarence since he was a child. He was known as "The Big Man" for many reasons but especially -- (audience claps and laughs) you guys are so bad -- for the big sound of that saxophone. Rock and Roll Hall of Fame thank you so much for recognizing Clarence and the band. Bruce, you made it all possible. Big Man would have blamed you for this. Clarence loved his fans and his friends and his E Street family but, most importantly Clarence loved his family, his sons. I'm so happy here tonight. Clarence truly was music. Thank you.
Patti Scialfa:
I was the person who was like, "Wait a second, do I wanna date The Beatles or do I wanna be in The Beatles?" Well I guess I'm a lucky girl. I got to play in one of the world's greatest rock and roll bands, and you kinda know the rest. I'd like to thank Max, Garry, Steven, Roy, Mills, Clarence, Danny. I miss you. Whenever we step on that stage magic happens and it's always an honor and inspiration to play with you. My three beautiful children are here tonight that I love. Evan, Jess, Sam, thank you, thank you, thank you, thank you for being there for me and making it work. I love you. And Bruce, I love you, too. Thanks for making the best of both worlds possible. Thank you and thank you Rock and Roll Hall of Fame.
Garry Tallent:
The fact of the matter is E Street Band begins and ends with out fearless leader Bruce Springsteen. I have played in various bands with all the guys in the original lineup and none of us had the insight, the foresight, the drive that Bruce did. Over the years and through the various changes we never lost sight of the goal of being a tight band lucky enough to have great songs to play and have as much fun as possible doing it. I proud to stand here today with the greatest musicians and friends I could ever have imagined. Thank you to the E Street fans for making it fun night after night and to my family for keeping it real. Rock and roll lives. Thank you.
Roy Bittan:
Well I guess all those accordion lessons paid off. It's been an absolutely incredible journey. Tonight is about us and I would just like to say in light of tonight's award I'd like to say something about my brother and sisters on stage tonight and about musicians like us. When we are called into the studio we're not handed a piece of paper with music to play. We are entrusted with the responsibility to use our musical instincts and our particular vision to create a record. You hope that it all works out cause sometimes you never know what's really gonna happen. Thank you for acknowledging us tonight. It's a fantastic honor.
Max Weinberg:
It is indeed an honor to be standing shoulder to shoulder tonight among these wonderful musicians. My brothers and sister of the E Street Band cause night after night on stage or in the studio, they are a deep and constant source of inspiration to me and I love them all very, very much ... Finally, ladies and gentleman as he himself has intoned night after night on stage when introducing Clarence, last but absolutely not least, Bruce. What can I say that could give you all even a hint of what our 40 year relationship has meant to me? The opportunity to work for and uniquely in the E Street Band alongside Bruce is so special. Ladies and gentlemen, the lessons that I have learned from Bruce are not solely musical. They go way beyond music and have provided for me a prospective on life that has enriched me far beyond the rock and roll dreams I held on to as a child. So Bruce, thanks for picking me up out of that audition lineup back in 1974 and for having me along for the ride.
Steven Van Zandt:
For those of us whose religion is rock and roll, this is the one day a year we get to give thanks. Sometime in the next year or so me and my lifelong best friend Bruce Springsteen will be hitting 50 years of friendship. I am thankful for that. Next year my relationship with my second family the E Street Band members and extended family John, Barbara, George and the late Frank Barsalona will be hitting 40 years, and I am thankful for that. The fact that we are still getting better and more popular around the world is due directly to our relentless leader's strive for greatness, his insistence on our constantly evolving musical excellence and is continuing to write songs at an unnecessary high level of quality that is both historically unprecedented and profoundly inspiring, and I am thankful for that. I met my wife Maureen the same year I joined the band and she's still getting better. I am thankful for her. These are the relationships that define one's life and now being part of an institution where most of my musical heroes will live forever makes me very proud of the life's work we have chosen and we've been lucky enough to do it and because it's work I love doing and continue to love doing. Thank you all.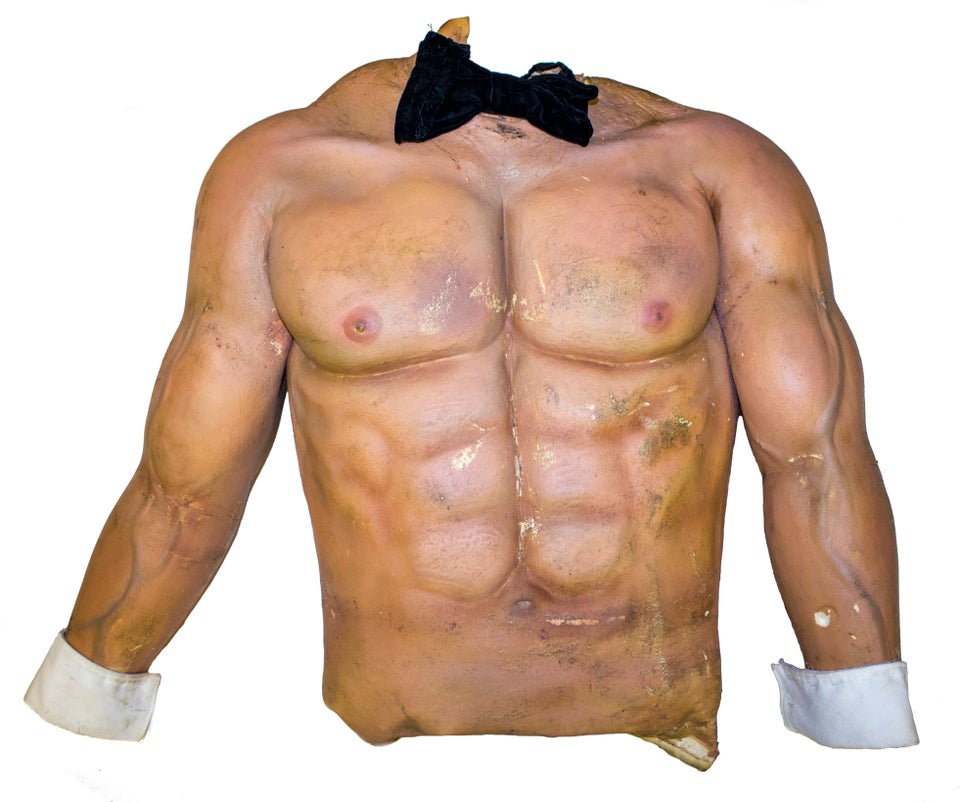 Artifacts From the Rock and Roll Hall of Fame
Popular in the Community