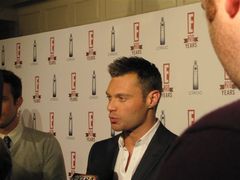 What happens when an entertainment company like E! turns 20-years-old? It has a star-studded poolside birthday party in Hollywood, of course. On the rooftop at The London in West Hollywood, the event featured celeb guests who are often featured in E! programming, yet for tonight they all came together to celebrate the last two decades of entertainment gossip, red carpets and reality TV in true Hollywood style.
Meanwhile, down in the lobby, stars walked the red carpet on their way up to the party like E!'s Ryan Seacrest and the Kardashian family as well as other celebs including: Ne-Yo, Lil Jon, Stephanie Pratt, Sophia Bush, Jana Kramer, Donald Faison, Katharine McPhee and Bon Jovi's Richie Sambora. Who was I most excited to see? David Arquette! Sadly, he didn't end up showing.
E!'s Chelsea Handler was also a no show and Sophia Bush of One Tree Hill told the press that she was planning on buying the comedienne a Belvedere, so was sad that she wasn't there. I wonder if Sophia knew it was an open bar and CIROC was the only liquor flowing.
Since its debut in June 1990, the entertainment television channel has not only covered entertainment, but has also established some shocking entertaining personalities like Howard Stern, Joan Rivers, Ryan Seacrest, Joel McHale, The Simple Life's Paris Hilton & Nicole Richie, Anna Nicole Smith, The Girls Next Door and Chelsea Handler via their own programming and hosting gigs.
Bride-to-be Jana Rae Kramer, also of One Tree Hill, said her favorite celebrity wedding in the last twenty years was that of Prince Charles and Princess Diana, which I'm pretty sure happened before she was born. Yup, just checked on IMDB. She was born in 1983 and is 26 years old, while the iconic fairy tale wedding took place in 1981.
I asked Los Angeles-based designer-musician Nikki Lund and rocker Richie Sambora, who collaborated on a new women's contemporary clothing line called White Trash Beautiful, what the most shocking fashion moment has been in the last 20 years. Nikki said it would have to be something Velvet Underground and that Alexander McQueen was a genius, while Richie said he likes designs that push the envelope. Me? Definitely Bjork's infamous swan dress.
Former E! co-host Melissa Rivers, who started at the network in 1996, could not think of the silliest thing she's covered in the time since her first gig. She says, "there has been so many. People ask what's your most embarrassing red carpet moment and it's like it's easier to list the ones that weren't embarrassing."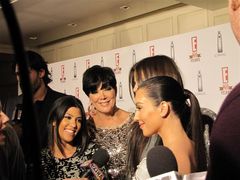 I also spoke with Kim Kardashian about what it's like seeing herself on E! Network. She said, "It's weird, I hate hearing my voice, so I don't like to watch it back. For some reason I find my voice really irritating on TV, so it's embarrassing."
After the two hour red carpet ended and was being taken down, some of the press (me included) were able to head up the elevators to the actual bash where I saw many of the people I had just interviewed sipping cocktails in cabanas by the pool. I also caught the end of the special performance by Kelly Rowland on a stage that looked down on the pool, guests and Sunset strip.
For behind-the-scenes footage of the party and red carpet interviews with Stephanie Pratt, Kim Kardashian, Melissa Rivers, Jana Kramer and Carolyn Hennesy of Cougar Town, watch my flipcam video:
Can't get enough? Watch E! Online's 20th BDay video:

REAL LIFE. REAL NEWS. REAL VOICES.
Help us tell more of the stories that matter from voices that too often remain unheard.