WASHINGTON D.C. -- During the District of Columbia's September primary, one little electronic voting machine produced over 1,500 "phantom" write-in votes, a total so "completely out of whack, so anomalous it should not have been released," said Ward 3 member Mary Cheh.
Naturally, because we live in a media-driven society, the bogus results were immediately released, resulting in chaos on election night as the candidates demanded to know what was going on. Meanwhile, a special investigative committee is trying desperately to figure out what went wrong before the Nov. 4 general election pulls record crowds into voting booths across the city.
Was it human error? A hardware problem? And why does it take so long to pin these things down? It's not like we're asking them to find Noah's Ark.
Today more than 100,000 touch screen and optical scan voting machines by the same manufacturer are in jurisdictions throughout 17 states and the District of Columbia. Problems with this kind of equipment occurred in 2004 in a number of states including Pennsylvania, Ohio and New Jersey.
"Voters shouldn't worry," said Michelle Schafer, vice president of communications for Sequoia Voting Machines. "We're in much better shape than in 2000 and 2004 because of all the extra attention paid to election security. Poll workers and election officials are better educated. New guidelines are in place. No one uses punch cards any more," Schafer told OffTheBus.
But after the Florida nightmare in 2004, who isn't worried? Check out this clip from an episode of The Simpsons scheduled to premiere on Nov. 2, as Homer Simpson, the dim-witted star of the animated comedy, tries to vote for Barack Obama.
Just sayin'...
Click on the photo to watch Homer in action: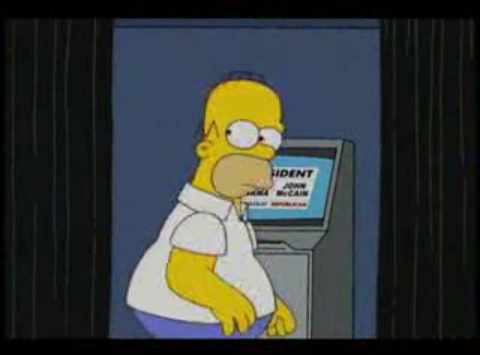 Calling all HuffPost superfans!
Sign up for membership to become a founding member and help shape HuffPost's next chapter