In June, global leaders and innovators across the video game industry converged on Los Angeles for the Electronic Entertainment Expo (E3), to showcase what millions of gamers around the world will be playing - and talking about - over the coming months. Each year countless groundbreaking experiences are born at E3, with new titles and franchises; updates to beloved games; mind-blowing new hardware; and other exciting announcements. E3 2016 was no different, delivering unparalleled experiences and innovations in video game technology.
E3 2016 was also a year of firsts, most notably with the inaugural E3 Live. The event gave 20,000 fans the chance to experience exciting new and never-before-seen games; enjoy music from artists including Steve Aoki, Wiz Khalifa, Big Boi and Empire of the Sun; check out heated gaming competitions; and get their hands on video game swag from some of the biggest names in the industry.

Check out a few of the many highlights from this year's E3 show:
E3 2016 had the highest viewership of any game convention. This year 70,300 people participated in E3 events through the week of the show including 50,300 video game professionals, analysts, journalists, and enthusiasts, as well as 20,000 fans who attended the inaugural E3 Live. Through an exclusive partnership with Twitch, more than 42 million gamers who couldn't make the show in person watched E3 online; a more than a 100 percent increase in viewership from 2015.

E3 set record engagement levels. This year's event topped E3 2015's record for Twitter engagements, generating a whopping seven million Tweets during the show. That's on top of the 10 million tweets generated ahead of the show, between April and May 2016.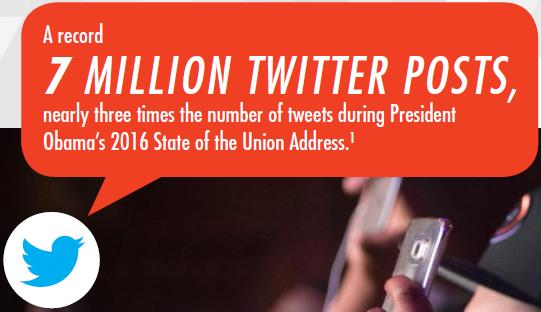 Scores of new exhibitors and products. Sixty-six innovative, new exhibitors were displayed on the show floor this year, including T-Mobile, Shacknews, Immerex, Starbreeze Studios, and Monster. Exhibitors announced 130 new never-before-seen games, hardware and other products. Some of the most widely talked about announcements and exhibits included teasers for XboX One, PlayStation VR, and the Amazing Spider-Man; updates to Star Wars: The Force Awakens; modifications to Minecraft; and God of War's dramatic overhaul. Attendees had the chance to see the newest, most talked about video games such as Zelda: Breath of the Wild, Dishonored 2 and Battlefield 1, as well as updates to the current console generation from Microsoft, PlayStation and Nintendo.
Virtual reality continues to lead. The video game industry is driving ground-breaking advancements in new platforms like virtual and augmented reality. As these innovative products and experiences evolve and take off in the consumer market, so too does their presence at E3. This year, E3 hosted a record 53 augmented and virtual reality exhibitors, up nearly 96% from last year. Many of these products were either final or nearly completed commercial products, giving attendees an exclusive, first-hand look at such pioneering technology.

E3 remains a tent pole event on the entertainment and innovation calendar. Although the convention center doors are closed until next year, the games and technology unveiled at E3 2016 will continue to shape the future of the global video game industry. Click here for a full infographic about the show.
Calling all HuffPost superfans!
Sign up for membership to become a founding member and help shape HuffPost's next chapter