NEW YORK -- Mohamad Al-Bacha was shook. He stared blankly out over the capacity crowd of 1,500 in Harlem's famed Apollo Theater, dropped his Xbox controller onto his lap, bent at the waist and buried his head in his hands.
Al-Bacha, a 17-year-old from Denmark, had cruised through the first two days of the FIFA Interactive World Cup -- the video game equivalent of soccer's biggest spectacle -- without so much as conceding a goal.
But in the two-match final in late March, Al-Bacha's impenetrable defense finally broke. Al-Bacha gave up two goals in the first match, settling for a disappointing 2-2 draw. Now, with just minutes remaining in the second match, his opponent, Sean Allen of England, had scored again to take a 3-1 lead, securing a 5-3 advantage between the two matches. All Al-Bacha could do was hang his head and rub his eyes as the crowd erupted around him.
"FIFA," which EA Sports first launched in 1993 with an exclusive licensing agreement with soccer's governing body, is an absurdly popular video game. It ranks among the 15 best-selling video games of all time, and is one of just a handful of titles to sell more than 100 million copies.
But over the past decade, many video games have changed from solitary or small-group activities to spectator activities known as e-sports -- and "FIFA" hasn't kept pace.
In 2014, more than 27 million people watched the world championship for "League of Legends," the planet's most popular video game. Professional gamers command endorsement deals and six-figure salaries. The top tournaments have million-dollar prizes. The e-sports industry is already worth half a billion dollars, and it could generate over a billion dollars in revenue by the end of the decade.
Broadcasters, sports teams, leagues and game manufacturers like EA are investing in events like the FIFA Interactive Cup because they want a piece of that billion-dollar business.
But almost no one watches "FIFA," or any other e-sport based on a real-life sport.
Instead, the most popular e-sports are team-based games where people play as soldiers, superheroes or legendary beasts, not athletes. Why play as virtual Cristiano Ronaldo or Leo Messi when you can be a commando, a superhero or a mythical creature? To vault "FIFA" into the top tier of spectator e-sports, EA will have to convince people that watching someone play a video-game version of baseball, football or soccer is just as fun as the real thing -- and that it's as fun as watching superheroes fight, too.
Alexi Lalas, the former U.S. Men's National Team star who is now an analyst on Fox Sports' international soccer coverage, watched the FIFA Interactive final from the back of the theater as part of the broadcast team streaming the event across the world. Lalas has played in two World Cups, including the 1994 event, which helped launch a new wave of soccer popularity in the United States. This was his first time at the virtual tournament.
"I am hyped," Lalas said at the top of the broadcast. "I am going crazy. I cannot wait to see somebody crowned the best in the world. It doesn't matter what it is, I love to see someone crowned the best in the world."
Perhaps it was genuine sentiment. But there was at least a hint of salesmanship in the former soccer star's voice too. In those earliest moments, as Lalas tried to dramatize the event and convince the audience it was a big deal, it sounded as though he still needed to persuade himself, too.
Afterward, Lalas -- who'd peppered co-host Spencer FC, a popular gamer and "FIFA" YouTube personality, with questions about the tournament throughout the broadcast -- admitted he hadn't totally known what to expect.
"It was definitely..." he said, "different."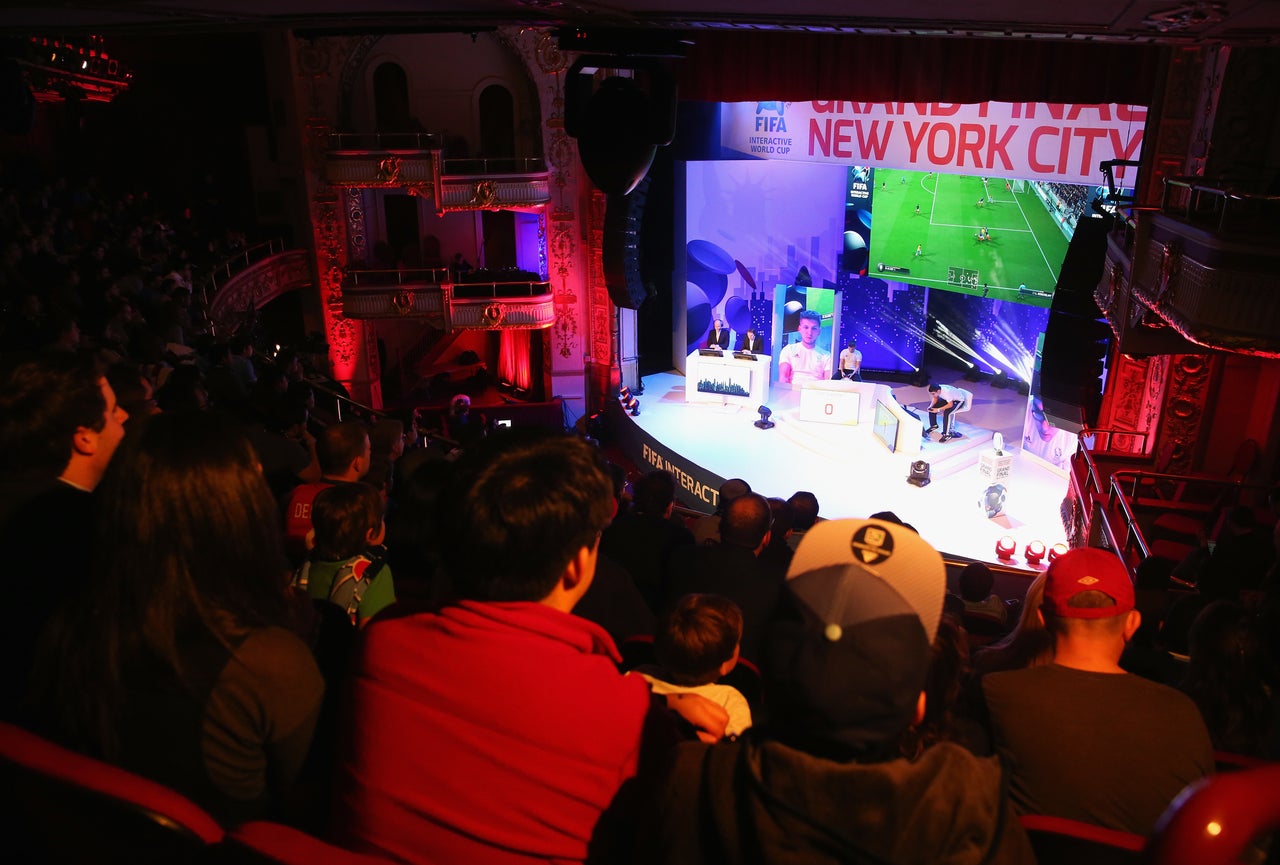 Competitive gaming once consisted of "a bunch of kids playing video games" at parties in small hotel ballrooms, said Craig Levine, a longtime gamer who is now the chief executive of the American division of the Electronic Sports League.
Today, competitive gaming is one of the fastest growing "sports" in the world. In Seoul, for instance, e-sports are "more popular with teenagers than baseball," ESPN The Magazine's Mina Kimes wrote last year.
While "League of Legends" and other titles, many of them open-source and free-to-play strategy games, have reached mass audiences in recent years, sports games never caught fire as competitive products, at least not professionally. That is in part because sports games focused their growth on Xbox and PlayStation -- consoles that until the last decade had more limited online gaming capabilities than PCs.
Al-Bacha began playing "FIFA" in 2011, when he was a 12-year-old football fanatic. He turned his focus to gaming when he realized he probably didn't have a future on the actual field.
"I was all right, but I was like, 'I probably ain't going to be nothing,'" Al-Bacha said. "I just loved football, and I wasn't that good in real life, so I decided to play football on a virtual pitch."
In the mid-2000s, the most popular sports titles began to develop advanced online modes, like "FIFA"'s Ultimate Team function, that allowed players like Al-Bacha to play more competitive opponents than the friends he'd grown tired of beating.
FIFA and EA Sports launched the Interactive World Cup in 2004 as a bare-bones, eight-player tournament at the soccer organization's headquarters in Zurich. It remained small in its early years, but its growth has accelerated: Thirty-two players qualified for this year's grand finale in 2016, and for the first time in the tournament's 12-year history, EA Sports signed a major broadcast partner, Fox Sports, to televise the semifinal and final matches.
But even before Fox's cameras appeared on the final day of this year's tournament, Michael Ribeiro, an American who made the semifinals at the 2008 tournament and lost in the quarterfinals this time around, noticed major changes from his first appearance in the final nearly a decade ago. The venues have improved, and so have the perks. Players are now treated to sightseeing tours around local attractions. In 2014, when the tournament was held in Rio de Janeiro, the finalists received tickets to watch a match in the actual World Cup. Prize money, too, has increased, albeit incrementally.
"I don't think it'll ever be as big [as other games]," Ribeiro said. "But it's definitely growing. Comparing this to 2008? Not even close."
In the last five years, "FIFA" has emerged as a major online gaming force -- in 2013, gamers played more than 7.3 million online matches per day, according to EA Sports. By the next year, EA boasted that online gameplay had grown by 50 percent -- "FIFA '15" attracted 3.4 million online players on its first day of release.
That growth also spurred interest in the Interactive World Cup, which this year drew 2.3 million players to its worldwide qualifiers, in which players competed online for the 32 spots in the final -- making it, according to the Guinness Book of World Records, the largest e-sports competition in the world. In order to reach the final, Al-Bacha followed a similar path as national teams in the actual World Cup: He progressed through regional online qualifying stations to reach New York City, where he had to win his way out of a three-match group stage and a 16-player knockout phase.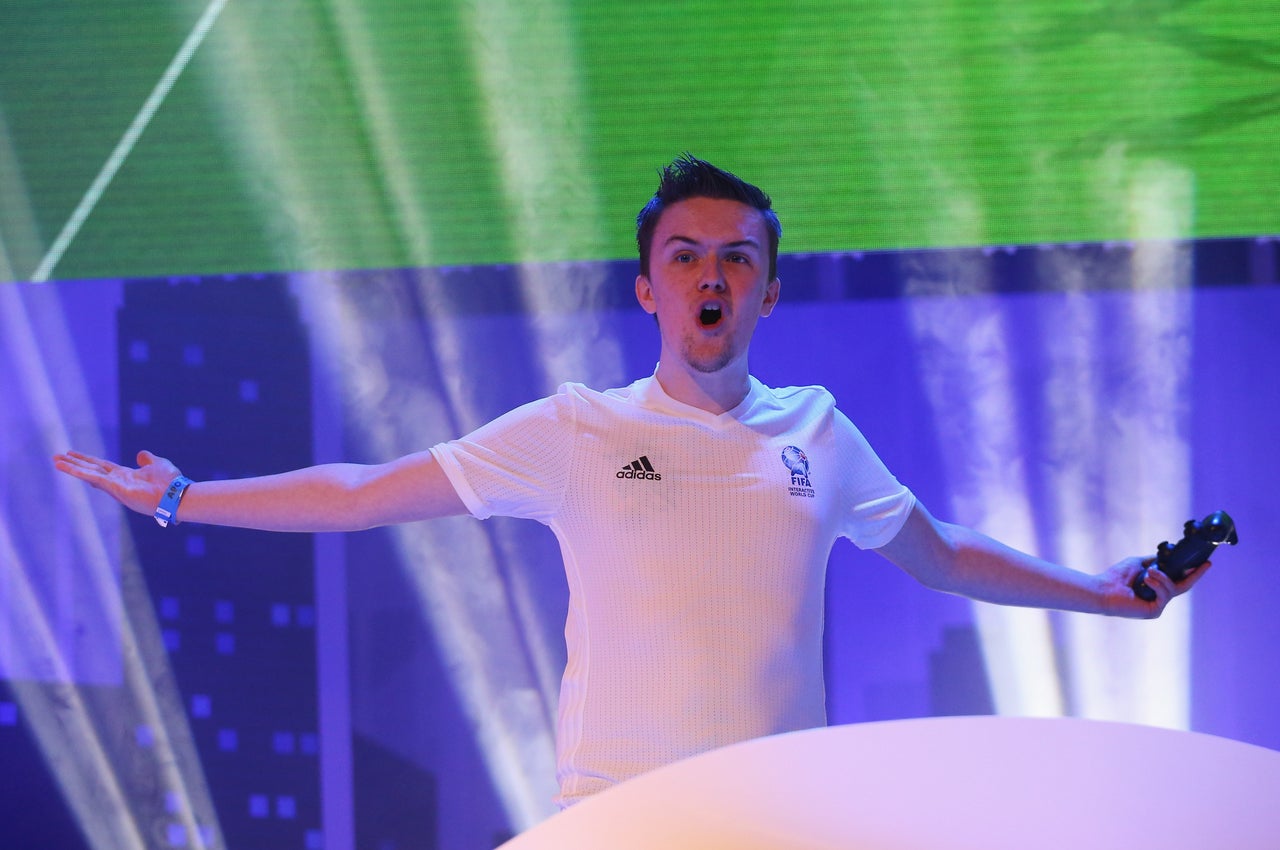 With just 45 seconds of gameplay remaining, Al-Bacha won a free kick deep into Allen's defensive territory. Instead of firing a shot on goal, he laid off a short pass to a wide-open attacker. A quick tap of the B button later, the ball was in the back of the net.
The Apollo crowd, watching the action projected on a screen above the stage where Al-Bacha and Allen sat, roared to life. The typical sounds of soccer -- the rising wave of anticipatory cheers when a player springs open in front of goal, the desperate gasps and groans when a shot hits the post or the keeper makes a diving save -- had filled the theater all night. Now, the entire crowd was on edge. A match they'd thought was over, just moments before, wasn't quite yet -- and thanks to an advantage in tiebreaker rules, Al-Bacha needed just one more goal to steal the title from Allen.
"You could really feel the energy," Al-Bacha later said. "I've never experienced something like that. When you sit and watch football games in Denmark, the crowd is so dead, but that was just insane at the Apollo."
The crowd buzzed again as Al-Bacha pressed pause and pushed four attackers to the front of his formation, a last-ditch tactical change to try to rescue the final.
The event's play-by-play announcers, standing only feet away from the competitors, reminded the audience that just 30 seconds remained.
Allen tapped the ball back into play, and pressed forward down the right wing toward Al-Bacha's waiting defenders. The crowd gasped as Al-Bacha took the ball back and fired a pass deep into Allen's defensive area -- one final, desperate attack.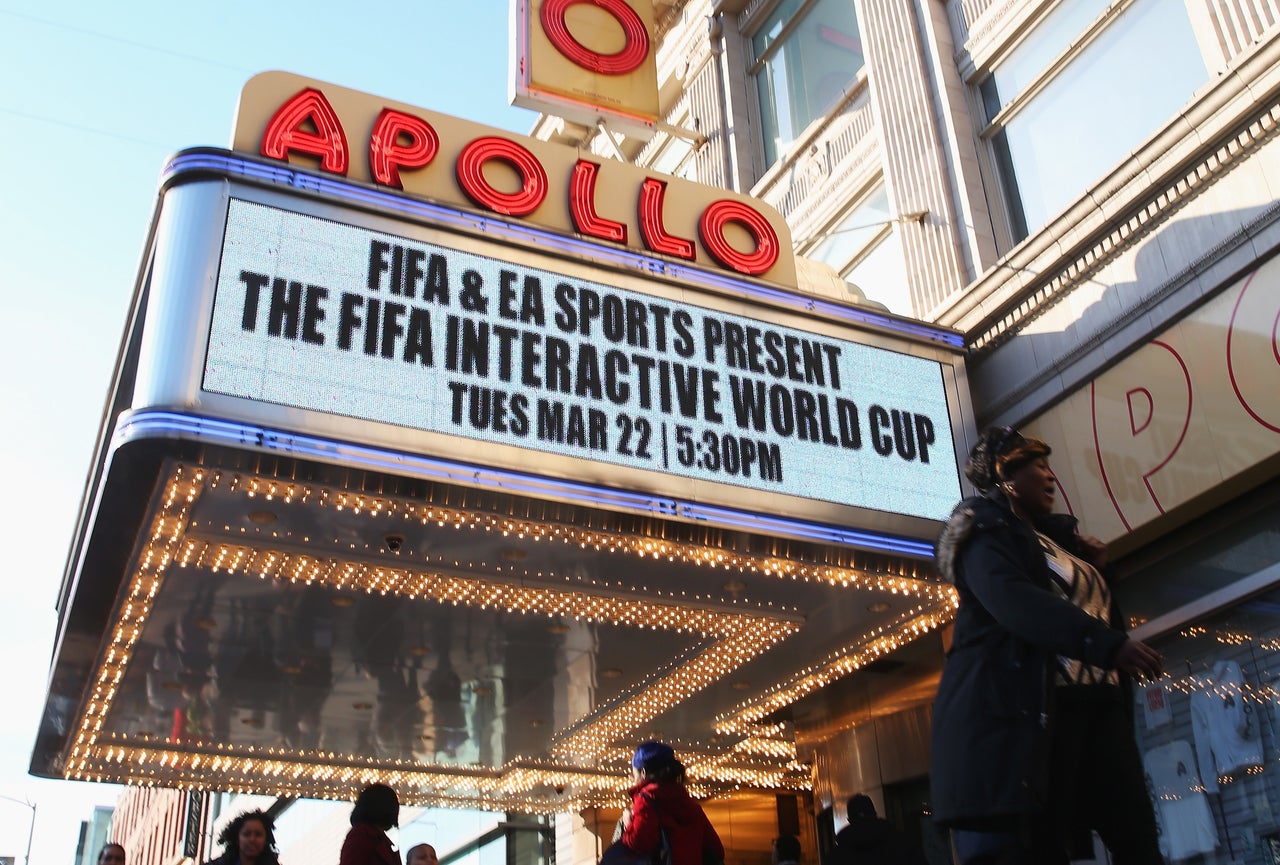 If sports titles don't have the deep roots of the games that dominate e-sports now, they may have a major advantage when it comes to creating their own boom. If the teams, leagues, companies and organizations that make up the infrastructure of global sports come to view competitive e-sports as a supplement to their popularity, rather than as a threat, that could unlock a new level of success for their virtual counterparts.
FIFA, soccer's international organizing body for which the game is named, has for years understood that there is an overlap between the game of soccer and its video game series, and that many, if not most, of its gamers are also soccer players and fans of professional clubs. The number of online "FIFA" contests spikes during halftime of major soccer matches -- a stat FIFA has cited in recent years to trumpet the fact that the game's players are also soccer fans. In the United States, the rising popularity of "FIFA" has translated into increased American interest in professional soccer.
Individual teams are now starting to look at "FIFA"'s popularity the same way.
In February, VfL Wolfsburg, a top club in Germany's domestic soccer league, signed Englishman David Bytheway as its official "FIFA" gaming representative. Bytheway, one of the world's top "FIFA" players, now competes in international tournaments while wearing the club's lime-green and blue jersey.
Other teams are showing interest in e-sports -- FC Schalke, another German club, recently announced plans to create a "League of Legends" team -- and if more clubs follow Wolfsburg into the "FIFA" market, it could boost interest in the games while helping promote and financially sustain a crop of elite gamers, the way professional e-sports teams have done in other genres.
"It's groundbreaking in the competitive gaming scene. All it takes is just for one more team to get involved, and then it's a domino effect," said Bytheway, who was in New York to provide livestream updates for online audiences. "The game is so relatable to football clubs, so it's kind of strange it's taken this long for something like this to happen."
E-sports leagues and teams are watching the development of competitive sports gaming closely, too, said Levine, the Electronic Sports League America CEO. The rise of sports games like "FIFA" could open doors to an entirely new group of fans and players.
"Seeing the way different genres can broaden out the appeal of players to us is really interesting," Levine said. "Maybe one of the big e-sports organizations... picks up a 'FIFA' player, and now you're cross-pollinating a fan. You see they're playing a 'League of Legends' match and you don't know anything about the game, but you know you like their 'FIFA' player, so you get into it."
The biggest development, however, may be EA Sports' major new investment in e-sports. In the next few months, the company plans to launch its own competitive gaming division, and while it won't be solely focused on sports games, "FIFA" and the "Madden NFL" series are expected to be a part of its early efforts, based on EA's announcement of the new venture in December. In May, EA announced that it was launching another competitive tournament based around its "Ultimate Fighting Championship" game, with a grand finale to take place in Las Vegas this July.
Details of how much money EA has put into the e-sports market have been scarce since the December announcement, and the company would not comment for this story. But at the Interactive World Cup in March, FIFA marketing director Thierry Weil said his organization and EA have meetings planned for how to continue to grow "FIFA" and its marquee competitive tournament. "I'm convinced," Weil said, "that today we have reached another stage of this game."
Still, while top players in other games can earn millions, even the world's best "FIFA" players barely scratch out enough to make a living.
Based on other companies' investments, turning a title like "FIFA" into a major player in the competitive gaming world could cost as much as $10 million annually, said Peter Warman, the CEO of Newzoo, a European firm focused on market and data analysis of the gaming industry. It's impossible to know whether EA will put that kind of weight behind "FIFA" or any other game, but Warman is "super-optimistic" about the company's push into the e-sports world.
"That's part of the success of any franchise," Warman said. "Will they be one of the top five e-sports franchises globally with their sports? I doubt it. But I don't think they should have that ambition. They should have the ambition to provide full-on entertainment for the fans of their franchises."
A plunge into e-sports, Warman said, could have huge benefits for EA. In the old days of sports gaming, developers focused primarily on initial sales -- that is, attracting an audience on the day of release. But gaming has changed and EA has evolved with it, building in features like "FIFA"'s "Ultimate Team" that allow players to spend money to enhance their gaming experience on a day-to-day basis. That's made "FIFA" and other titles more adaptable to the e-sports model, Warman said. While he wouldn't put a number on the financial potential, a full-on investment in competitive gaming could allow EA to tap into new revenue streams: the sale of media rights to companies like Fox, new sponsorships, outside investments and more players.
Games based on actual sports have a place in the e-sports market, Warman believes. But part of capturing new audiences, he and Levine both suggested, involves something that other e-sports and traditional sports alike have mastered: highlights. Sports are full of the types of moments -- diving catches, wonder goals, posterizing dunks -- that can be replayed and Vined over and over again. Games like "League of Legends," too, have marketed themselves through replays of thrilling, out-of-nowhere kills and skill moves that can be looped repeatedly.
"Traditional sports games don't have so many unique, explosive moments to share" on platforms like Twitch, a major e-sports streaming service, Warman said. "It's all about creating moments in the game that are shareable."
In the last moments of the Interactive World Cup final, Al-Bacha delivered one.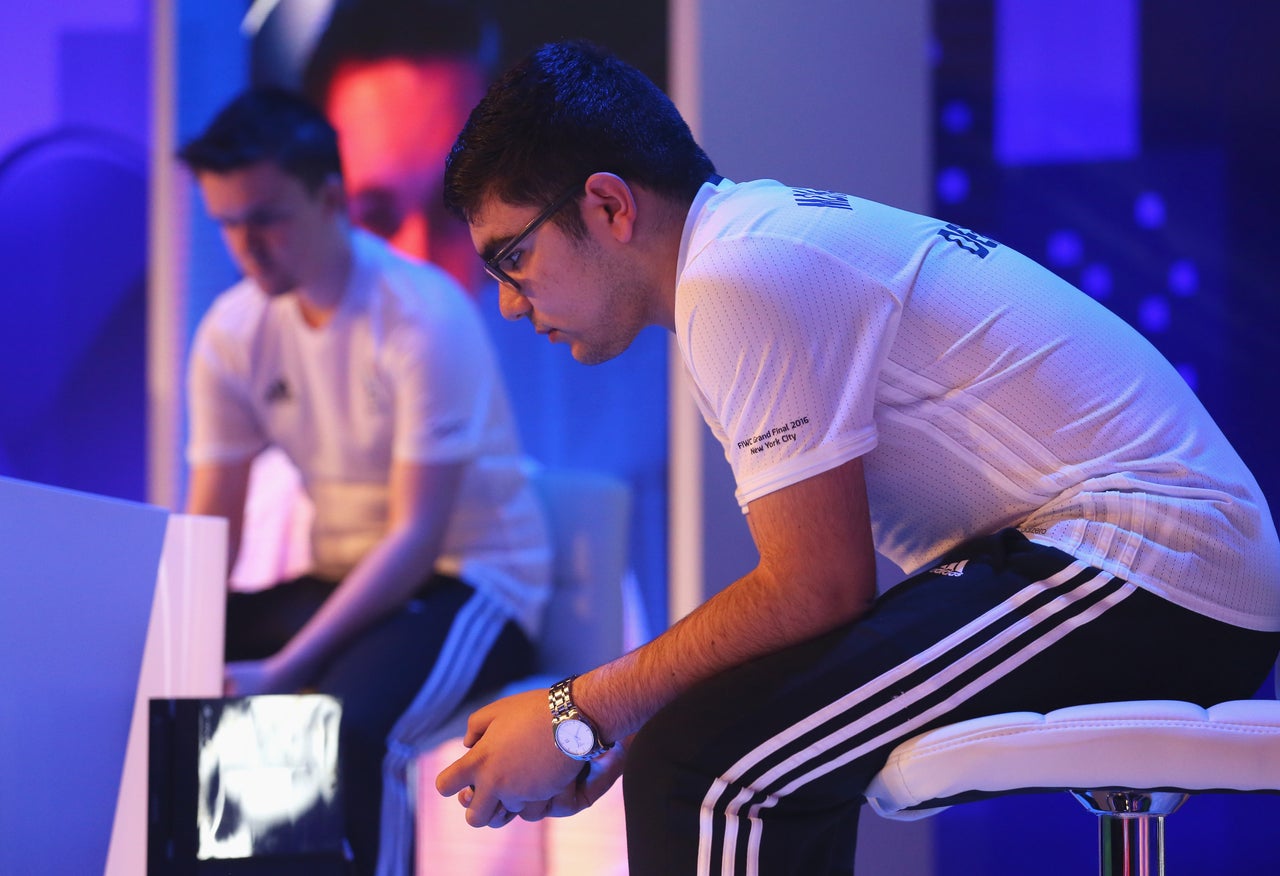 With no more than 15 seconds left in the match, Al-Bacha's attacker sprinted past Allen's defenders.
Al-Bacha had gutted opponents all week with counterattacks and incisive through-balls that carved up his opponents' defense. So in retrospect, what seemed unbelievable when it happened in the fleeting moments of the final was almost inevitable. Al-Bacha pressed the yellow Y button at the top of his controller and slid a hard pass into the path of his attacker, who gathered it just off the penalty spot. The crowd gasped as Al-Bacha tapped the B button to shoot, then erupted when the shot sliced past Allen's keeper into the back of the net.
Allen's shoulders sagged. Al-Bacha sprinted toward the front of the stage and leaped into the waiting arms of half a dozen fans. Around the theater, emotions bounced from raucous excitement to stunned disbelief. Even an hour later, pockets of spectators stood around the lobby of the theater, unwilling to leave, still shaking their heads and chuckling at what they'd witnessed.
Al-Bacha's fellow competitors bounced him up and down in their arms so many times that his glasses fell to the floor. He wasn't sure what to think.
"I don't think anything actually went through my mind," Al-Bacha said. "I was like, 'What the hell is going on? This is not realistic. What have I just done?'"
Lalas, the veteran of two World Cups, watched from Fox's set in the back of the theater, his 7-year-old son clinging to his leg. On the way to the Apollo, his son had picked Al-Bacha to win the title. Over two decades ago, Lalas and his World Cup teammates had created the moments that helped a nation fall in love with his sport. He knew his son would never stop talking about the moment he'd just witnessed, either.
"Maybe there was somebody at home watching on Fox tonight that was a young kid, a 7-year-old kid," Lalas said, gesturing down to his own son. "That game that he's playing, he sees Mohamad up there in that iconic victory pose, and says, 'Man, that is cool.'"
"How can you not be excited about something like that?"
CORRECTION: A previous version of this article characterized "League of Legends" as an open-source game. In fact, it is not.
Popular in the Community