WASHINGTON ― President Donald Trump headlined a White House event on Tuesday that was originally intended to celebrate the Super Bowl Champion Philadelphia Eagles but didn't feature any Eagles players and was attended by few Eagles fans. It was strange.
Upon hearing that only a few Eagles players would show up to Tuesday's event, Trump disinvited the team and rebranded the event as a "Celebration of America" during which he would "loudly and proudly" play the U.S. national anthem. In a statement, the White House said that "more than 1,000 Eagles fans" were supposed to show up to the original event and said the majority of Eagles players "decided to abandon their fans."

And so hundreds of individuals ― including many suit-clad people who appeared to be either members of the administration or Hill staffers ― stood on the South Lawn of the White House to hear the U.S. Marine Band and U.S. Army Chorus sing "God Bless America" and the U.S. national anthem and hear Trump speak for four minutes.
"We love our country. We respect our flag. And we always proudly stand for the national anthem," Trump told the crowd as members of the military served as his backdrop. "We always will stand for the national anthem."
It was tough to tell what percentage of the crowd at the White House were Eagles fans. HuffPost asked several attendees if they were "Birds" fans ― a common nickname for the Eagles in the Philadelphia region (i.e., "go Birds") ― and many responded quizzically. One person said they were a Browns fan, and another flashed a Dallas Cowboys phone background. Another said he wasn't an Eagles fan but had appreciated what Eagles quarterback Carson Wentz had done for his fantasy league before Wentz's season-ending ACL injury.

There were only a couple of faint Eagles chants from one group of young fans, and there were only a few members of the crowd wearing items indicating support for the Eagles. A sports reporter from Philadelphia said that he asked six attendees who the Eagles quarterback was at the Super Bowl and none of them knew the answer.
Many of the attendees were, indeed, members of Trump's administration. A BBC reporter found a printed email on the ground that indicated all employees of the Executive Office of the President had been invited to the event.
Trump has repeatedly, and misleadingly, implied that his decision to cancel on the Eagles was driven by Eagles players choosing to join former NFL player Colin Kaepernick in kneeling during the anthem to protest police brutality and white supremacy. But not a single Eagles player sat or kneeled during the national anthem last season. (Kaepernick knelt because a Green Beret suggested it, telling him that sitting would be disrespectful.) 
Eagles safety Malcolm Jenkins has raised his fist during the anthem, and has been joined by other members of the team. Jenkins has spoken and written extensively about the injustices in the criminal justice system and its impact on communities of color. Jenkins issued a statement on Twitter before the event saying that Eagles players were being unfairly maligned.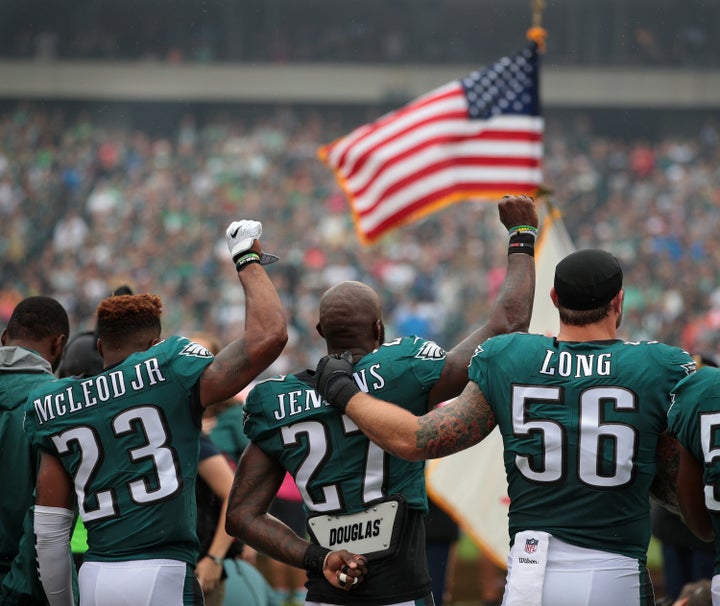 "Simply google 'How many Philadelphia Eagles knelt during the national anthem last season?' and you find that the answer is zero," Jenkins wrote. "A similar google search will show you how many great things the players on this team are doing and continue to do on a daily basis. Instead the decision was made to lie, and paint the picture that these players are anti-American, anti-flag and anti-military."
Attendees who didn't work for Trump or on the Hill and were willing to chat, like Mike Fisher of Coopersburg, Pennsylvania, seemed to have gotten into the event though friends in the Trump administration. Fisher said he was bummed that there weren't any Eagles players at the event.

"I was definitely disappointed in last night's news, you almost couldn't believe it when it came across. Thought it was something from The Onion or something," Fisher said. He called the lack of Eagles players at the event a "black eye on both sides" and said he wished the team and the Trump administration could have worked something out.
The crowd was supportive of Trump. One attendee clad in Eagles gear told reporters he thought Eagles management could have done a better job handling the situation.
Trump called the event a "beautiful big celebration" that was "even bigger than we had anticipated," although there was plenty of room on the South Lawn. He spoke about record unemployment numbers and said the country was doing great since his election.
"If this wasn't a political stunt by the Eagles franchise then they wouldn't have committed to attend the event and then backed out," White House Press Secretary Sarah Huckabee Sanders said at a press briefing on Tuesday afternoon.
There were a few hiccups at the event. As Trump took the podium, a man heckled him and was quickly booed down.
Another attendee took a knee as the national anthem was played.
Championship visits to the White House are, for the most part, rote and uneventful affairs. They amount to little more than photo opportunities for presidents and political officials, a chance to seem as normal as any other sports fan. They offer D.C. political journalists an opportunity to pretend they're sports reporters for a day. Rare is the time where they make news or elicit even remotely interesting comments, from politicians or athletes alike. But, as is the case with many presidential customs and traditions, Trump is breaking norms.

Additional reporting by Travis Waldron.
Calling all HuffPost superfans!
Sign up for membership to become a founding member and help shape HuffPost's next chapter