As I put the funny-looking headset on my ears, I realized everybody was looking at me. After all, I was sitting in a director's chair in the crowded lobby at a tech conference in New York City, so it was no surprise people wondered what I was up to.
This headset was definitely different. It was a self-contained, silicone injection system which created a perfectly formed pair of ear buds for my ears. Apparently, our inner ears are like fingerprints -- all ears are different in small ways.
So I wanted to try this process for myself, write about it and see if the "sculpted eers" system really produced a better set of ear buds.
Sonomax is the Canadian company behind these intriguing, personalized "eers" and their intrepid CEO, Nick Laperle had offered to let me check it out.
As my four-minute 'ear-filling' began, I at first experienced a warm sensation inside my ears and head unlike any other. It was strangely comforting; I imagined it to be like suddenly finding myself back in my mother's amniotic sac.
The surreal experience continued: first the myriad voices around me chatting started getting farther and farther away almost as if they were purposely lowering their voices to whispers. Then over the course of a minute or so, they disappeared completely. As I sat there with people's mouths moving but not hearing a word, I thought how nice this might be for me to use for a friend who was always talking. But alas, it's only used once (until a new set is needed) in a long while.
Then I could hear my own breathing.
Finally, I could hear my heart beating. Very odd... but nice for a change.
At the end of four minutes, Laperle came over and took off the headset. Within what seemed like seconds, he had removed my new 'ear fingerprints' and put them on a wired headset for my listening pleasure. I plugged them into my Android smartphone and took a listen. I would estimate the sound of my music was approximately 40 percent louder, due to the better fit of these ear buds (and probably, the elimination of outside sounds, too).
Here's a picture of Nick Laperle wearing the "eers" headphone injection system.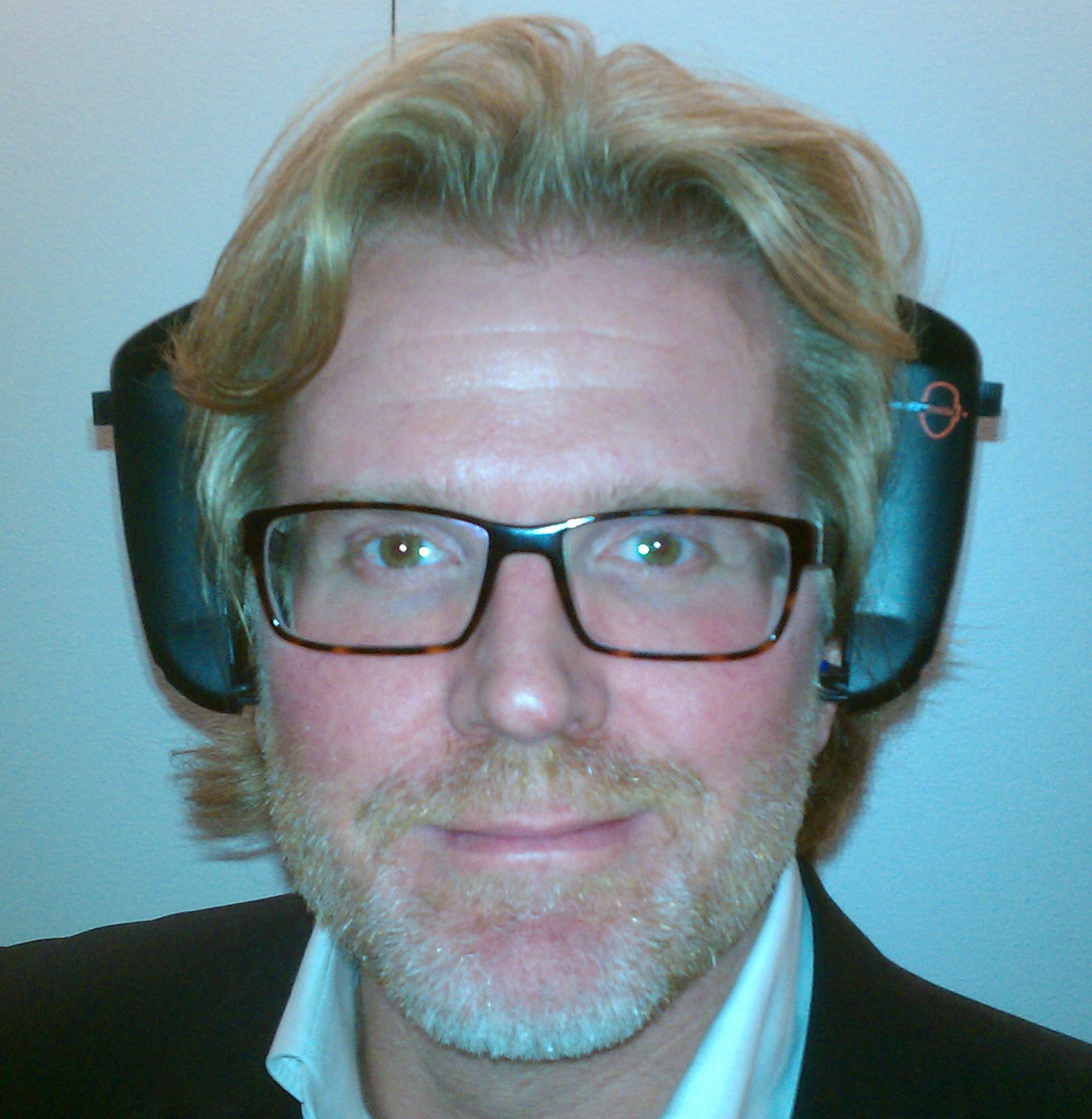 Because of the innovative way these plugs fill your ears entirely, this newfangled system and the ear buds which emerge are clearly a step forward for listening technology.
The injection headset is sold as an entire kit for about $199 and when a customer buys the kit, they can of course make new ones for themselves or family and friends whenever necessary.
For right now "eers" are only available for wired headsets. Soon, Laperle told me, Sonomax will also release a wireless Bluetooth version (with a microphone for phone calls) and "eers" for hearing aids which is one of the real interests of the company: creating better hearing aids for the world to use.
Calling all HuffPost superfans!
Sign up for membership to become a founding member and help shape HuffPost's next chapter