If it was hip in the '90s, chances are, it's going to come back in the near future (just look at crop tops, flatforms and overalls). So, to no one's surprise, one of our favorite fads from the decade is cool again: ear cuffs.
You most likely tried these decorative ear pieces as a high schooler. Now they're trendy again, but this time they're more fashion forward than ever. Designers like Jean Paul Gaultier sent them storming down the runways last fashion week, while A-listers like Miley Cyrus and Emma Watson have already embraced the trend.
So how do you wear a bold ear cuff? It's actually pretty easy. You just need to treat it like any piece of costume jewelry (meaning, if you wear a cuff, skip the chunky statement necklace). But the most important thing to remember is you only need one ear cuff, not two -- these aren't earrings.
To help you get the process started, we've rounded up 17 of the coolest ear cuffs out there right now. If you're feeling brave, opt for a gemstone-encrusted style, while the more hesitant among us can go for a simple metal clip-on version. Happy shopping!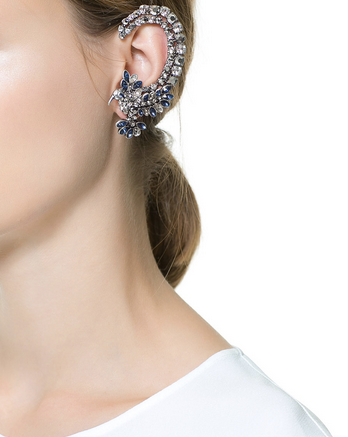 Ear Cuffs You Need Now
Related